The enduring style of mid-century modern design, and how to get the look!
Discover the fundamentals of mid-century modern style, and simple ways to bring it into your home.
The world of interior design inspo is awash in lots of different terms: from minimalist to maximalist, and everything in between. But one that has lasted for close to a century now is mid-century modern.
In this article, we'll be giving you 6 easy ways to get the Mid-Century Modern look in your home. But first, what is it exactly?
What is mid-century modern design?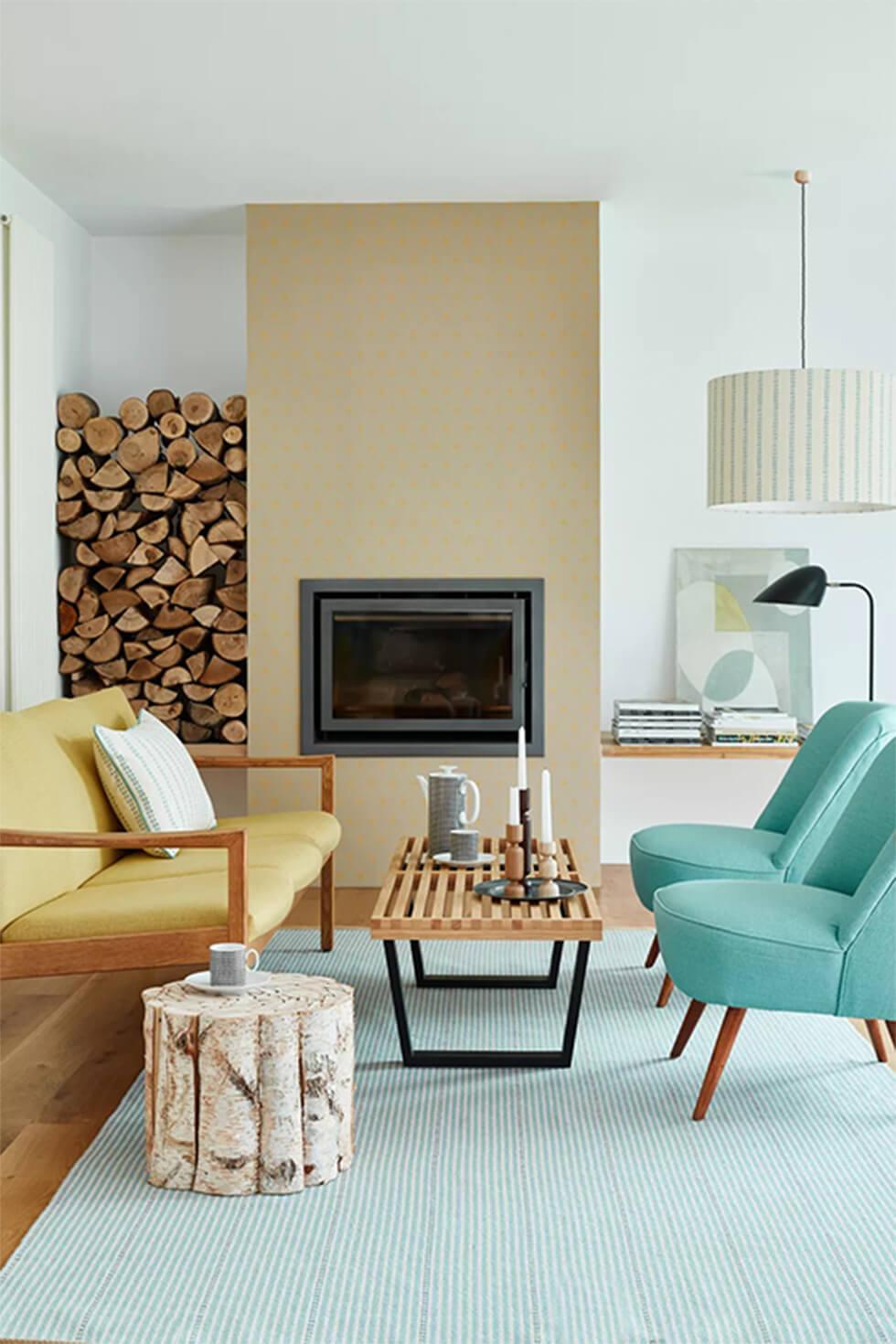 Inspired by the Modernist and Bauhaus movements, the Mid-Century period spanned (roughly) the mid-1940s to the late 1960s, with its influence continuing to be seen today.
Its roots in post-World War II America is key, since that was a time marked by technological advances and growing prosperity, but also smaller homes as people moved to the cities. With that came the demand for simple, functional furniture that would also reflect a sense of modernity, and move away from the more stuffy, traditional looks of the 20s and 30s.
As new materials were being developed, designers such as Arne Jacobson, and Charles and Ray Eames, were able to innovate and experiment with new textures, colours, and shapes when it came to furniture. Which brings us to our next point!
What are the main features of mid-century modern style?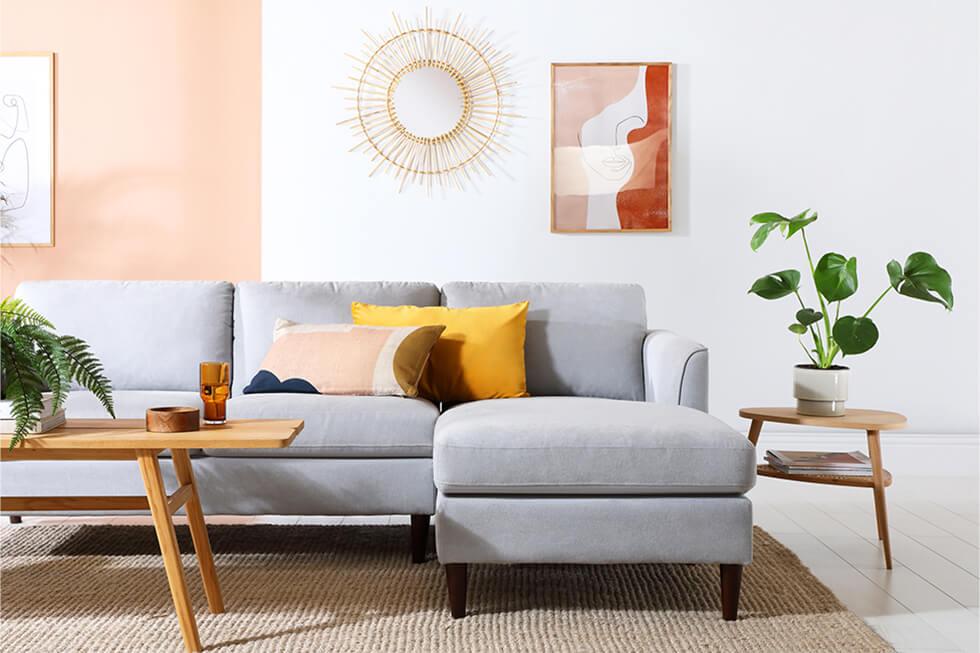 Here are some key ways to distinguish this aesthetic:
Functionality first, with minimal embellishments
Sleek lines that take inspiration from both organic and geometric shapes
Surprising and contrasting use of materials, such as plastic, plexiglass, steel, and plywood
Use of warm and neutral tones
Democratic design - or design that suits everybody
This style's simplicity means that you can commit fully to a mid-century modern home without it being over the top - but it's also very easy to fit into your existing space, while still bringing its own distinctive aesthetic. Here's how to get the look.
1. Start small with accessories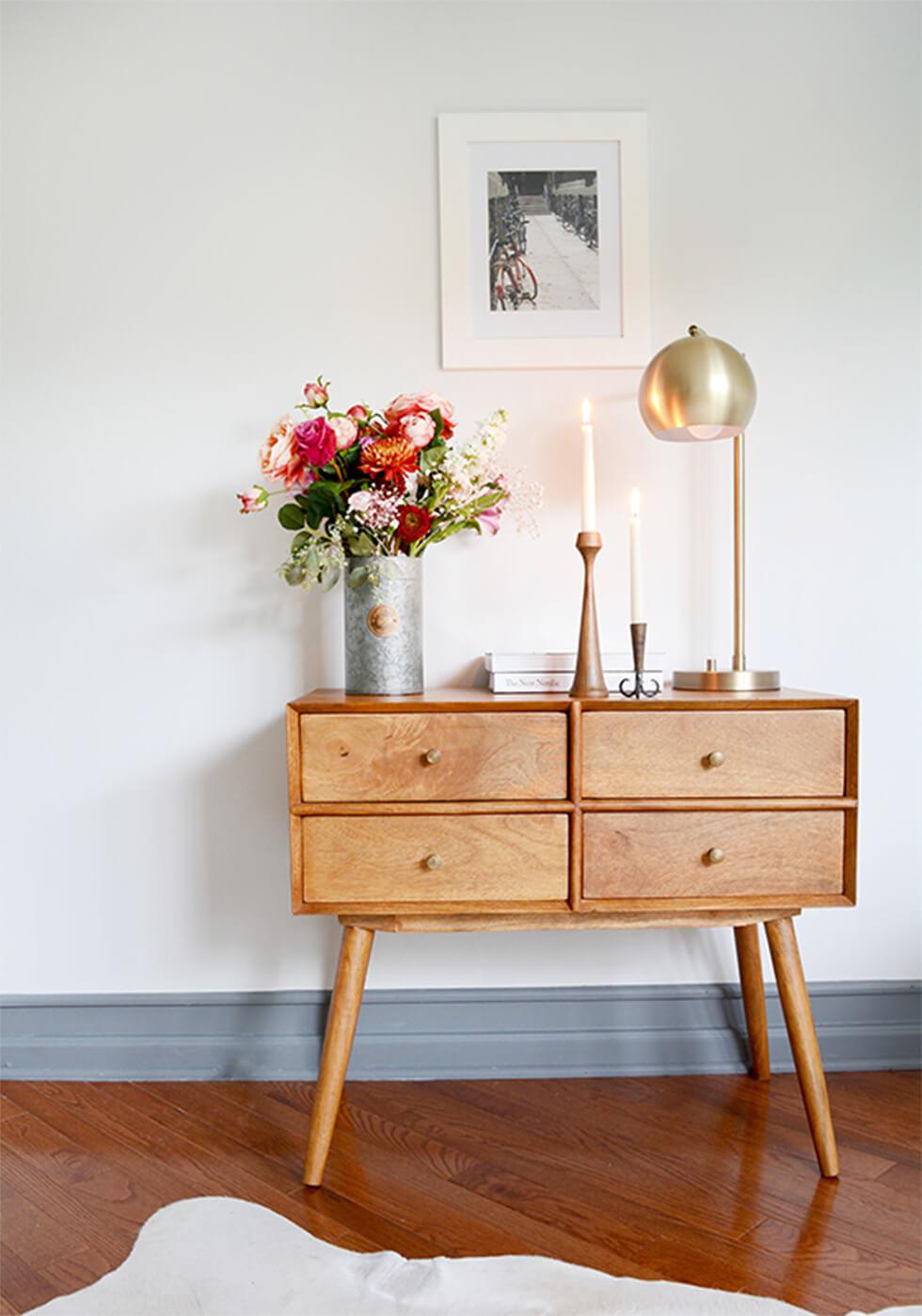 Accessories are the easiest way to add some mid-century modern style into your home. Ironically enough, because the focus here is on minimal ornamentation and décor, what little there is has lots of impact! So being strategic and clever when choosing your accessories is key.
Lamps and vases are popular choices, being both functional and stylish. Look for lamps or lighting options in striking, organic shapes, finished in reflective finishes such as chrome and brass. This might take the form of domed, geometric table side lamps, arc floor lamps, or even statement chandeliers and sconces.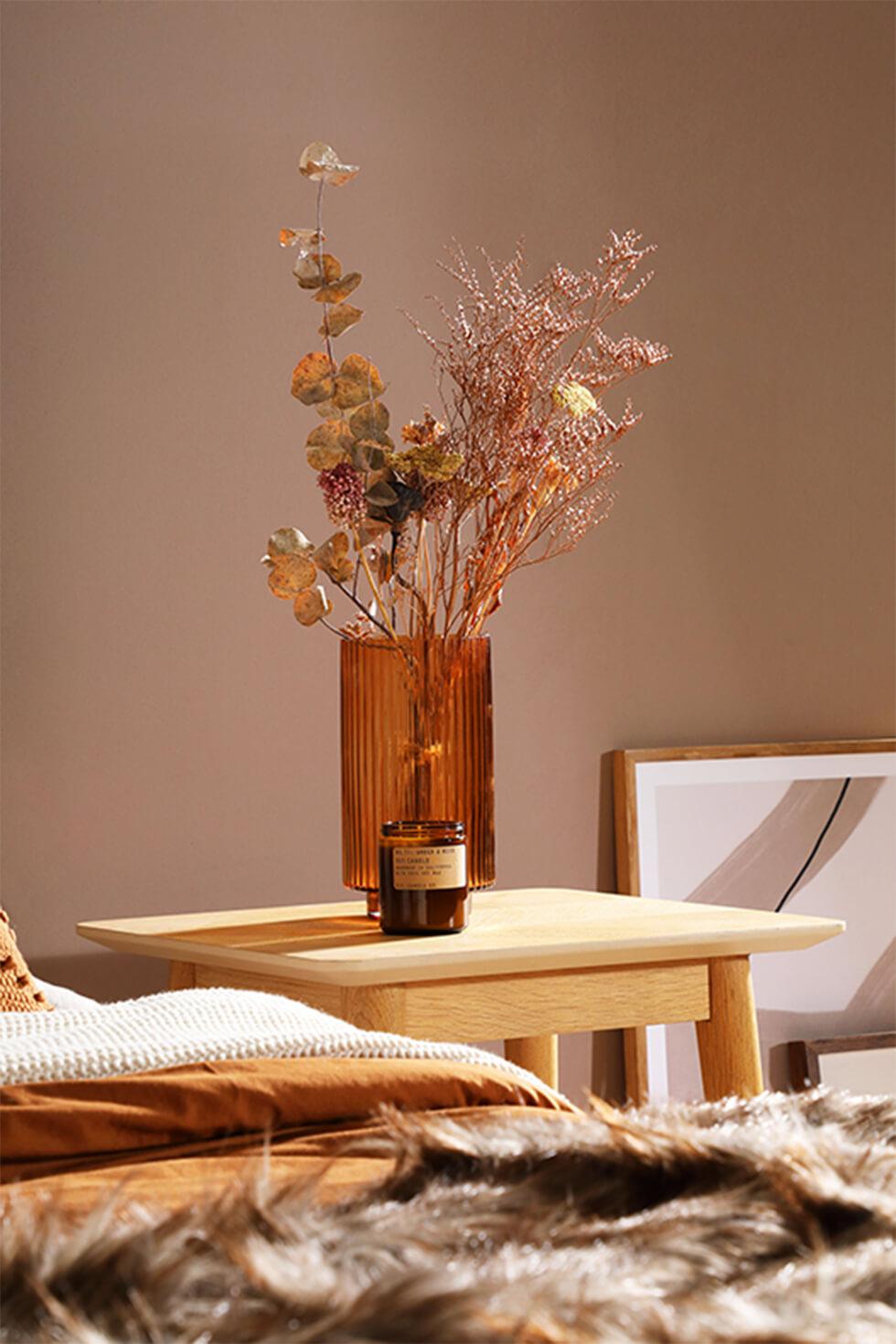 Meanwhile, a glass vase in warm vintage shades such as brown and sepia, or a smoked finish, also instantly gives off a mid-century feel, while still looking right at home in a modern space.
2. Play with colour and pattern on the walls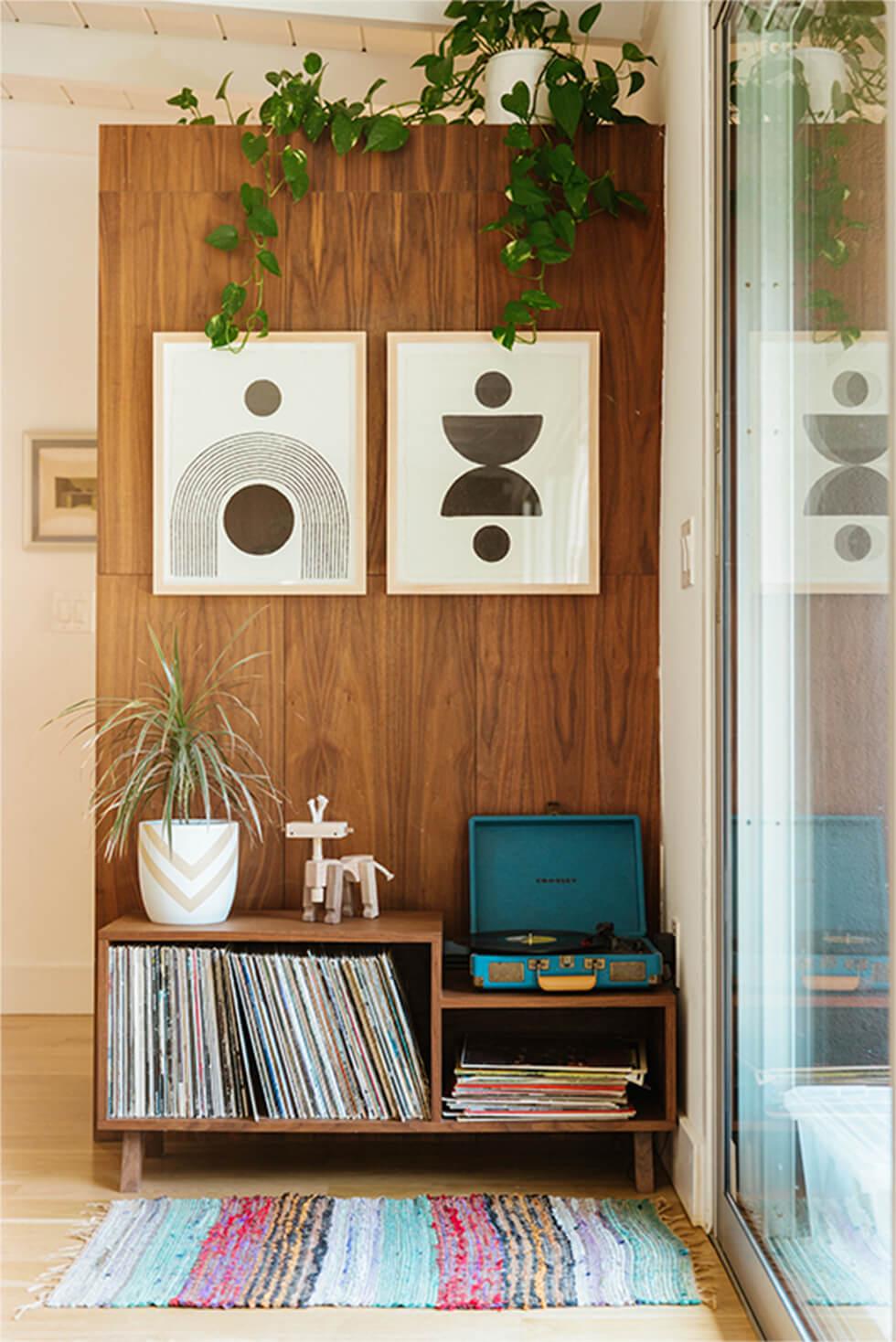 The colour palette for this style runs a wide gamut, including the brighter tones of the swinging 60s (such as warm oranges, teals, and yellow), as well as more muted, neutral shades (such as blush pink, light green, and creamy neutrals), so you can really take your pick.
If you have the space for a feature wall, installing wood panels is a classic nod to mid-century style, and brings in some natural warmth to a living or dining room. Especially when paired with a patterned rug, and some indoor plants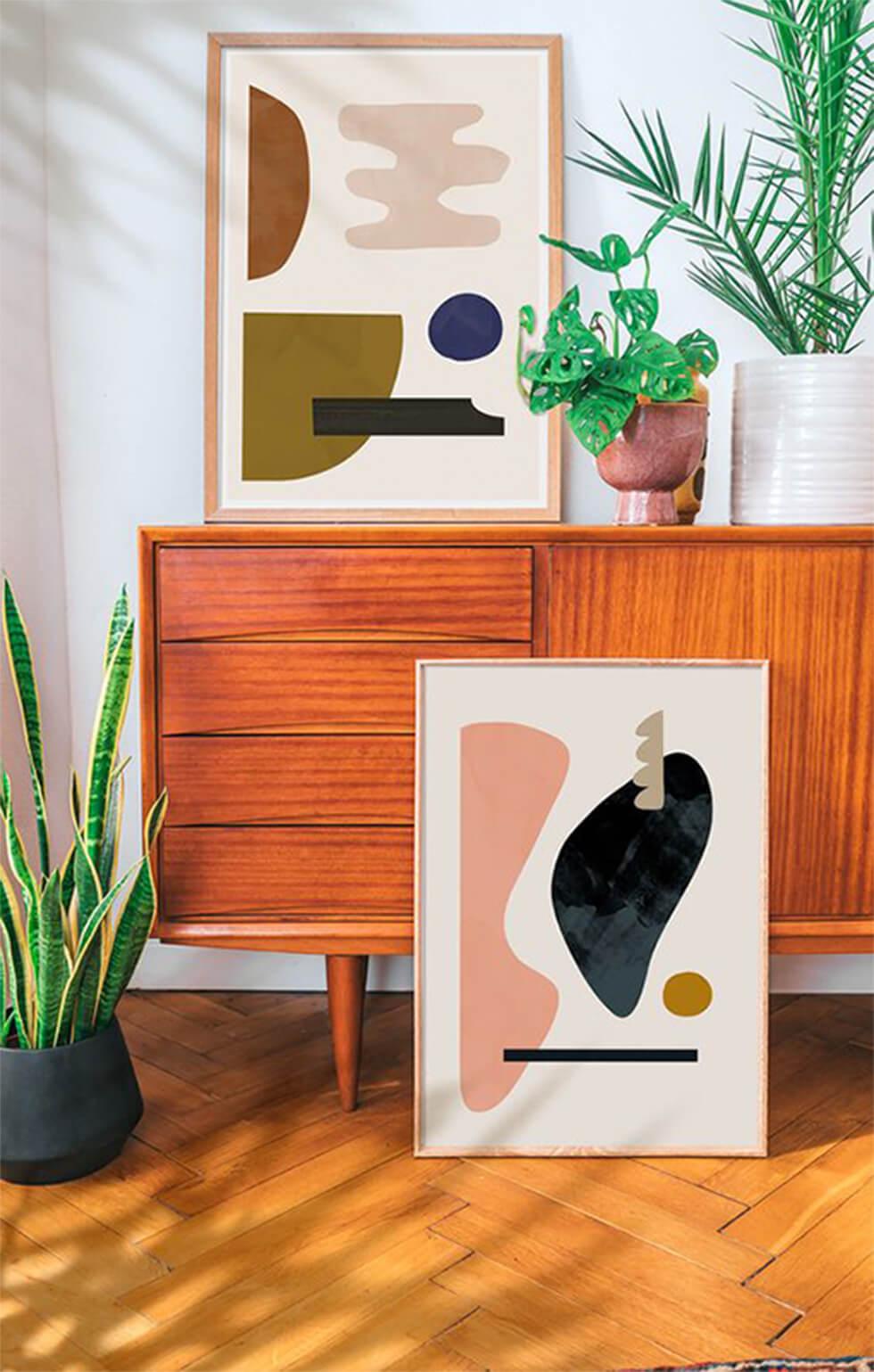 However, if you're not ready to commit with paint, wallpaper or panelling, decorating with art is also a great way to get the look. Look for some characteristics of this period: simplicity, a contrast of geometric shapes and gentle curves, and pops of colour, and then go with what appeals most!
3. Build with smaller items of furniture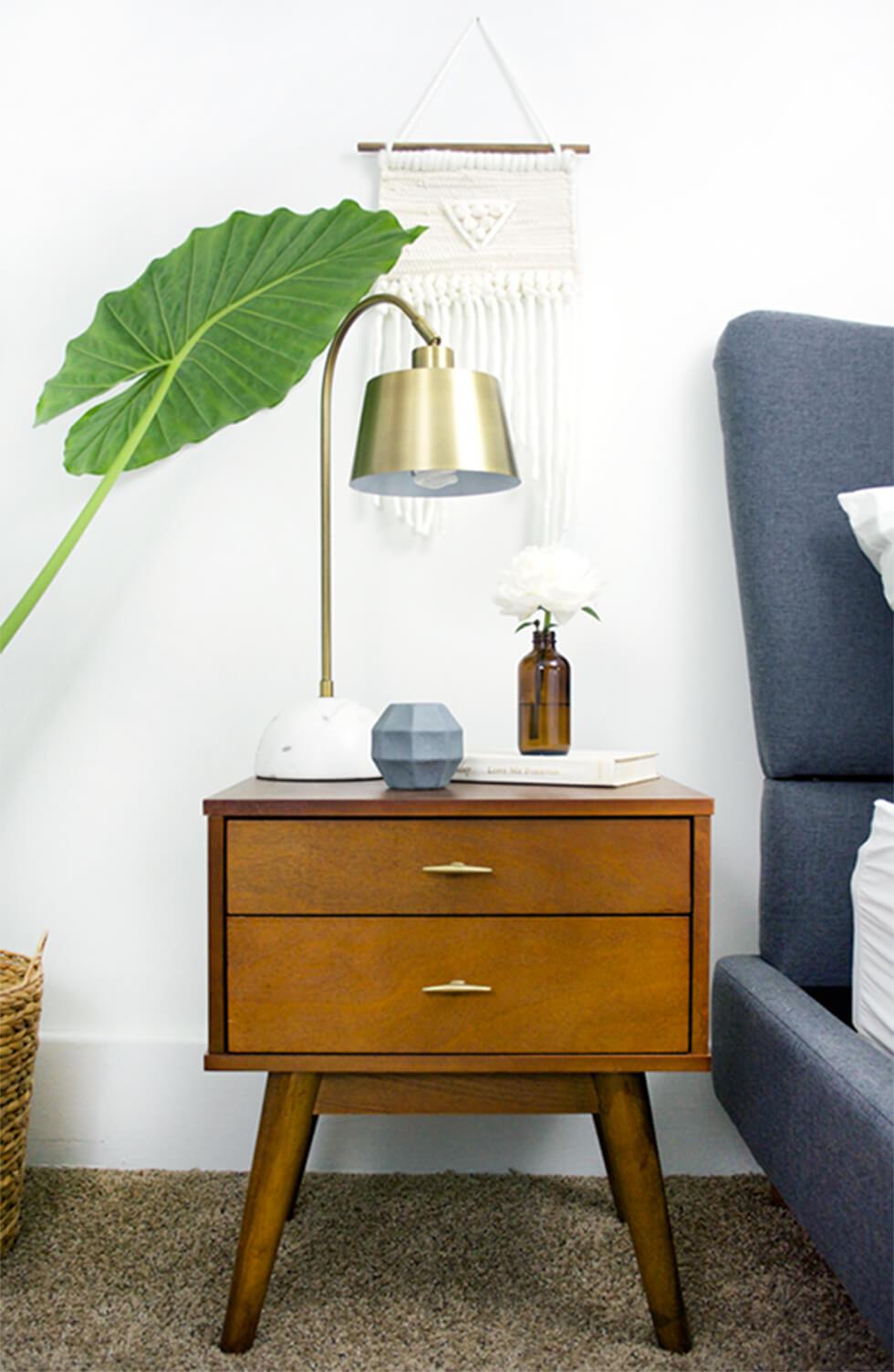 As we've established, it doesn't take much to evoke or echo mid-century inspiration - so if you're ready to furnish your home in this style, it may be a good idea to start small. That way, you can build up from there, decorate around it, and find your own expression of the look.
For instance, a wooden side table with tapered, splayed legs gives vintage appeal in the bedroom, while being deeply functional - a hallmark of the mid-century modern approach.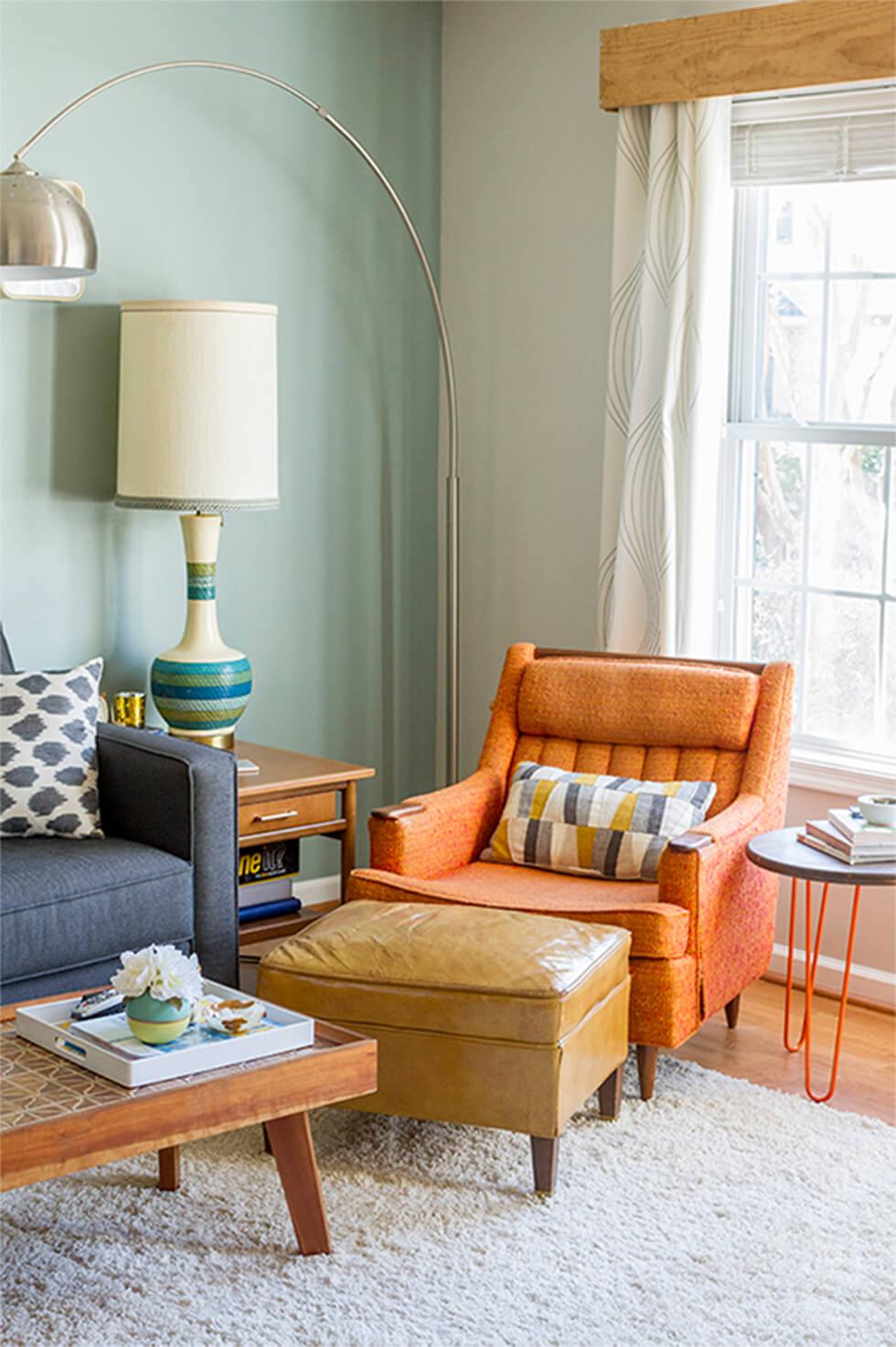 You can also make a splash with a more striking item of furniture. Credenzas are a staple of this period, as are cosy armchairs in hues such as orange, blue and even ochre. Just having one or two of these pieces in an otherwise simple, modern home, would be a stylish way to nod to the inspiration of the era without being over the top.
4. Go for wow factor with a centrepiece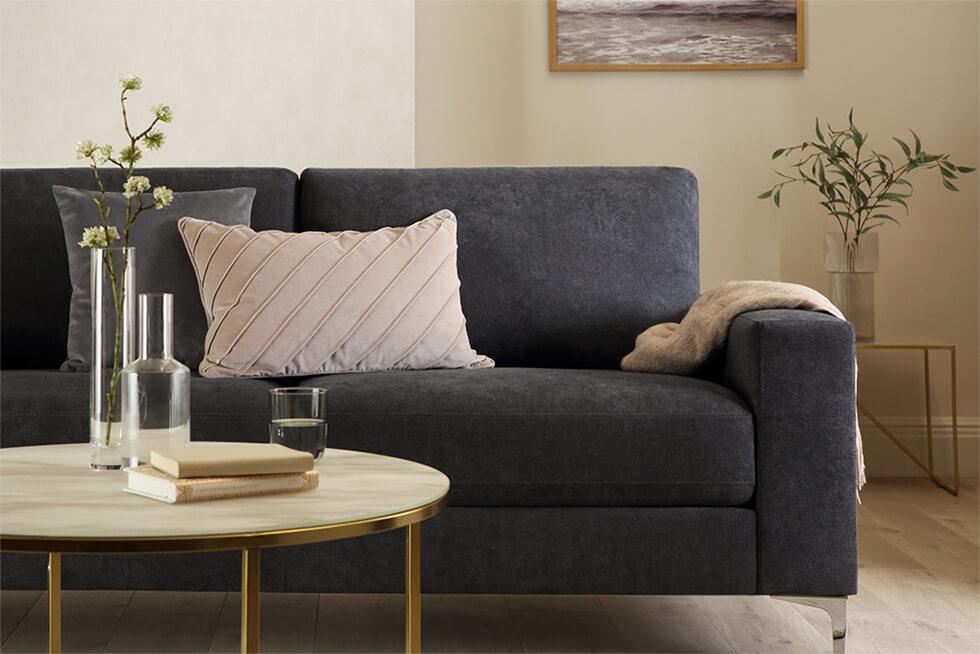 If you love the mid-century modern look, going with a centrepiece like a sofa or dining table can be a very satisfying and impactful way to infuse this style in the home. Look for simple, tailored pieces that also include clever, contrasting details.
For instance, this fabric sofa brings together cosiness (from the plush textile), clean lines (from the silhouette), as well as a modern, futuristic touch (from the chrome legs). You can then play it up with a simple round coffee table, for a warm, contemporary take on mid-century style.
5. Get modular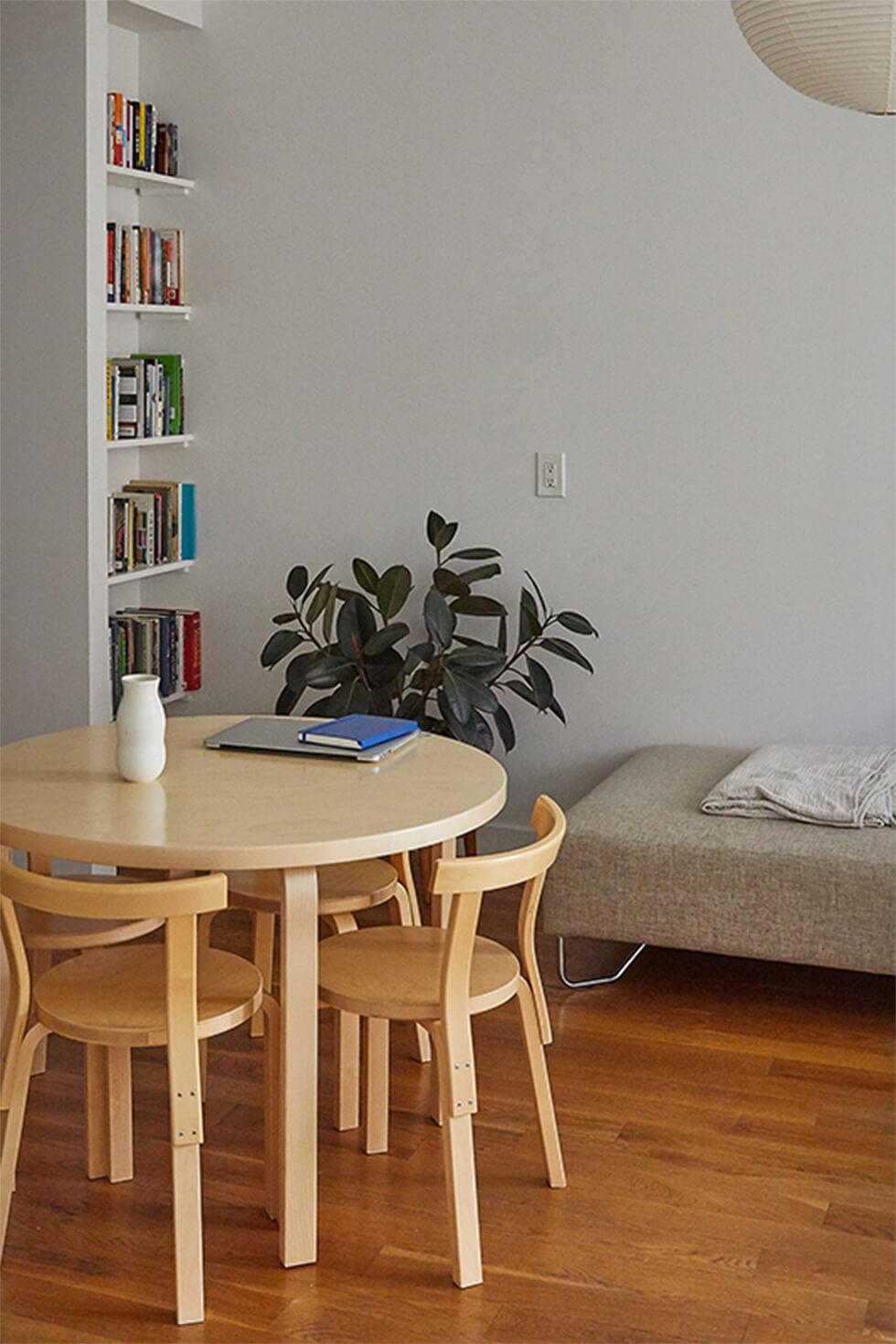 One of the touchstones of mid-century style was modular furniture - pieces that could be easily moved around to suit the shifting needs of your home. This flexibility allows for a single space to have multiple uses - all while looking neat and livable - which is why minimal lines and functionality are so central to this approach.
You can sit down to a meal at a round wooden dining table, but it could also be moved if you need more space, or pushed over to a quiet corner, to serve as a home office.
In the living room, investing in sofas that can shapeshift into different configurations, such as going from a three-seater to an L-shaped sofa, is a clever, elegant way to really make your home work for you.
6. Mix it up with other influences and eras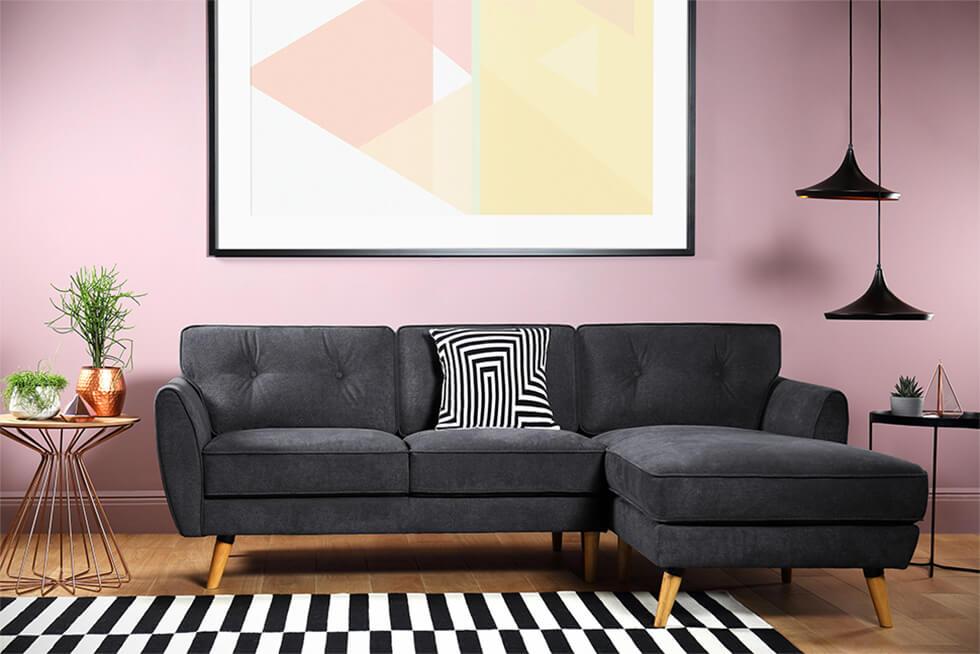 Lastly, because of its sleek, pared-down silhouettes and focus on function, mid-century modern style matches beautifully with other looks and eras. Which means you can create a place that really feels personal, while taking inspiration from different spaces.
The trick here is to play with layers. Begin with your centrepiece, and go from there! For instance, complement a classic mid-century sofa with vintage-inspired lamps and side tables - but then play with contrast with a statement patterned rug, and a playful wall colour, such as pink.
This gives you a look that's thoroughly eclectic and individual, marrying vintage appeal with a contemporary feel.