8 of the coolest ideas for an inspiring green living room
From soft sage to bright lime and dark emerald, we take you through 8 inspiring ways to style a green living room, including what colours will match best.
Green has a serene yet powerful energy that makes it a great choice in the living room. Long associated with wellness and nature - green is grabbing the spotlight in a time when many of us are trying to build a home that allows us to truly relax.
Read on for some of our favourite ideas on styling green in the living room.
1. Enjoy the calm of sage and olive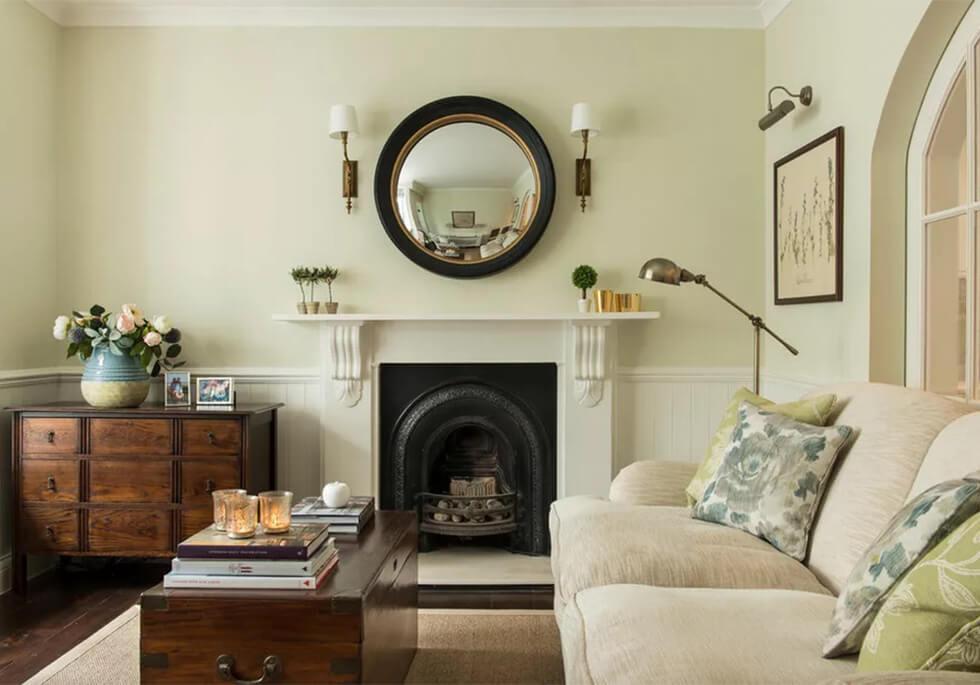 The desaturated, soft hues of sage are a wonderful neutral - light enough to replace white and cream but just unusual enough to offer a chic update, especially when used on the walls. To accompany it, colours such as grey and brown go well with sage green for a nature-inspired tonal approach, while you could also go for pops of red and terracotta as accents.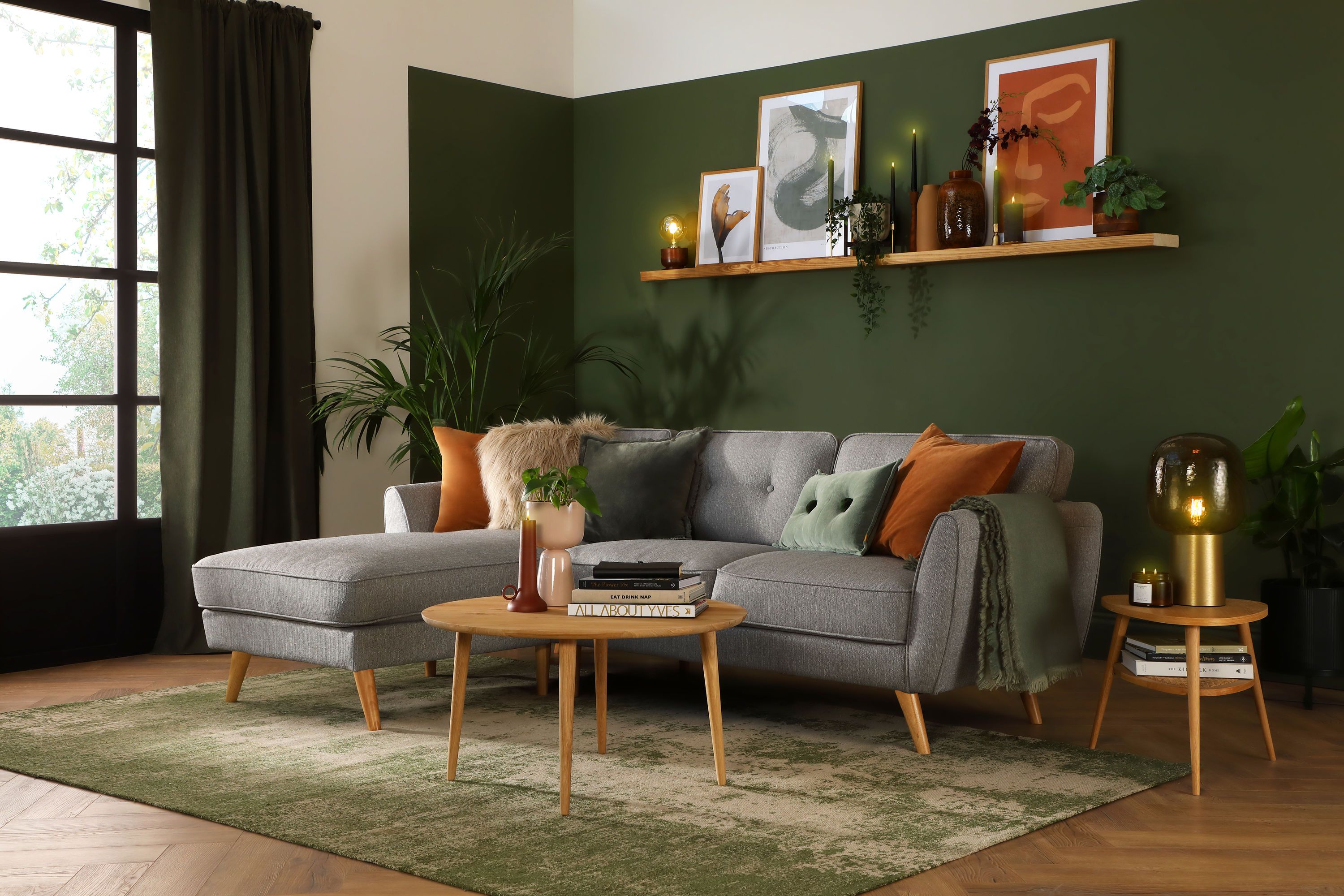 Similarly, the grey undertones of olive make it a lovely alternative to darker neutral colours in the living room. If you've been considering painting your walls taupe or light grey, olive would work just as well and provides an intriguing touch to the living room. Olive goes well with most colours, but really shines against warm tones such as gold, brass and burnt orange.
2. Go classic with a twist in mint green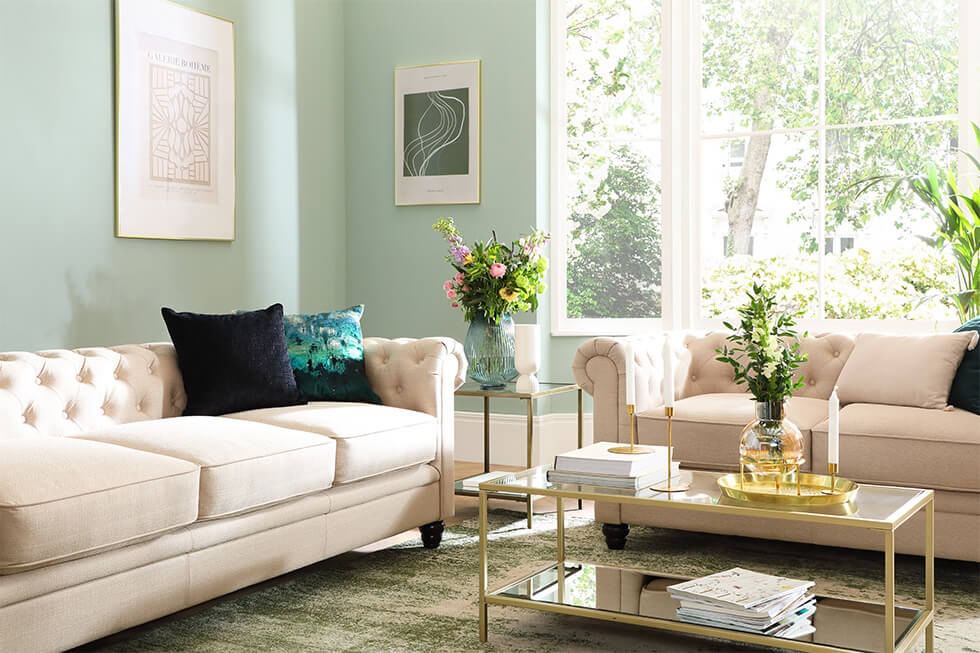 If you're a fan of the vintage aesthetic but want a modern twist, pale mint green is a great way to update a traditional look.
This shade has its roots in both mid-century modern styling and millennial pastels, making it a perfect way to give a shoutout to both looks.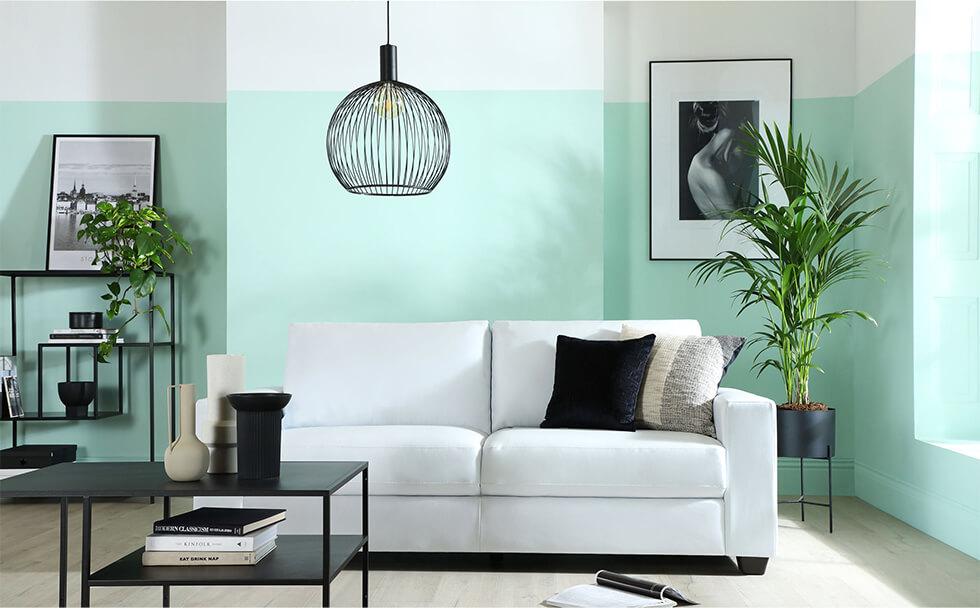 For a modern approach on the other hand, consider introducing mint through colour blocked walls. Paired with a white leather sofa and sleek black accessories, this living room is a winning combination of colourful contemporary style.

3. Pair green with darker, traditional furniture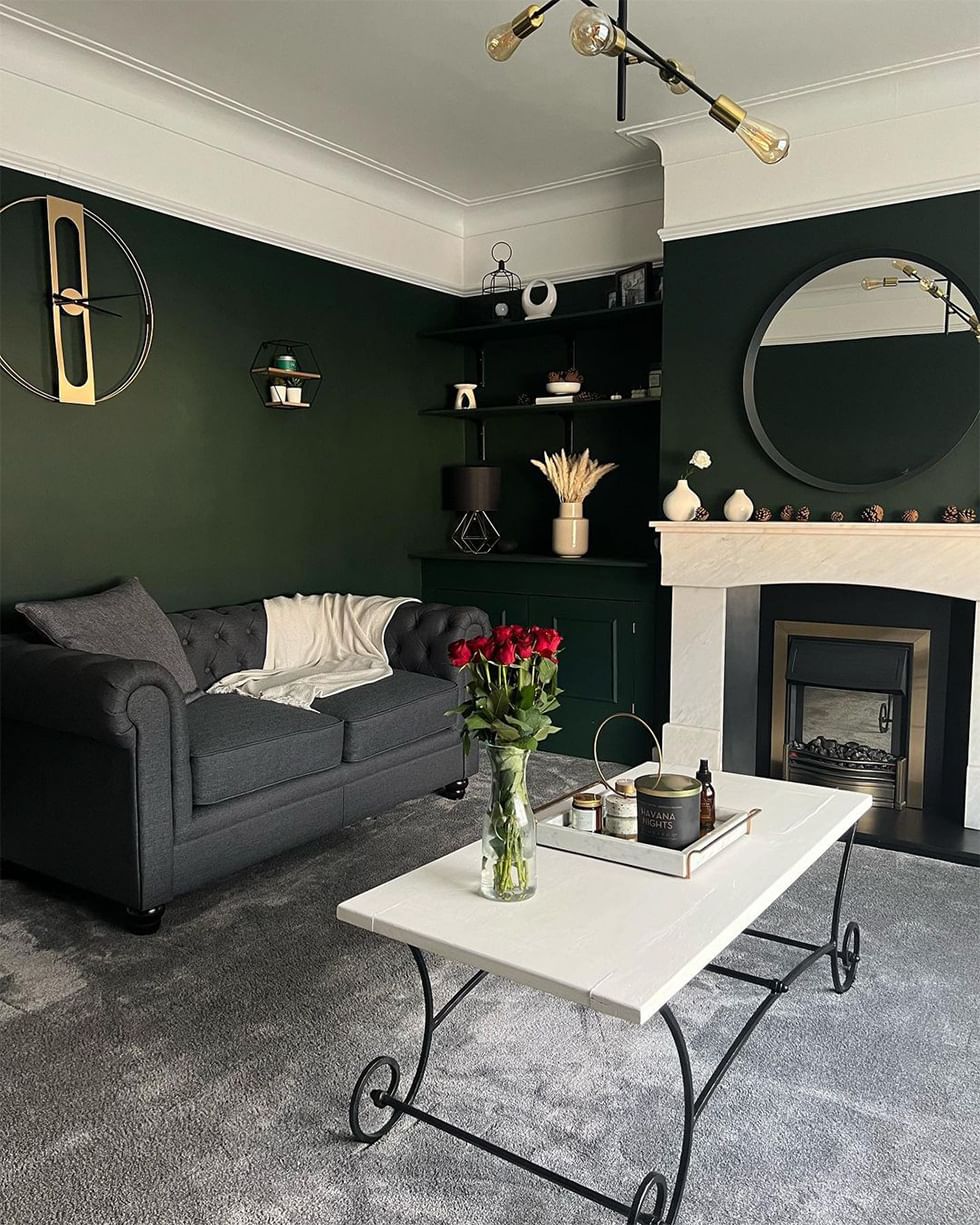 When it comes to going classic with a twist, another cool approach is to ground green walls with traditional furniture in dark finishes.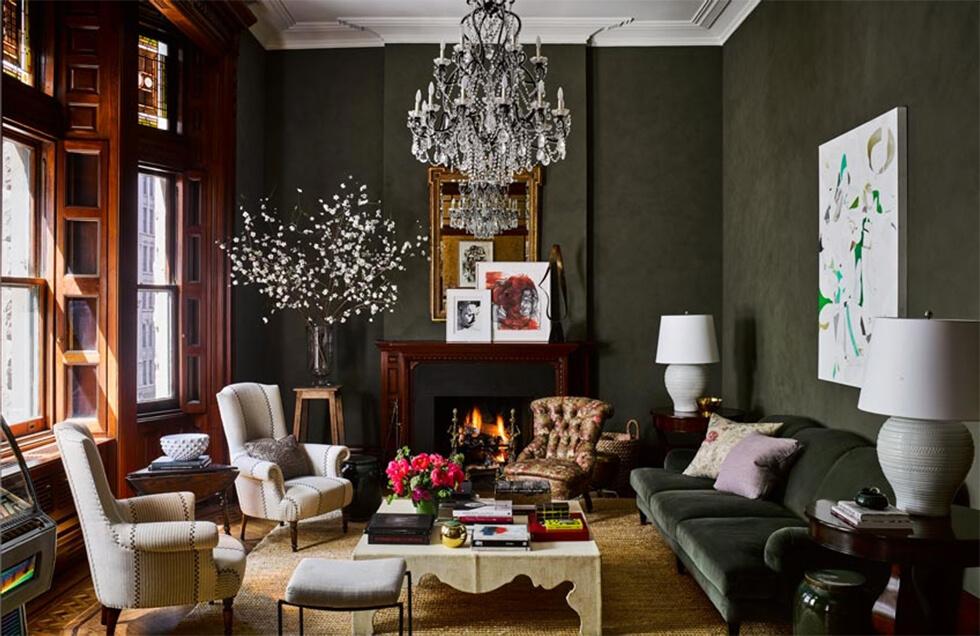 The trick here is to look for shades of green that aren't usually used as wall colours - think kelly green and grassy tones - or even bright patterned wallpaper, and then simple, classic furniture such as mid-century modern sofas and dark wood armchairs for a fun juxtaposition.
4. Embrace the elegance of dark green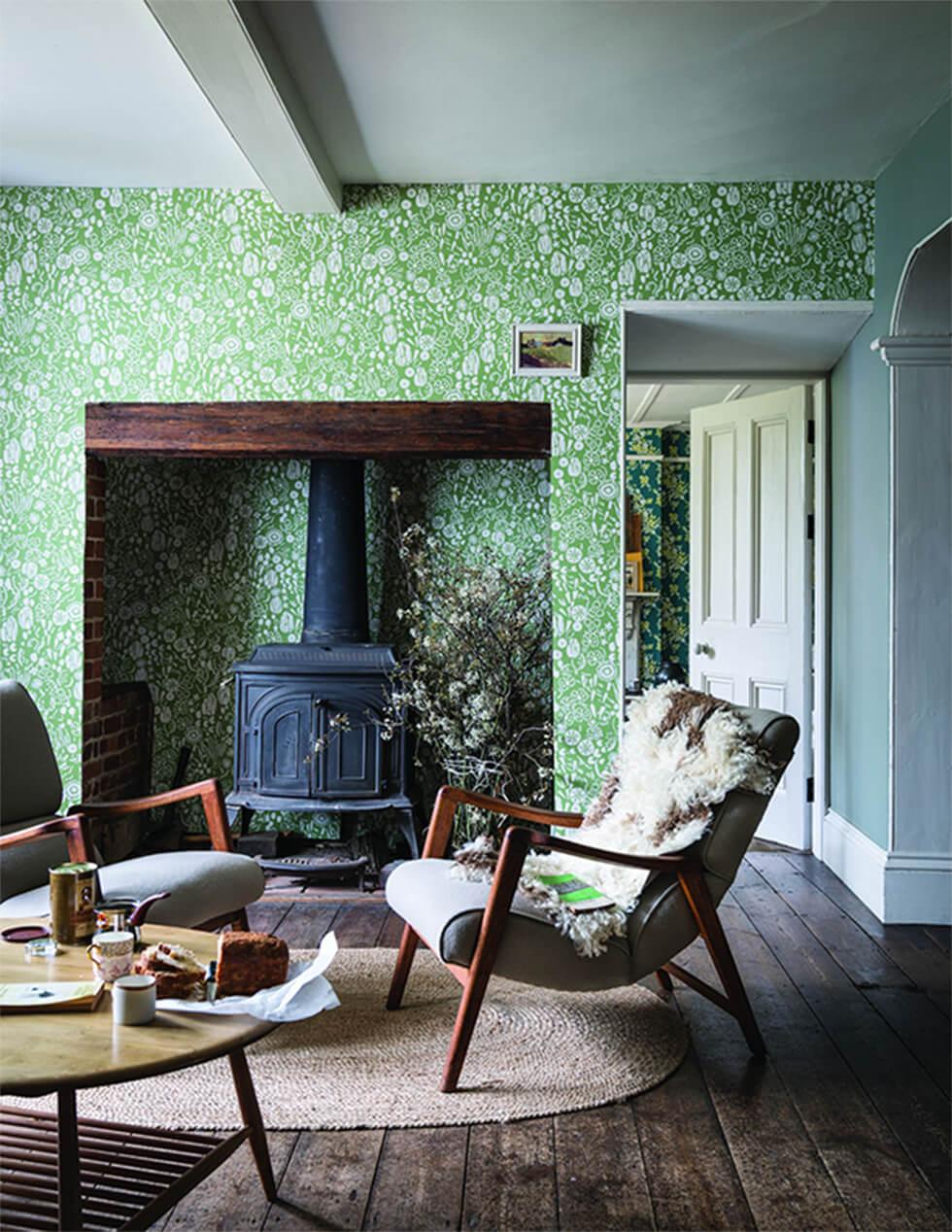 Or you can go all the way to the darker end of the spectrum and enjoy the moody, sophisticated feel of inky green. A sophisticated choice in the living room, these tones will really create a space that invites everyone to sink in and relax.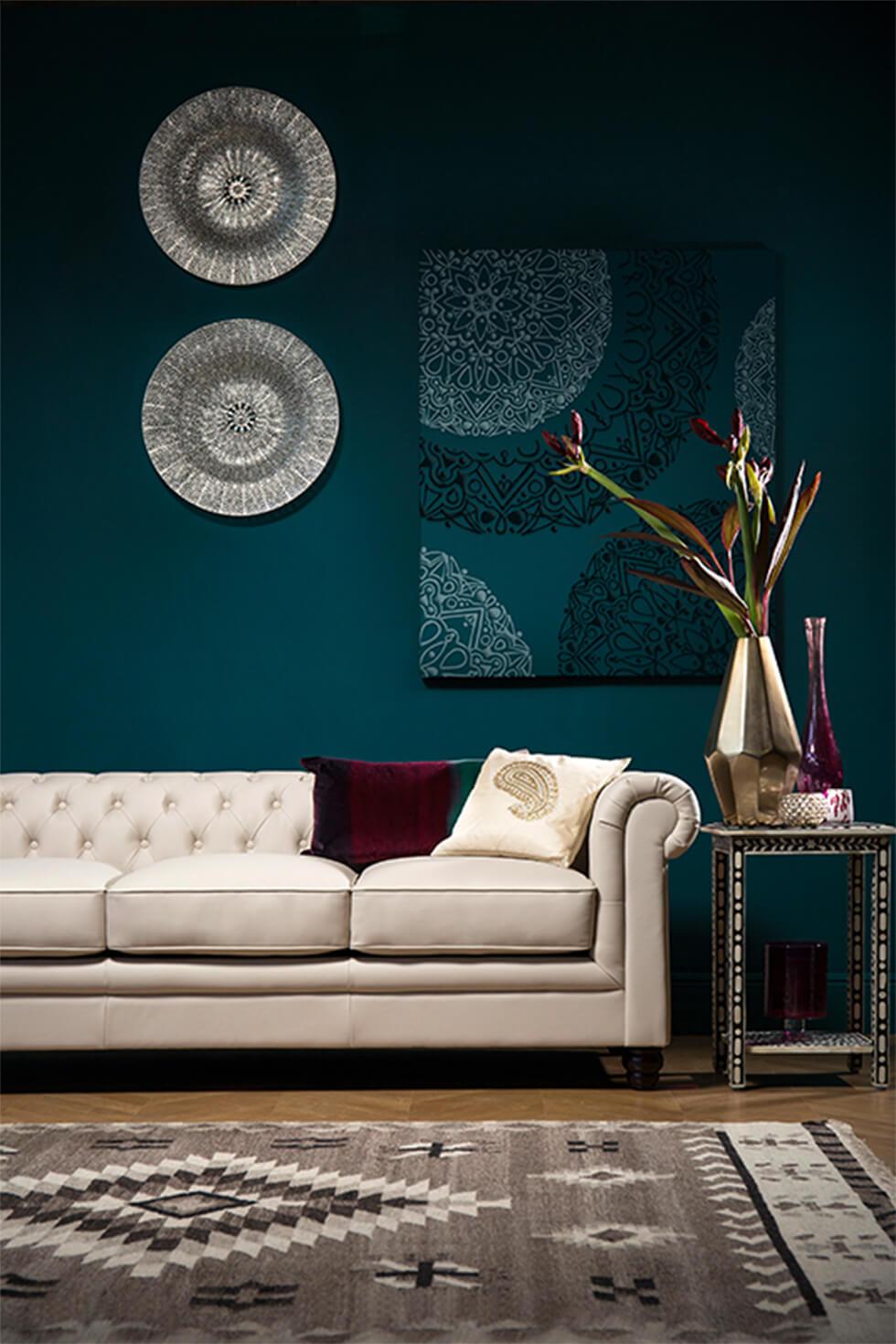 One option is to go for a tonal look, matching a dark khaki sofa to the walls of the space. However, it's also fun to create contrast and airiness with lighter accents, such as wall art or a statement white sofa, and gilded touches in gold and brass.

5. Go bright with teal and lime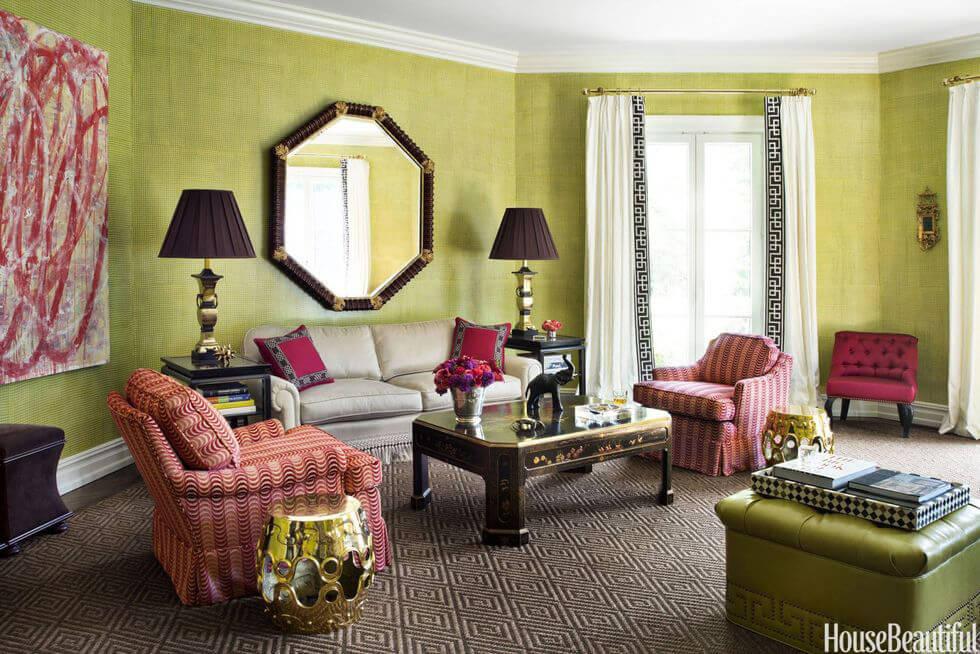 For all its calming qualities, green can also inject some energy into a room, especially in its brighter, more saturated forms. For instance, lime green's zingy, fresh quality makes it a great choice for a more youthful, sparky living room - it would look great as a feature wall, or even in a statement armchair or footstool. With a colour this bright, you can really lean into it and create an eclectic space with contrasting warm tones and patterns, or go in the complete opposite direction with simpler colours and fabrics. Cream linen curtains, for instance, would look beautiful against green walls.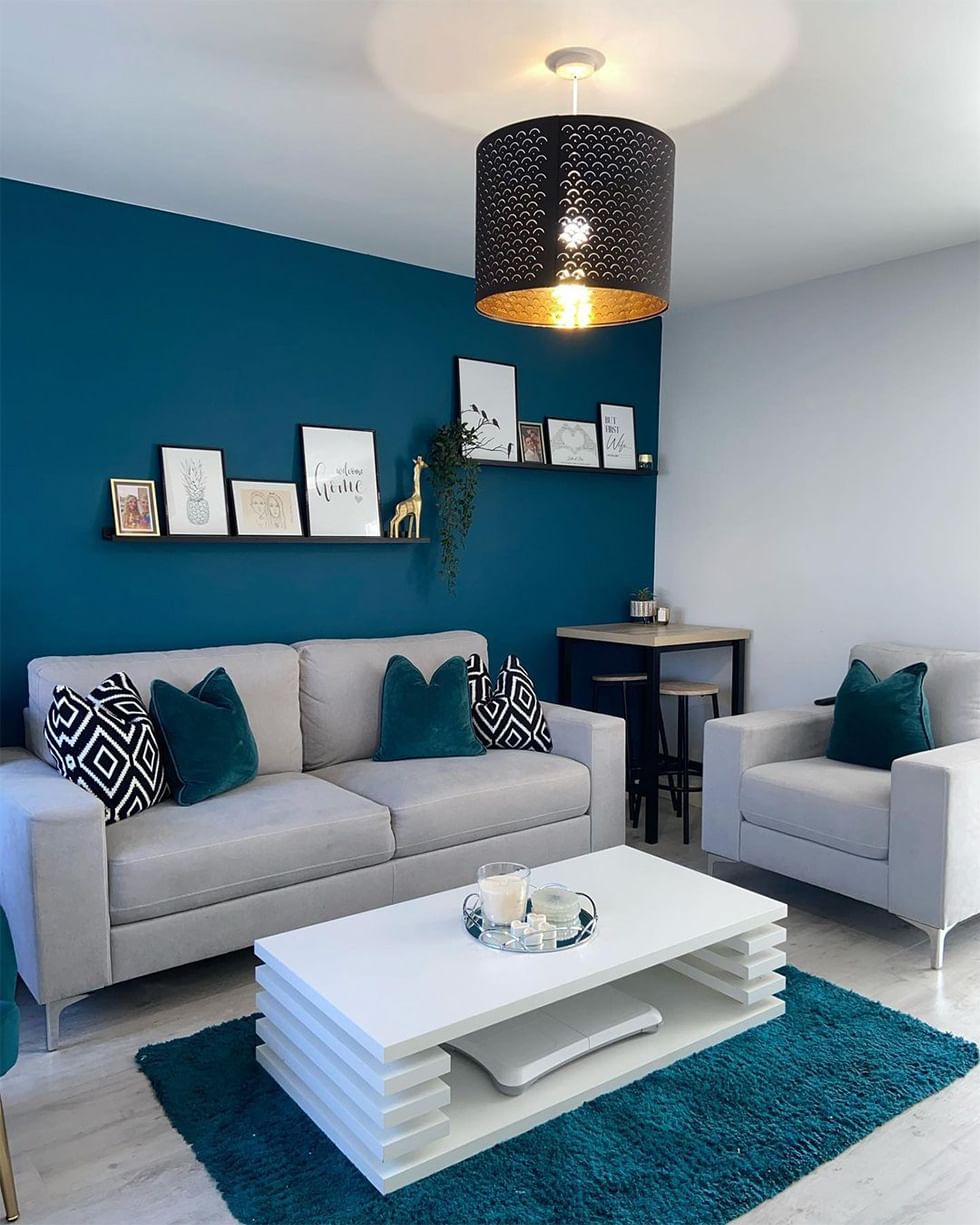 Blue and green actually have similar undertones, and can look great side by side - the key is to look for colours that have a bit of contrast, especially in terms of tone. In this dark teal living room, a grey sofa and armchair add stylish contrast for a modern, chic touch.
6. Use grey and neutrals to anchor the space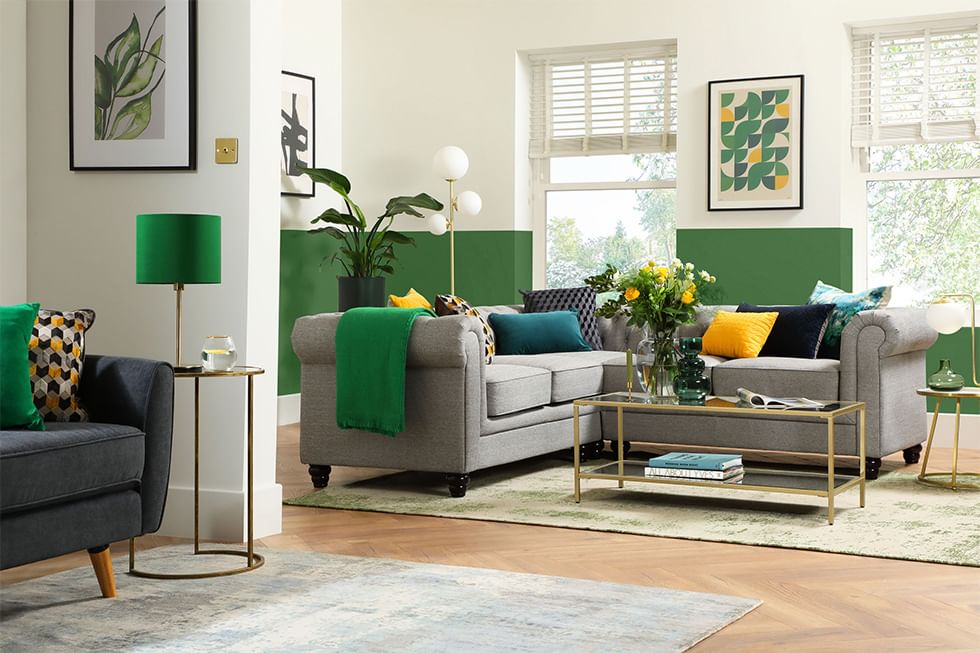 If you really want green to be the standout colour in your living room, then a good technique would be to ground it with grey, white, and other neutral tones. The simplicity of these minimalist, fresh colours give you a clean palette to really feature green and let it shine. In this cheerful living room, two-tone walls pair beautifully with a grey sofa and pops of citrus.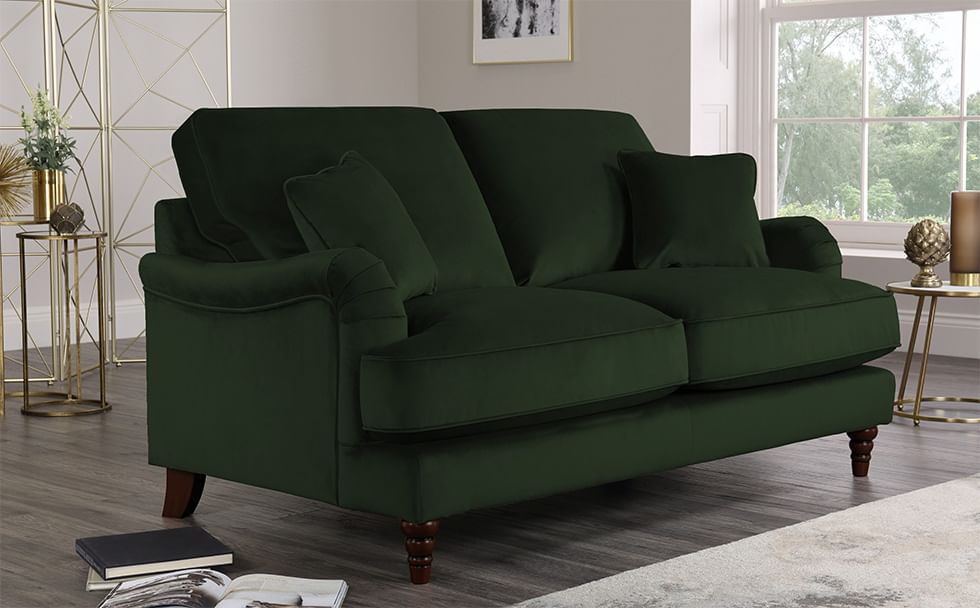 If you have a green sofa and were wondering what colour goes with it (short answer: most colours would!), a dapper pairing would be with greys, warm browns or white and cream. In this glamorous example, a dark green velvet sofa sits handsomely against a grey wall for a sophisticated yet easy feel.

7. Play with contrasts like mustard and peach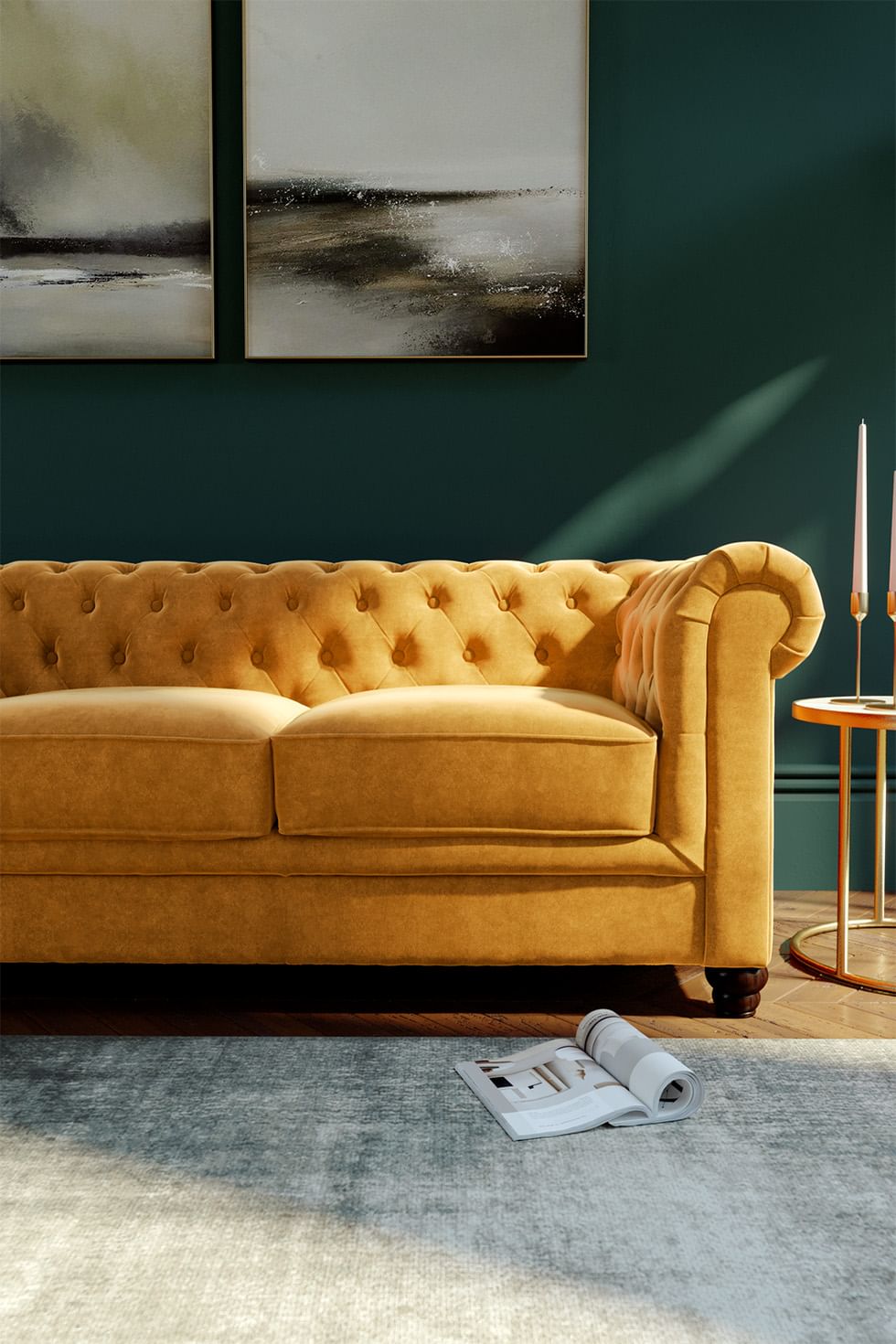 If you're more of a maximalist, then this playful take may suit you better. When looking for colour pairings for your green sofa or walls, look for colours that sit opposite on the colour wheel, such as orange, red, pink and yellow.
These warm tones contrast beautifully against green and create a charming, welcoming space, and for a finishing flourish, look out for gold or brass decor for added glitz and sparkle.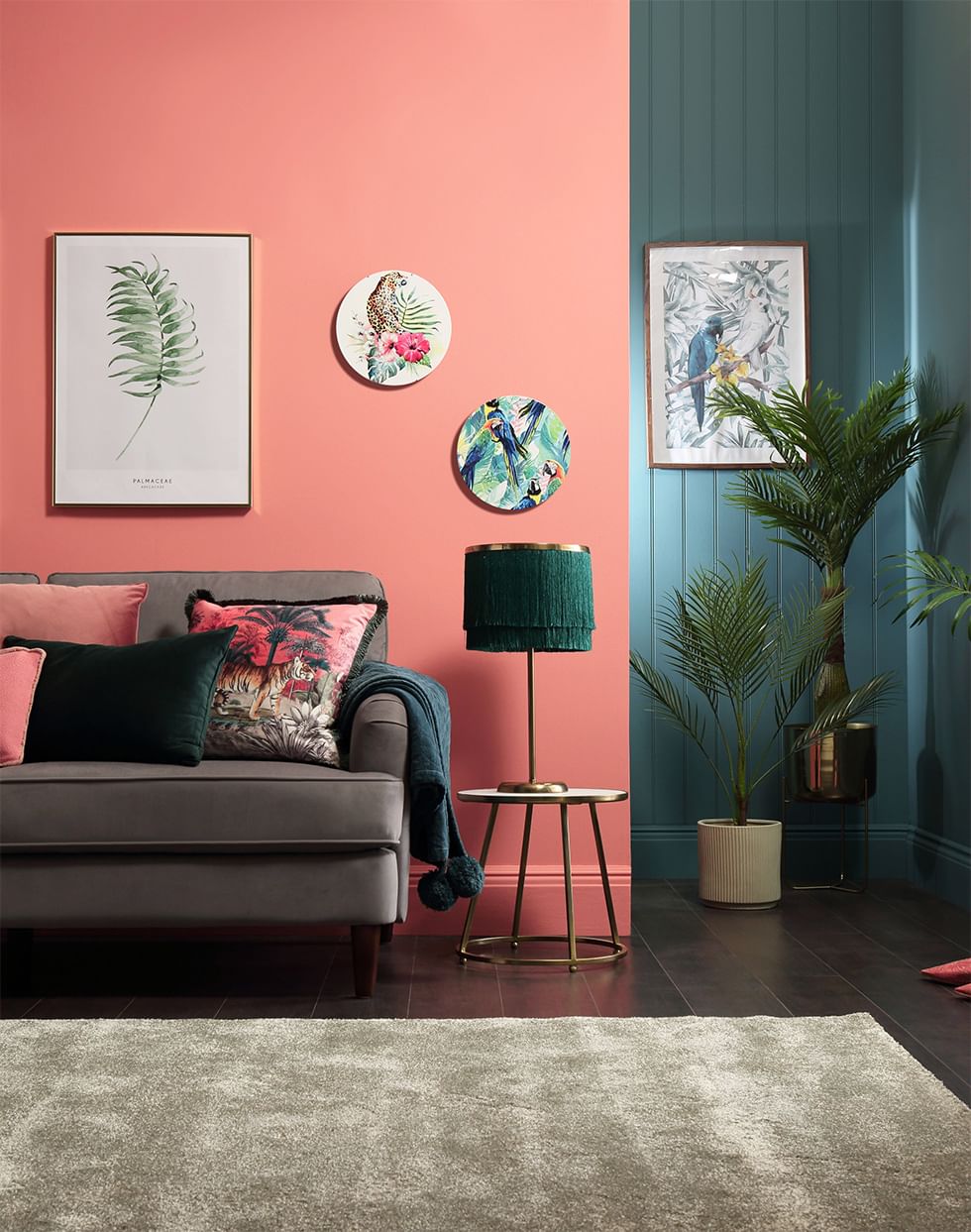 These warm tones contrast beautifully against green and create a charming, welcoming space, and for a finishing flourish, look out for gold or brass decor for added glitz and sparkle.
8. Get inspired by natural greenery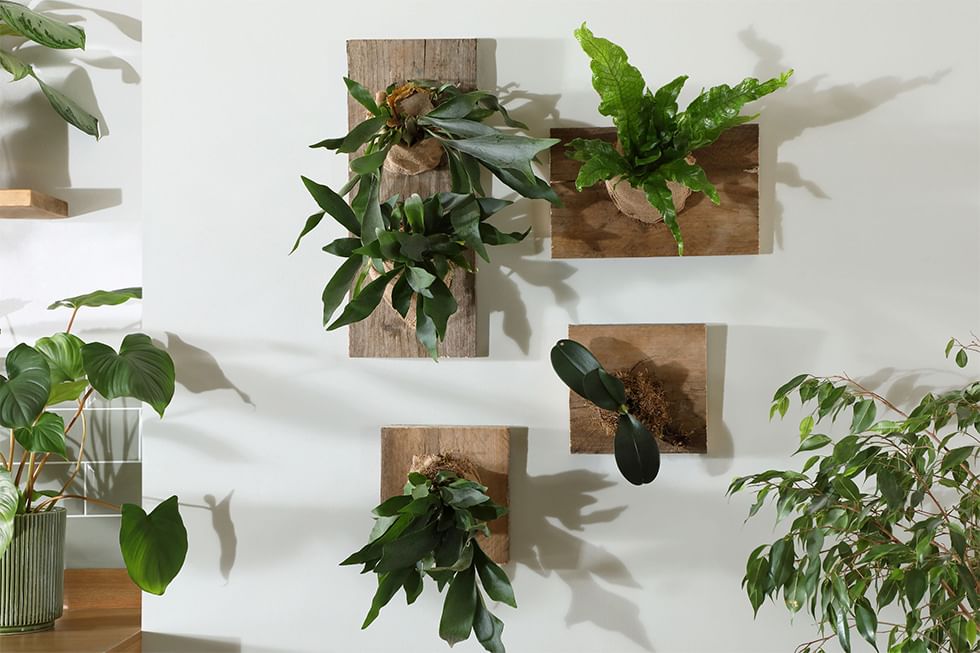 Lastly, take a cue from nature and incorporate greenery and plants into your living room. Aside from colour, indoor plants also create lots of visual texture and personality in the home - and as a bonus, they're great for your health too. If you're feeling ambitious, you could DIY a planter feature wall for height, colour and drama.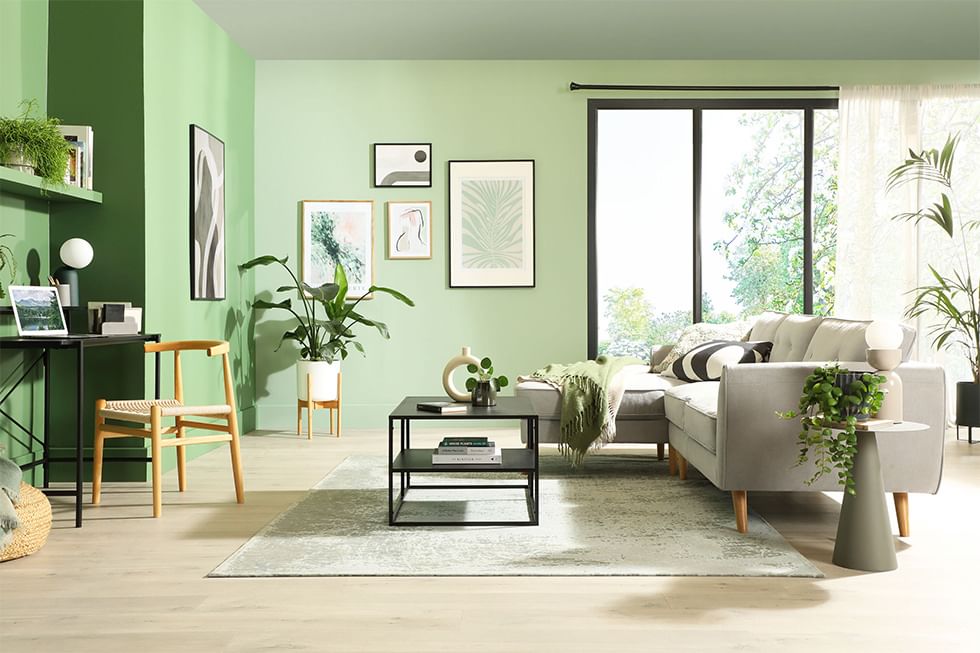 But you could also look at distributing plants around your space, and then using it as a theme throughout, incorporating natural textures and colours in the living room, for a serene, warm look. You may also enjoy our indoor garden guide for more tips and tricks on going green indoors!