How to choose the perfect dining set
Marrying comfort, design and warmth - how to choose the right dining set for you.
A good dining set is one of the most important investments you can make for your home. And there are a few key things to think about: comfort and space are important - no one wants an elbow in the ribs every time their neighbour lifts their cutlery – but style, colour scheme and materials are also crucial.
In this guide, we'll be sharing some of our best tips on how to choose the right dining set for your home, so read on!
1. Measure and assess your space
The first step is to measure your available space and decide on the size and shape of your table - it's going to be the centrepiece, and it's easier to start from there before planning outwards. Remember to factor in additional space for the chairs to be pushed back from the table comfortably. A good rule of thumb is to leave 3 feet, or just under a metre of space, so you won't have chairs and guests bumping up against walls.
It's also a good time to be honest about the space itself and what you plan to use it for - is there a lot of natural light? Is it an irregularly shaped space? Are you set on the colour of your walls? These are all factors that will determine what will work best, along with whether or not this is going to be a space that will double up as a workspace, a space for gatherings and parties, and so on.
2. Decide on a table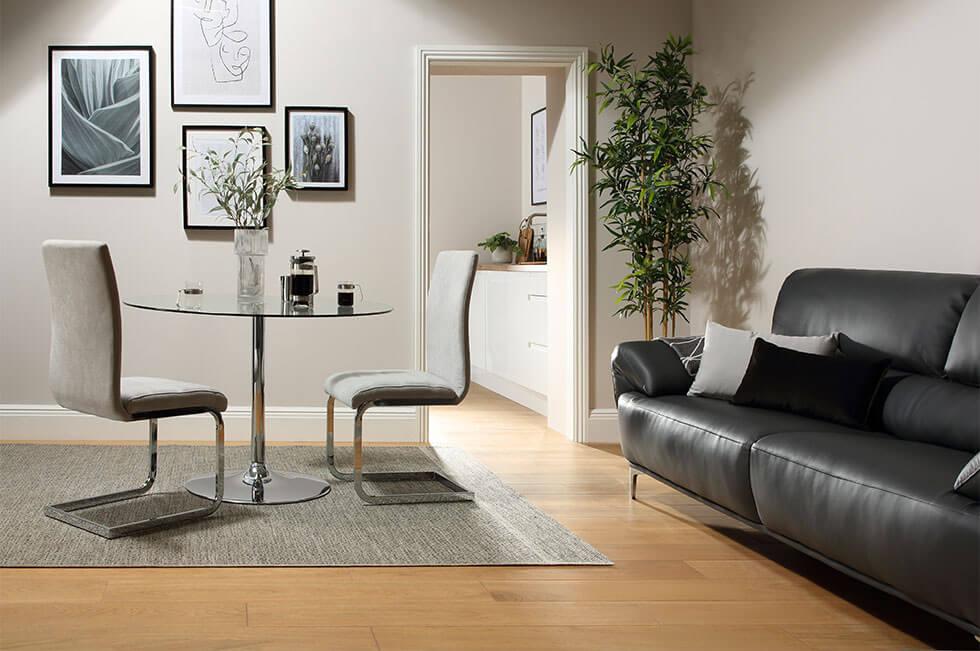 We've already covered how crucial the table is going to be - now let's get to how to pick the right one! There are two main points to address here:
a. Choosing the right shape (especially for small dining spaces)
Of course, part of choosing the shape of your dining table - whether rectangular, oval, round or square - comes down to personal taste. But on a practical level, you'll also need to look at how the table fits in the available space and how many people will fit around it. Square and round tables are great for more compact rooms, and the latter is especially versatile for fitting more people, due to the lack of corners. Extending tables are also helpful here.
Conversely, if you have a larger space, don't be afraid to invest in a table that may be larger than you initially planned for. The table is going to be the main anchor of the room, and to create a welcoming space, it's important that the space not look empty or bare.
b. Choosing the finish that suits your home
Again, a lot of this depends on the look and mood you're aiming for, but there are some pointers and principles that can guide the decision making process. If your dining space is small, or doesn't have a lot of natural light, look out for glass tables, or white gloss finishes, or even chrome.
All of these finishes will open up the room, reflect light, and create a sense of airiness that can make a room seem more spacious. On the other hand, if you want more gravitas, a solid wooden table, whether in a rustic oak, or dark wood finish will certainly do the job, especially when paired with equally sturdy chairs.
3. Be bold and playful with the chairs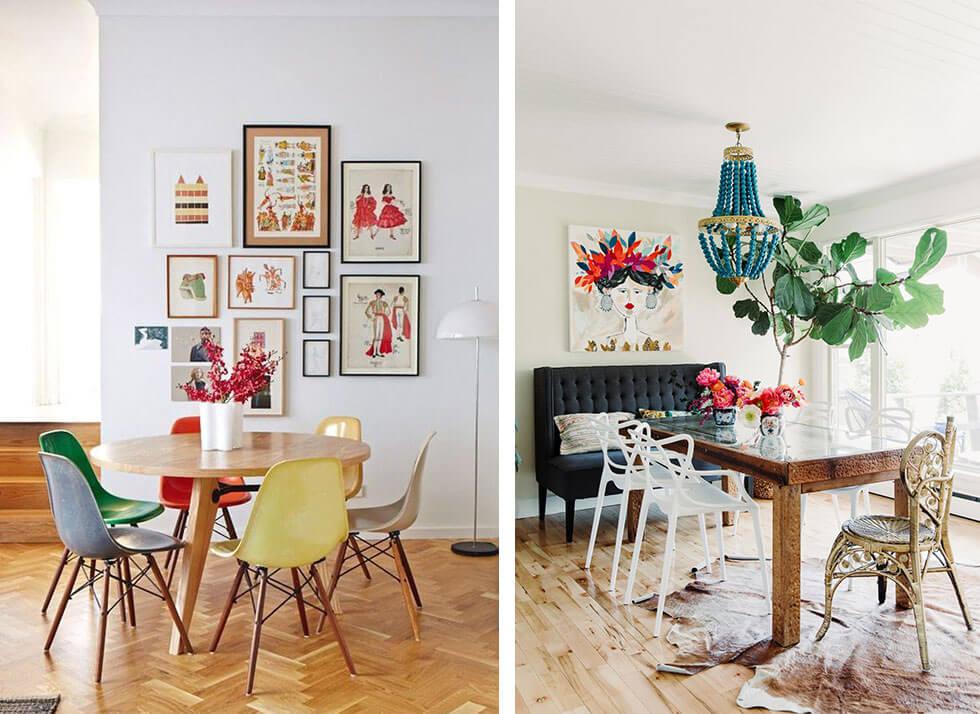 Once you've settled on the table, the chairs are an opportunity to play. Pairing your table with a perfectly matched set of dining chairs will always be a classic, sophisticated look. But playing around with contrasts, especially in terms of style and finish is also a fun way to inject personality into the room, without being overwhelming.
For instance, a sleek glass table paired with bold velvet chairs evokes texture and charm, while still being an elegant, contemporary look. You could also mix and match your chairs for an eclectic, lived-in appeal, especially if you've chosen a more staid table.
4. Be honest and practical with your maintenance needs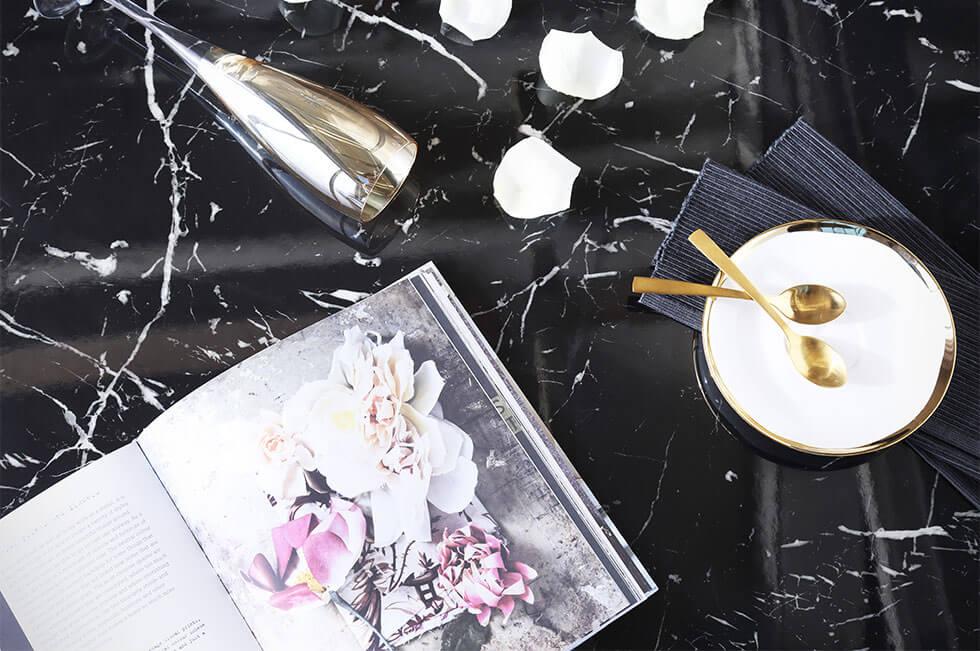 There's a balance to be struck here between aspiration and daily needs - a glass or marble table may be the style you've always wanted, but it's important that you read the care instructions and determine whether it will fit into your routine and schedule. Will scratches and smudges bother you, or is that something you're happy to wipe away or live with?
Our dining sets are built to last, and with that, we also want you to be satisfied with them for the long period of time that they'll (hopefully!) be in your home. So deciding as early as possible what your needs and patience are in terms of maintenance, will also be a helpful guide in making your purchase.
5. Test it out (Or read the reviews!)
Ultimately, it's all about the quality, and the means by which you can check for that quality differs - depending on whether you're shopping online, or in person.
a. Buying your dining set in person
If you're buying your dining set in person, do sit down, lean on it and test it out. It'll give you a better sense of the proportions of the set, as well as its sturdiness. Mimic the motions and actions you'll be using it for daily - lean back in the chair, shift from side to side, check the height of both the table and chair.
b. Buying your dining set online
Buying your furniture online is a whole different kettle of fish, but on the bright side, there's plenty of information available online - the trick is where to look.
Reviews are crucial, and if you have the time, read through as many of the reviews as you can, paying close attention to the ones that contain specific information, especially when it comes to comfort, make and quality. This will give you a more complete idea of the furniture you're buying and save you from unpleasant surprises. In the age of social media, you can also look for tagged photos or hashtags of the brand and particular model of table or chair you're considering, and that will give real-life glimpses of how your dining furniture might look in a home.
Also, request fabric and leather samples for the chairs you've got your eye on. This will give you a chance to feel its quality, examine its colour under different lighting, and see how it holds up – for instance, will it be easy to clean if you've spilled milk on it? Does the fabric feel soft and durable? Is the leather supple to the touch?
And lastly, look for sites that offer free returns! You'll be able to shop with confidence, knowing you can easily return your furniture if there are any defects or simply because you've changed your mind.