How to choose your perfect dining chairs
Our handy dining guide to dining chairs to answer those key questions and considerations.
In many ways, the dining room is the heart of the home - a space where we nourish ourselves, share company, eat good meals, and have great conversations. Which is why choosing a perfect set of dining chairs is so important, to create an inviting space for family and friends.
Of course, 'perfect' here means a few different things: comfort is key, as is getting dining chairs that add visual style and panache to the home. All of which can be tricky, which is why we put together this complete guide to picking and buying the dining chairs that are right for you.
1. Measure your table and dining area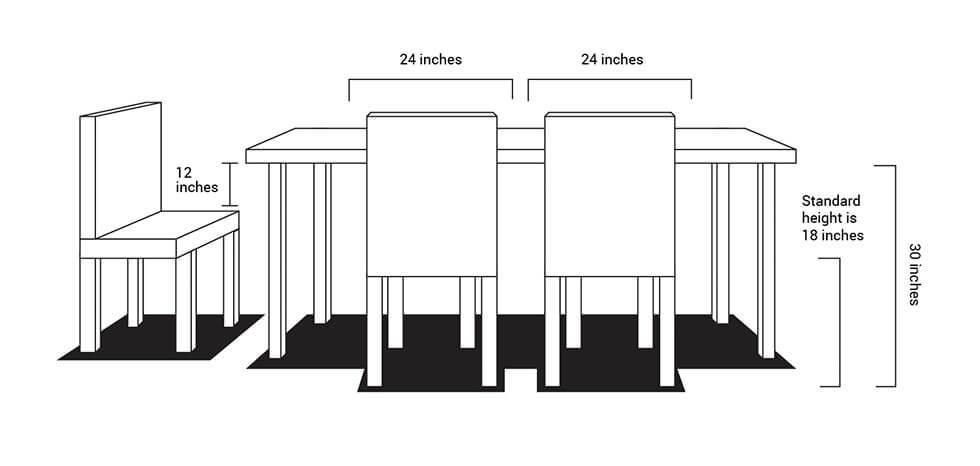 Begin by assessing the size and shape of your table and your room - this will let you know how many chairs you need, and what you can actually fit within the space. Oval and rectangular (or even extending) tables can accommodate more, while square tables will generally comfortably seat 4. That's also a good number for round tables, though the lack of corners means you can fit more people.
Crucially, measure everything, especially the height of your table and the thickness of the table top and any skirting or apron that the table has. Don't rely on the listed height on sites or labels - it's best to crack out the measuring tape and know for sure.
2. Size up space between chairs and table
Once you have those numbers, here are some easy principles to use as a guide:
The average chair is about 18 - 20 inches across, though that changes if the chairs have arms.
When assessing how many chairs can fit around a table, leave 6 inches between each chair.
Also leave 36 inches between the chair and the wall or any other furniture in the dining room, so people can easily push their chair back.
If you're stuck between buying a set of 4, 6 or 8 chairs (or more!), consider how many chairs you actually want or need for daily use and life, and prioritise that over the number you have in mind for big parties or entertaining.
3. Pick the right dining chair style and material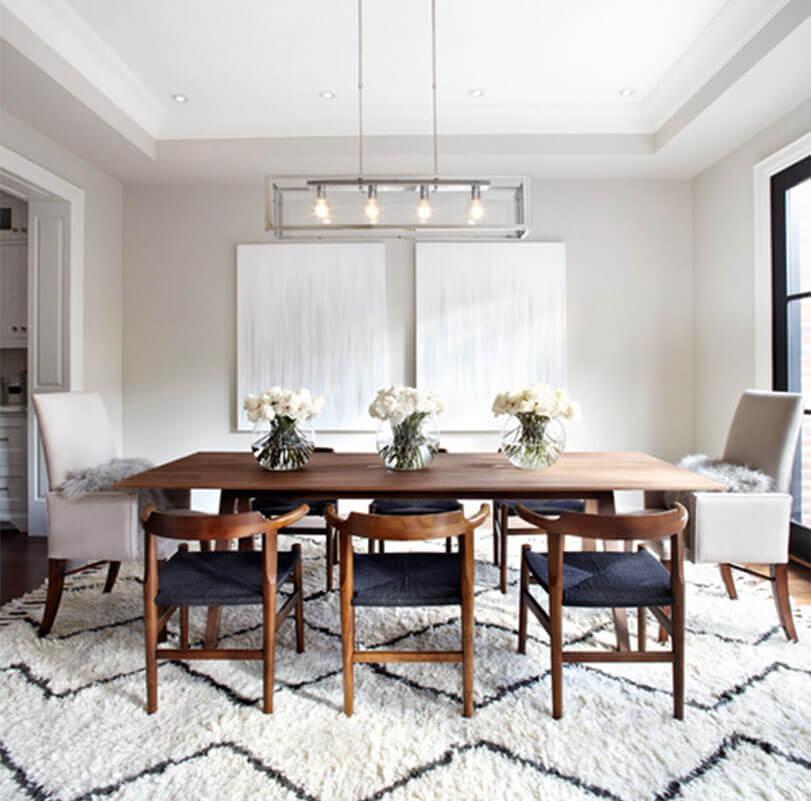 When it comes to finding the style and aesthetic for your dining chairs, there are some questions that can help:
Do you prefer something simple, or more elaborate?
How large is your room?
What is the overall look and feel you're going for?
Combining dining chair style with function
If you're going for an airy, lighter space, simple wooden chairs with clean lines and open backs might suit, and this would also work beautifully for rooms that are smaller.
On the other hand, if you plan to use your dining room for socialising, or even to work, then upholstered chairs may be more comfortable to sit in for longer periods of time.
Dining chair materials: Fabric, leather or chrome?
Fabric chairs: cosy and allows you to play with texture and print, but cleaning stains and such may be a concern.
Leather chairs: sleek classics, durable and easy to clean.
Chrome or metal chairs: very modern and typically more lightweight, in case you need to stow them away.
Dining chairs with or without arms?
Dining chairs with arms (or armchairs used in the dining room) are great for table ends where there's more room, and to give an option for a cosier seat. But if you're short on space, prioritise the comfort of the seat and back instead of focusing on chairs that have arms.
4. Mixing and matching dining chairs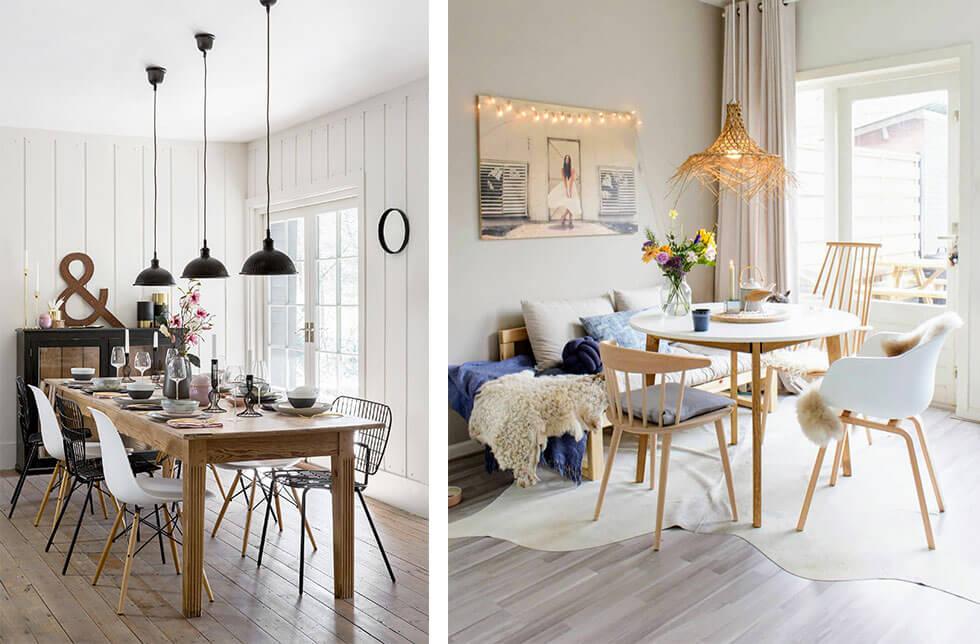 Which brings us to our next point - don't be afraid to mix and match for a more eclectic approach. The table will serve as an anchor for your space anyway, so start from there and work outwards.
One easy way to do this is to have a pair of matching end chairs that can contrast against side chairs for a strong look. But you can also mix different pairs of chairs for a cosy, homely feel in the room. The key is finding a theme, whether it's in colour, chair height, or prints.
From there, mixing materials and textures (think pairing a sturdy wooden table with white chairs, or a light table with chairs softened by throws and cushions) and having fun with your selection can create a playful space that also provides different seating options for guests.
5. Look out for interesting dining chair features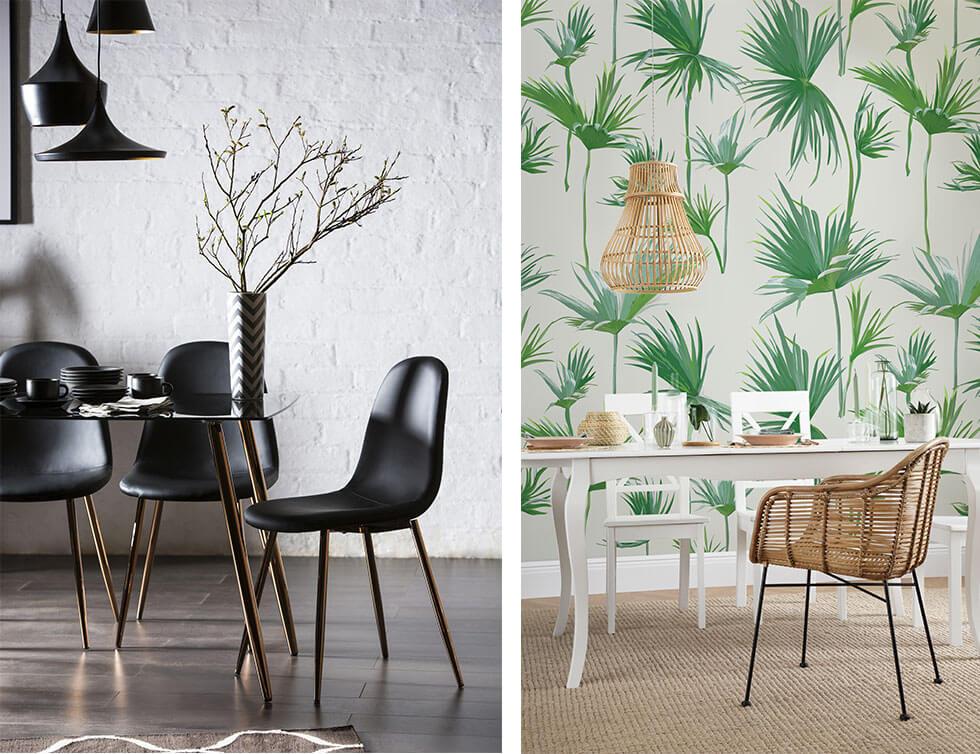 Some specific features can really set your dining chairs apart from the rest - look out for flourishes such as interesting detailing and sculptural or carved legs. Or for that matter, chairs with contrasting finishes, such as black leather paired with sleek copper legs.
And when it comes to upholstered chairs, tufting and button details add classic appeal, while patterns add a stylish pop to the dining room, especially if you have a very solid, classic table that you might want to style up or modernise.
For something entirely different, using organic materials and elements such as rattan or wicker can create a summery, tropical, or even coastal vibe, depending on how the rest of the room is styled. These chairs would be versatile options for outdoor use as well.
6. Assess comfort and quality
Finally, and perhaps most importantly - do a quality check.
Buying chairs in person
If you're buying chairs in person, sit in the chairs and gently put them through the motions of daily use - lean back in them, shift your weight. Or do the same with your hands, gently pushing it slightly to check its structure. You shouldn't notice any swaying or giving way in the legs, arms or back.
Buying dining chairs online
Of course, when you're buying online, physically assessing the chairs may not be available to you. Which is where reviews come in - do read through all the reviews available, paying particular attention to the reviews that point out some potential pitfalls or issues with the chairs. This might give you a better idea and a more well-rounded picture of the actual product and how it functions.