9 chic ideas to style a feature wall in the living room
Bright, bold and fun - these creative ideas for styling a feature wall in the living room will make a big impact in your home.
A fun way to accent your space and showcase a colour or print you love, feature walls pack a strong style punch!
Whether it's with paint, art, or wallpaper, this is a quick way to give your home focus and to liven up your space. First things first though - how do you choose which wall to work with?
The key here is to allow the room's architecture, flow and design to be your guide. Where does light naturally fall? Is there a mantel, a fireplace or a high point that naturally attracts the eye? Conversely, you might want to pull focus away from a specific point or feature in the room, and an attention-grabbing feature wall will do exactly that.
Once you've decided on the wall, there are so many different approaches you could take - read on for 9 of our favourite ways to style an accent wall.
1. Gallery walls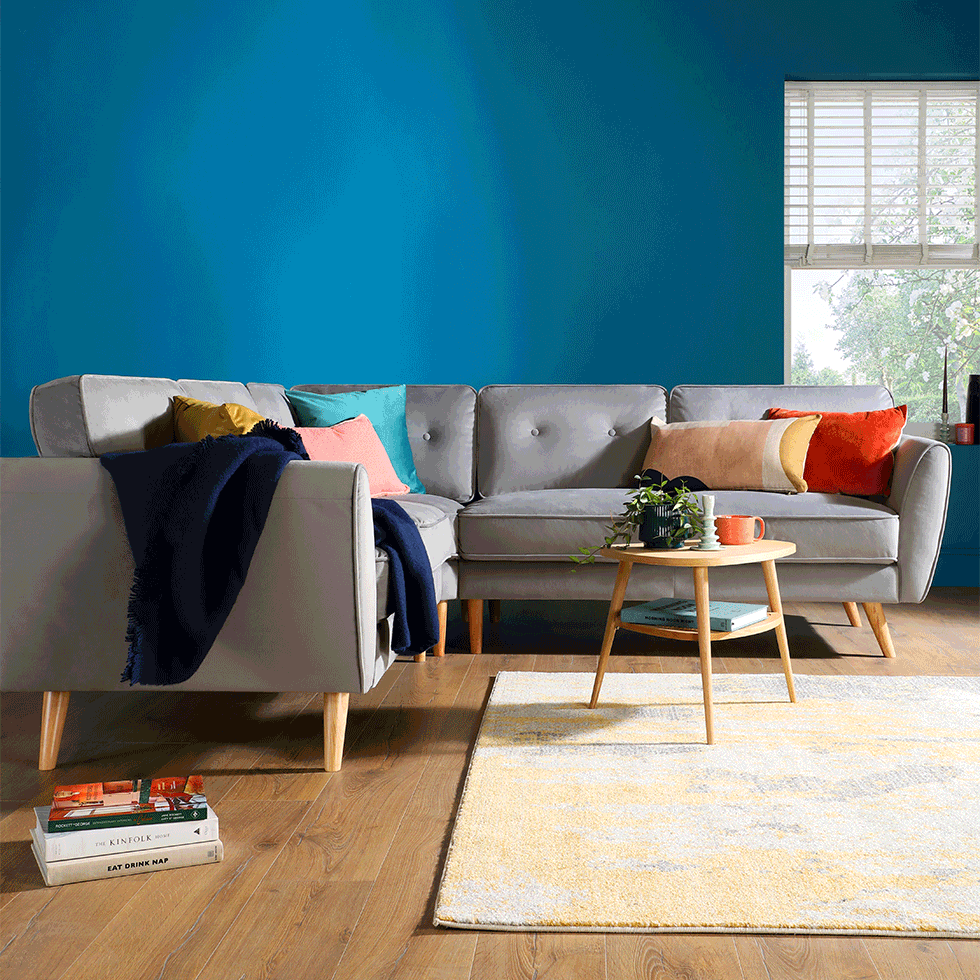 Showcase your favourite prints, photos and art with a lovely gallery wall. It immediately makes a statement in the living room, but is easily personalised too, especially if you expand the parameters of what can go up on the wall. Postcards, children's drawings, family photos… these are all wonderful additions to a gallery wall, making for sweet conversation starters as well.
As far as layout goes, if you have frames and pieces that are more or less the same size and shape, then you can opt for a more symmetrical layout. If they're of different sizes, an eclectic mix-and-match approach would be a better fit.
2. Bright, vivid colours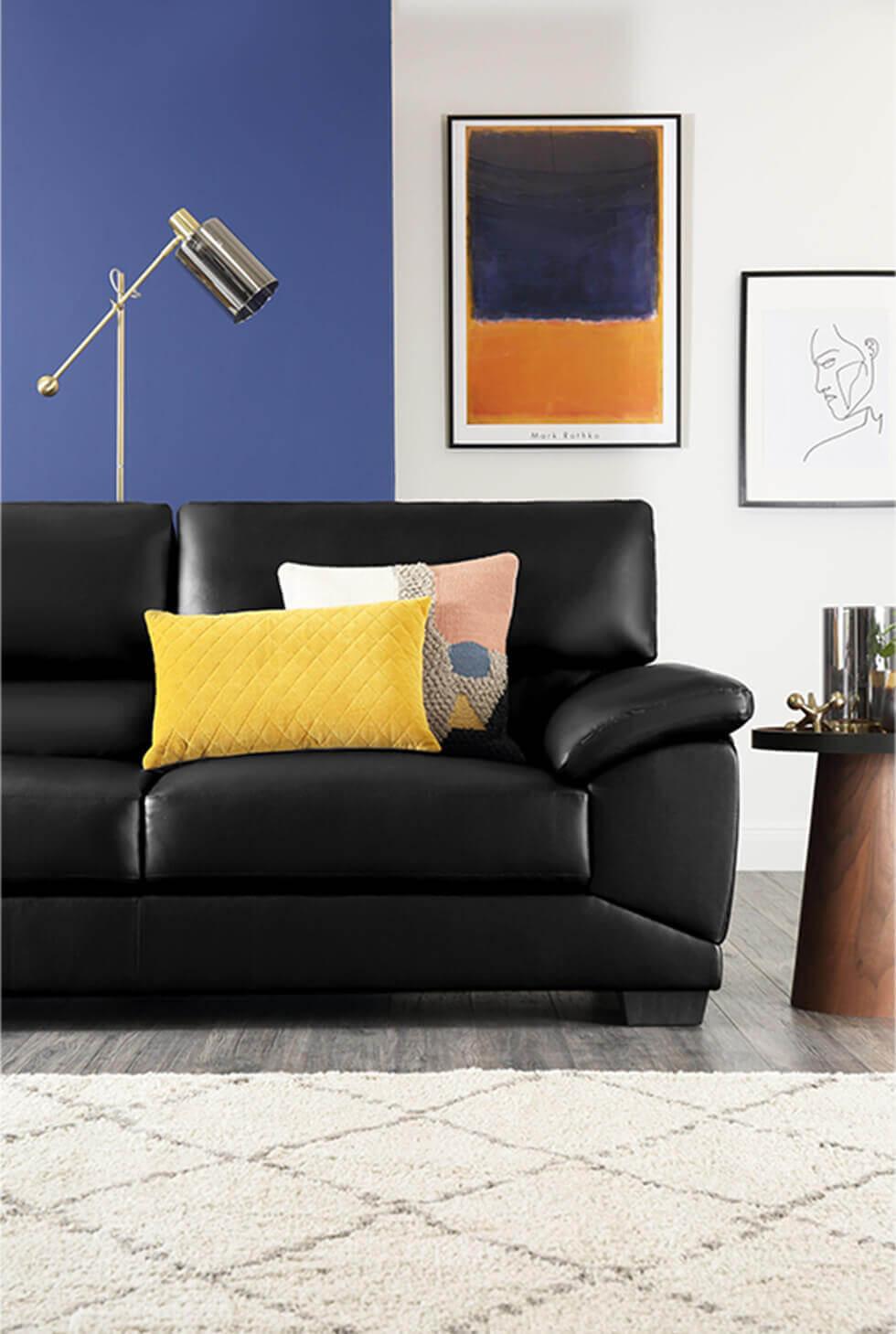 Of course, the quickest way to create a feature wall is with a lick of paint. A bright pop of colour immediately draws one's eye and attention to it. Primary colours such as yellow, blue and red are all strong candidates for this look, but unexpected shades such as teal and pink also work beautifully in small doses.
With strong colours, it's best to decorate and plan the rest of the room first, before choosing a colour that will complement your space. This is also a neat way to highlight furniture or art that you particularly love and a clever trick to brighten up a room that doesn't get a lot of natural light.
3. Trick the eye with darker shades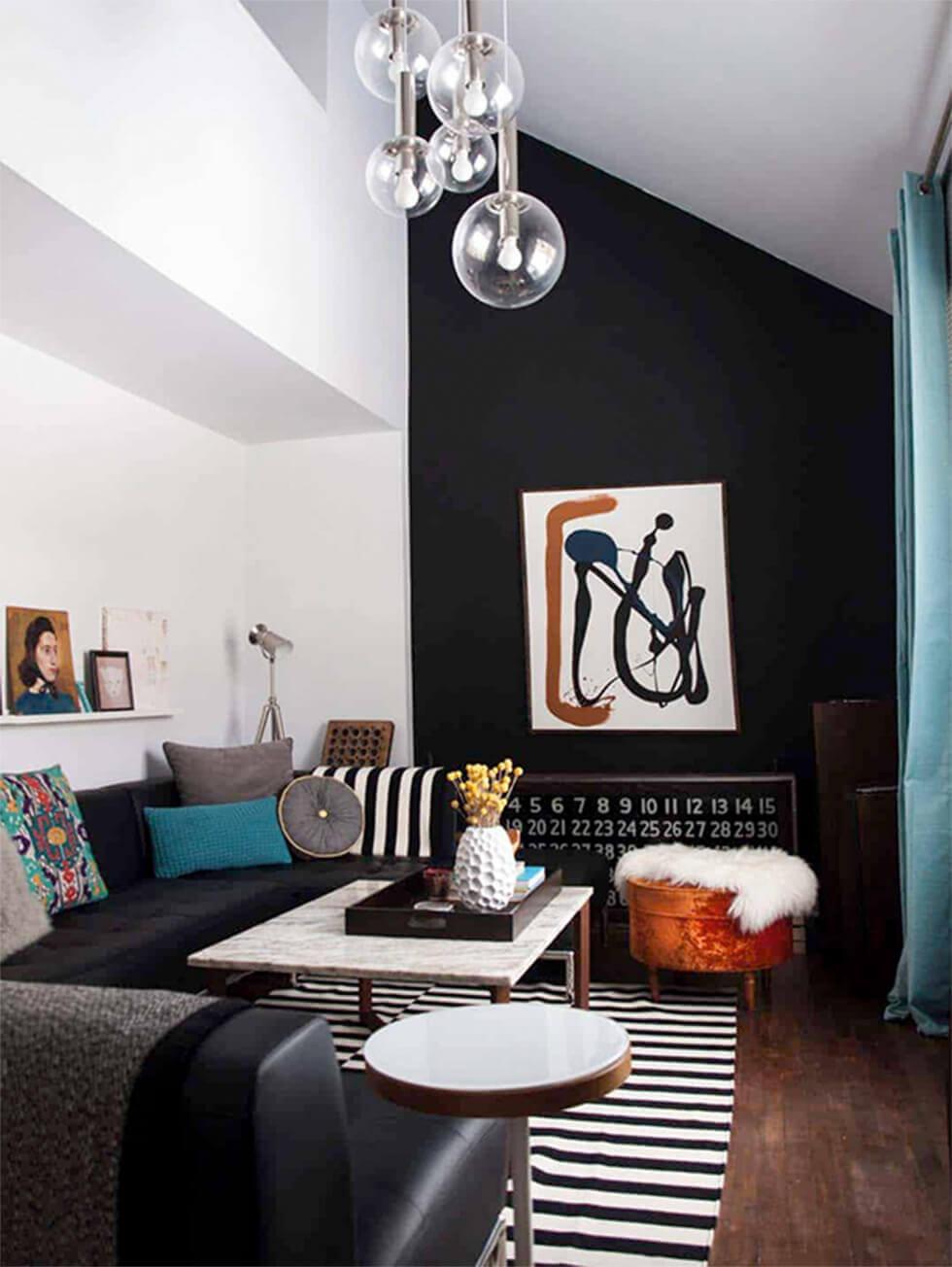 On the other hand, darker tones such as black, grey and maroon add drama and elegance to a room. But even beyond style, they add depth.
If you have a shorter room, adding colour to one wall can trick the eye into thinking the room extends further than it does, while still keeping it cosy, making this a particularly effective approach for a wall at the far side of a small living room.
4. Play with geometry and contrasting tones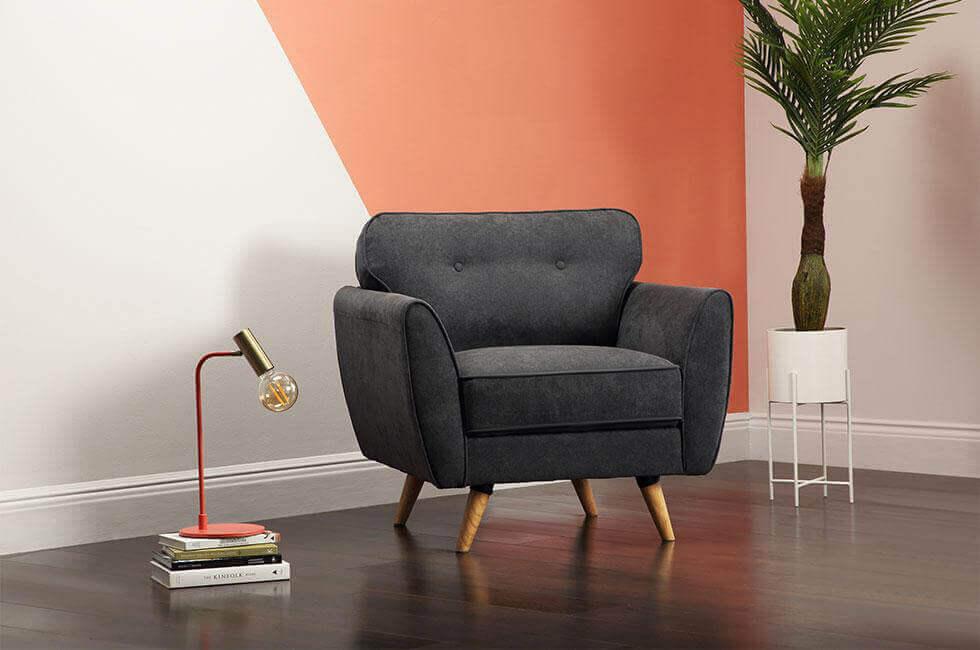 Committing to one colour - even if it's just for one wall out of four - can be difficult. If you've been pondering and mulling over a few different paint swatches, consider going for a geometric half-painted wall.
This look is high impact and low on effort. All you need is some tape, paint and a steady hand! It's also an easy way to test out trendier tones to see how it fits within your home.
5. No wallflowers here - experiment with wallpaper!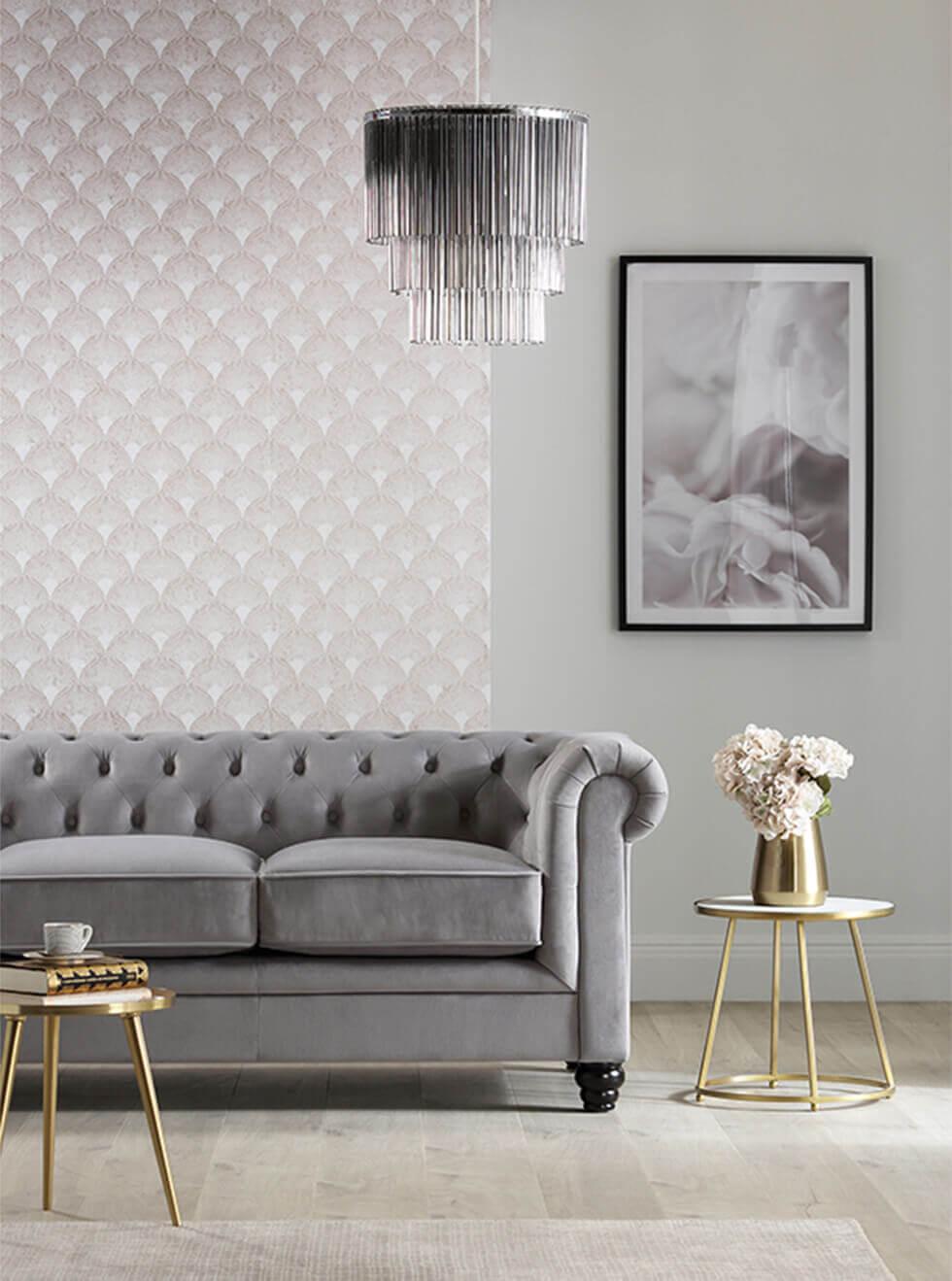 Wallpaper can really add a strong, distinct flavour to a room, but there's no denying that the costs can add up and it can also veer into being overwhelming or claustrophobic.
Having a wallpaper accent wall is a strategic way of using print and pattern for maximum effect, while keeping the price down (which in turn means you might be able to up your wallpaper budget). Geometric, botanical, and even mid-century inspired prints are beautiful choices - look for something you really love and that makes you happy.
6. Stripes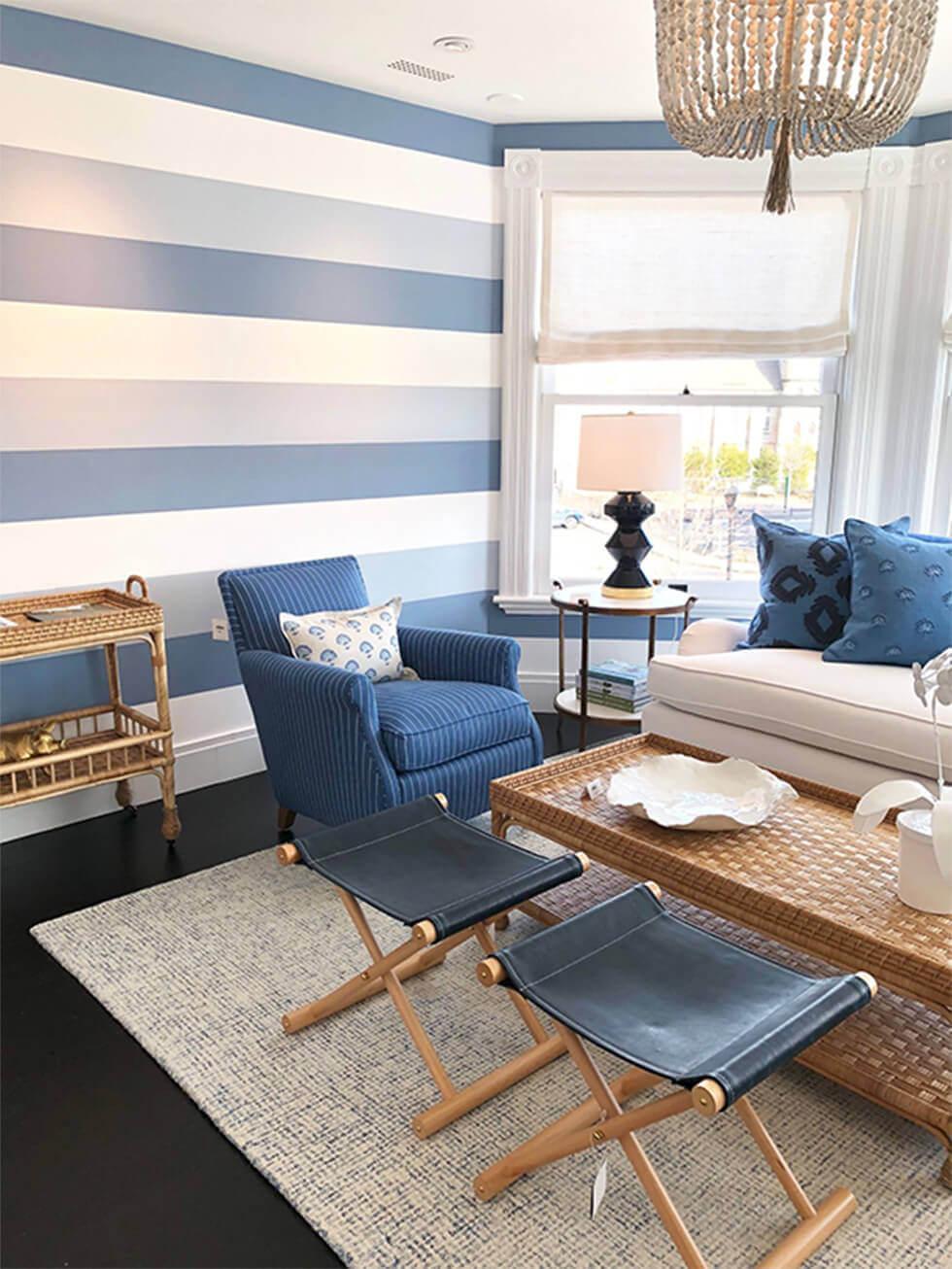 Stripes are an easy way to add a simple pattern to the living room, while also tricking the eye.
For instance, horizontal stripes will make the room look wider, while vertical stripes can make the room look taller, so it really depends on the room you're working with (and the look you're trying to evoke).
Contrasting tones make for a bold aesthetic overall, which can be fun when you're working with just one wall. But tonal colours can create the same effect with a more minimal, subtle feel.
7. Do double duty with storage and shelves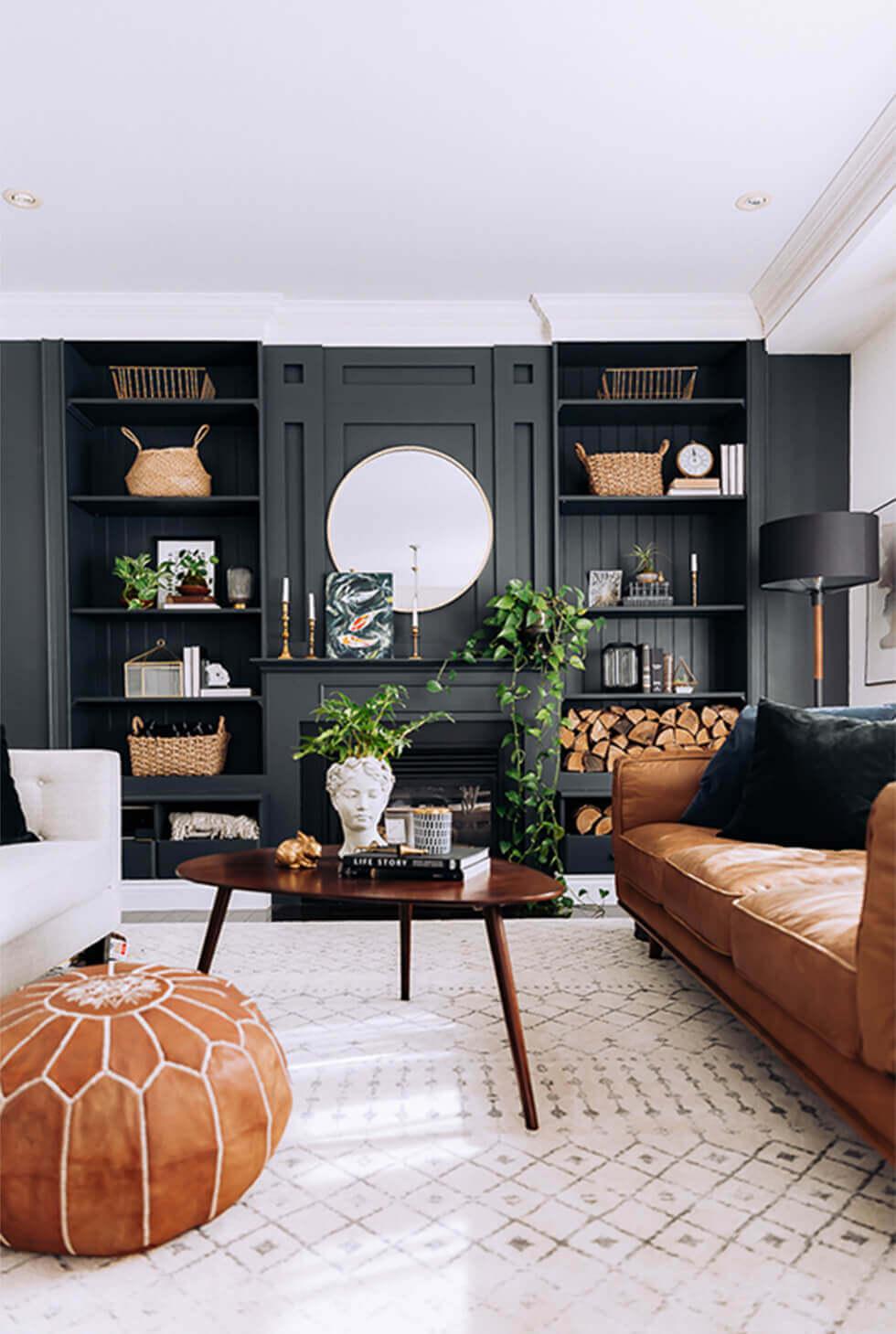 Marrying form and function, a feature wall doesn't have to be solely aesthetically pleasing.
A bookshelf wall adds a lot of personality and character to a room, and also some fun opportunities - you can organise your books according to their colours, for instance, and add curios and art. But it can also take the form of painting shelves a bright colour to stand out against the wall, or opting to paint everything - wall, cupboards and shelves - one colour for a feature wall that has a 3 dimensional effect, AND has chic storage.
8. Mirrors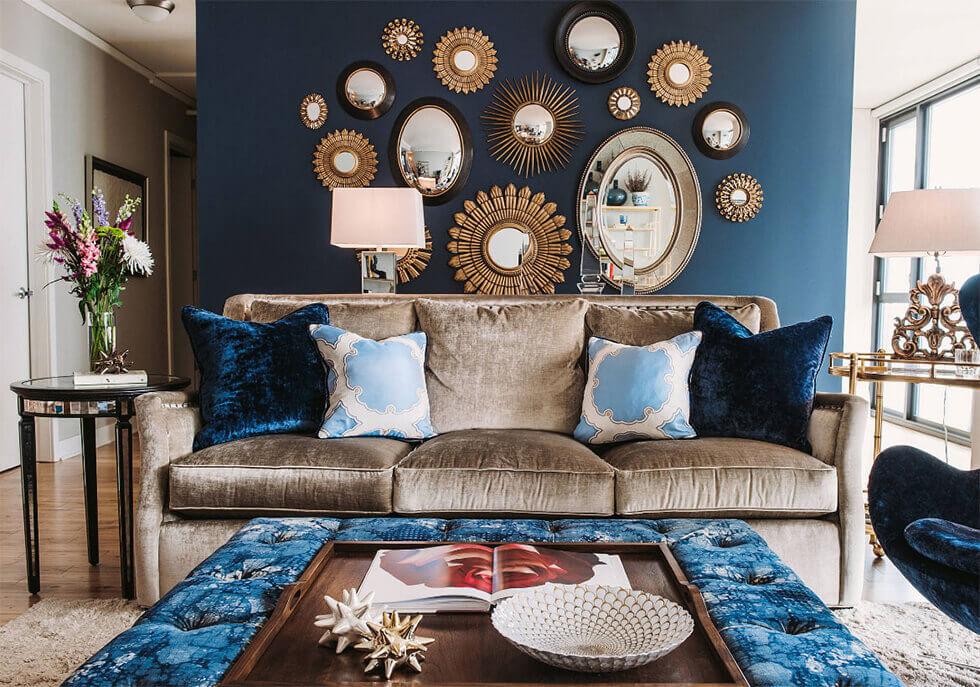 Mirrors aren't just beautiful to look at, they're also a sophisticated trick to create more space and light in the living room. A large mirror directly opposite windows, entrances, and other light sources goes a long way to maximise natural light, and there are so many different styles and shapes to choose from. Bonus tip: antique shops and flea markets are great places to go hunting for real steals.
For a more eclectic look - mix and match mirrors of different sizes and finishes, such as wood, gilt and chrome, and so on. Keep an eye out for interesting detailing, such as sunbursts and cool frames.
9. Experiment with textures like brick, wood and tile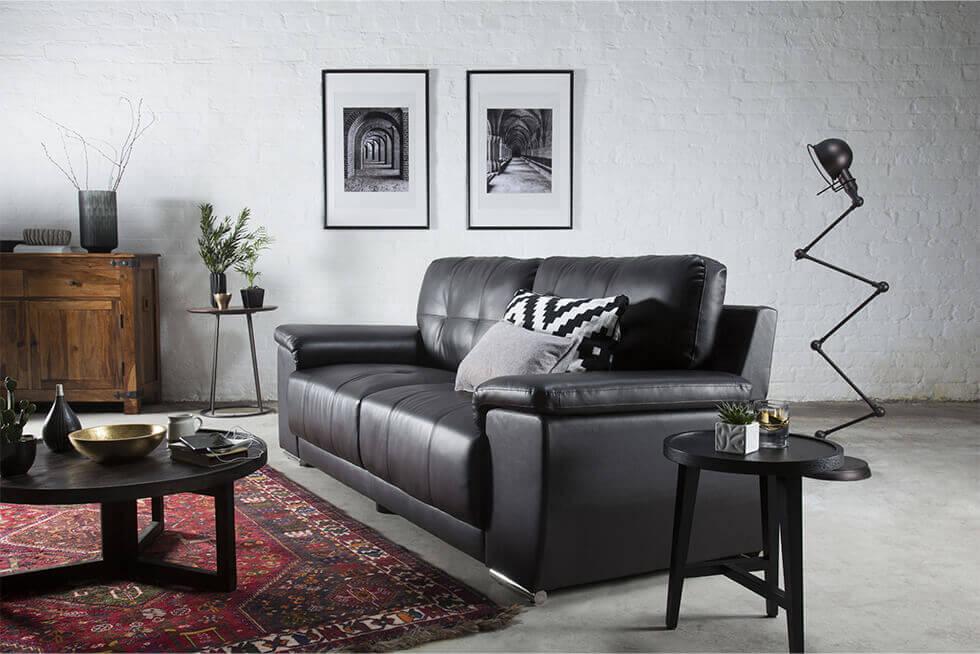 And finally, it isn't all about colours and decor - a feature wall can also be built around texture. Whether it's with the warmth of wood or the unexpected elegance of patterned tiles, this is a lovely way to add another dimension to the living room.
Going with exposed brick, and even concrete walls, can also add either a rustic feel to the home, or even play into an industrial aesthetic, and also allows you to work with the existing build and materials of your home.