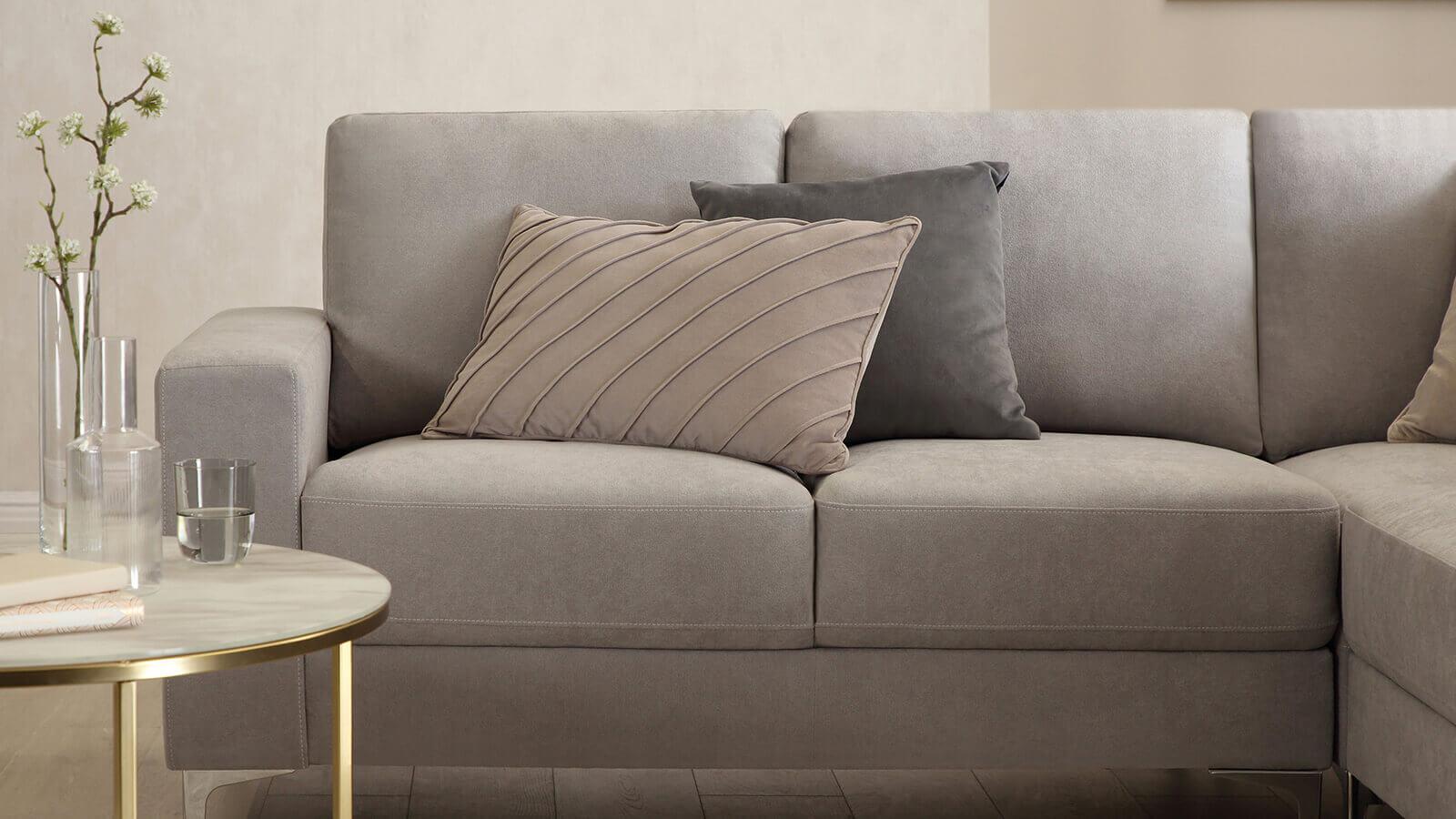 A true style workhorse, there are so many different looks you can achieve with grey sofas, whether it's calming and minimal, tonal and sophisticated, or even as an anchor in a bright room.
Grey's cosy, neutral quality makes it versatile and perennially chic, which is why a grey sofa is such a lovely centrepiece to style your living room around. Read on for 7 of our absolute favourite ways to style grey sofas at home!
1. Modern and minimalist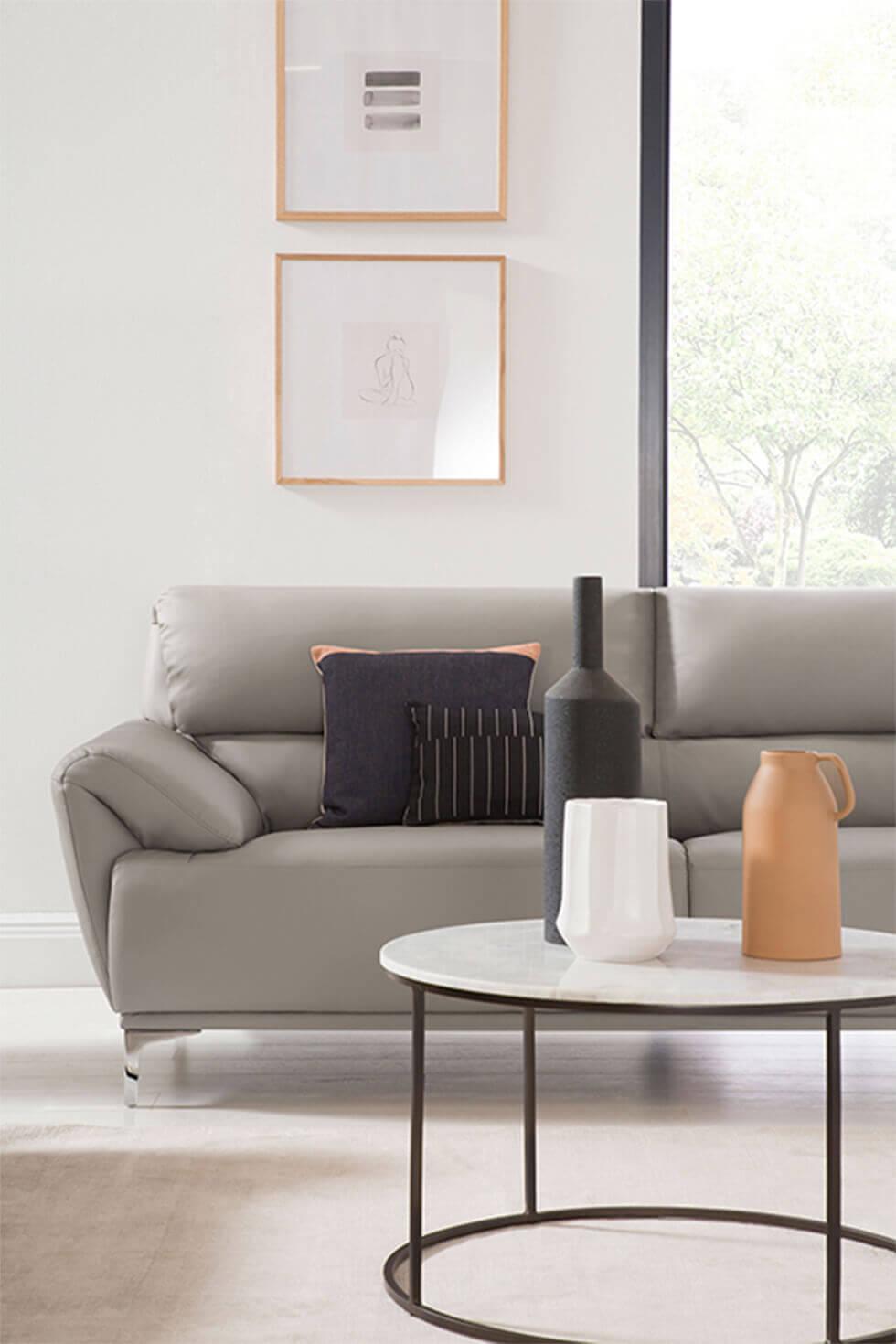 Keep it simple and lean into grey's quiet, serene feel with a minimalist living room. This look works beautifully with a light colour palette for the walls, anchored by a clean, sharply tailored grey sofa.
Look for warmer tones and natural textures for decoration to keep your space feeling cosy, such as wooden frames and a terracotta vase. And in lighter rooms, it's always good to give the eye somewhere to settle and rest - so build in contrasting pops of black with throw pillows and even a monochrome coffee table.
2. Tonal sophistication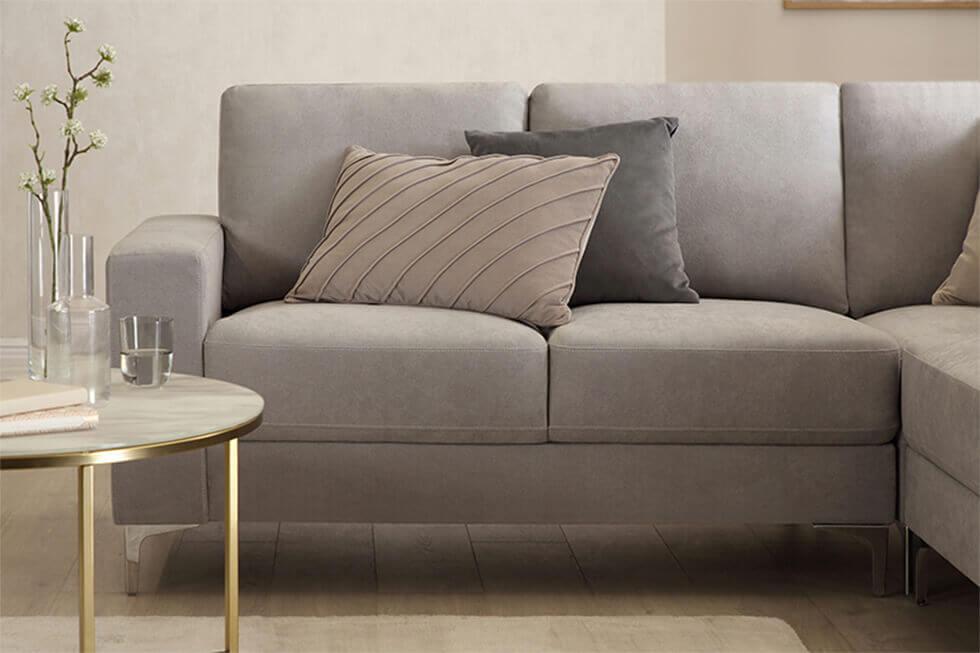 If you're looking for unfussy sophistication, a tonal room can be a smart shortcut, especially in neutral tones such as grey.
The trick to ensuring the room doesn't look flat and one-dimensional, is to look for different shades and layer in different textures. Here, a plush grey sofa with cool undertones is matched up with cushions that are slightly darker, and warmer, creating a cosy, visually interesting room.
Meanwhile, adding gloss and shine with a gold and marble coffee table ups the ante with a subtle dose of glamour.
3. Cosy comfort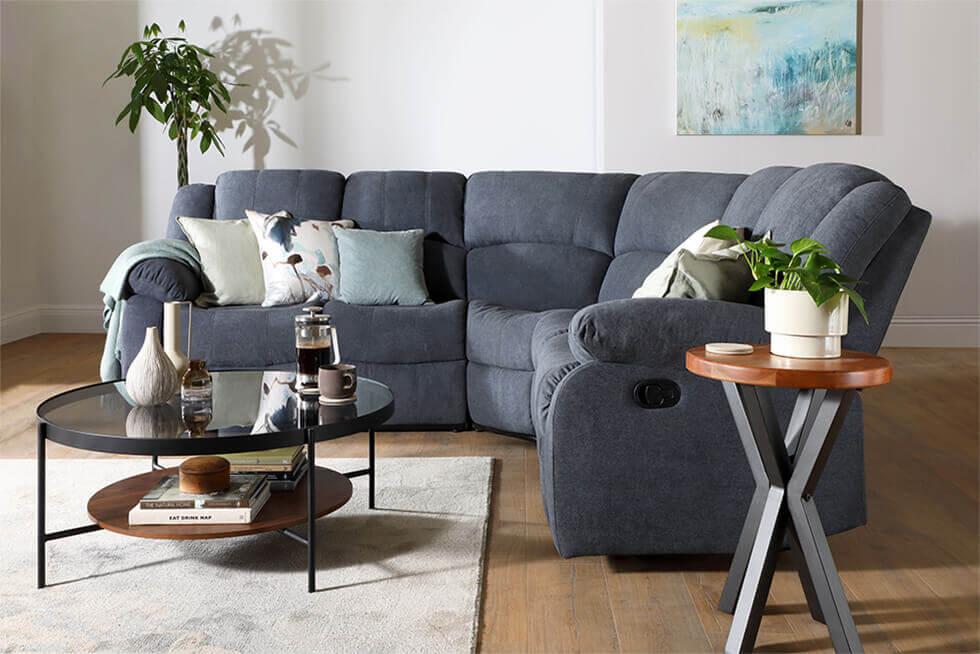 Create a warm and inviting living room with a big grey sofa! There's something about grey that's reassuring and relaxing, perhaps because it's not as dramatic as black, nor as high-maintenance as white.
This is particularly true with dark grey sofas, especially when they come with cosy fabrics and deep seats. Add lots of cushions and a warm throw, and you've got a space that's ready for a good book, a cup of tea and maybe even a nap.
4. All out luxe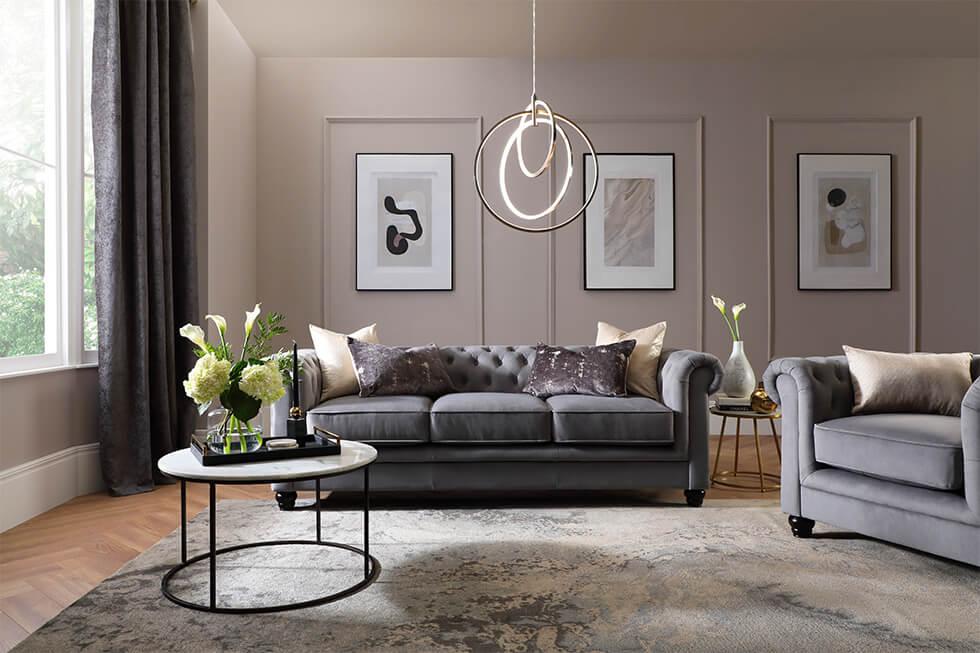 But of course you can also go in another direction, and style a grey sofa in a deeply glamorous living room too! Chesterfield sofas always evoke classic luxury with their fine finishing and details, making them an excellent choice for an elegant space.
Play it up with metallic finishes such as a gold coffee table and vase for a sophisticated feel, and top it all off with fresh flowers for that little extra touch of indulgence.
5. Dark and moody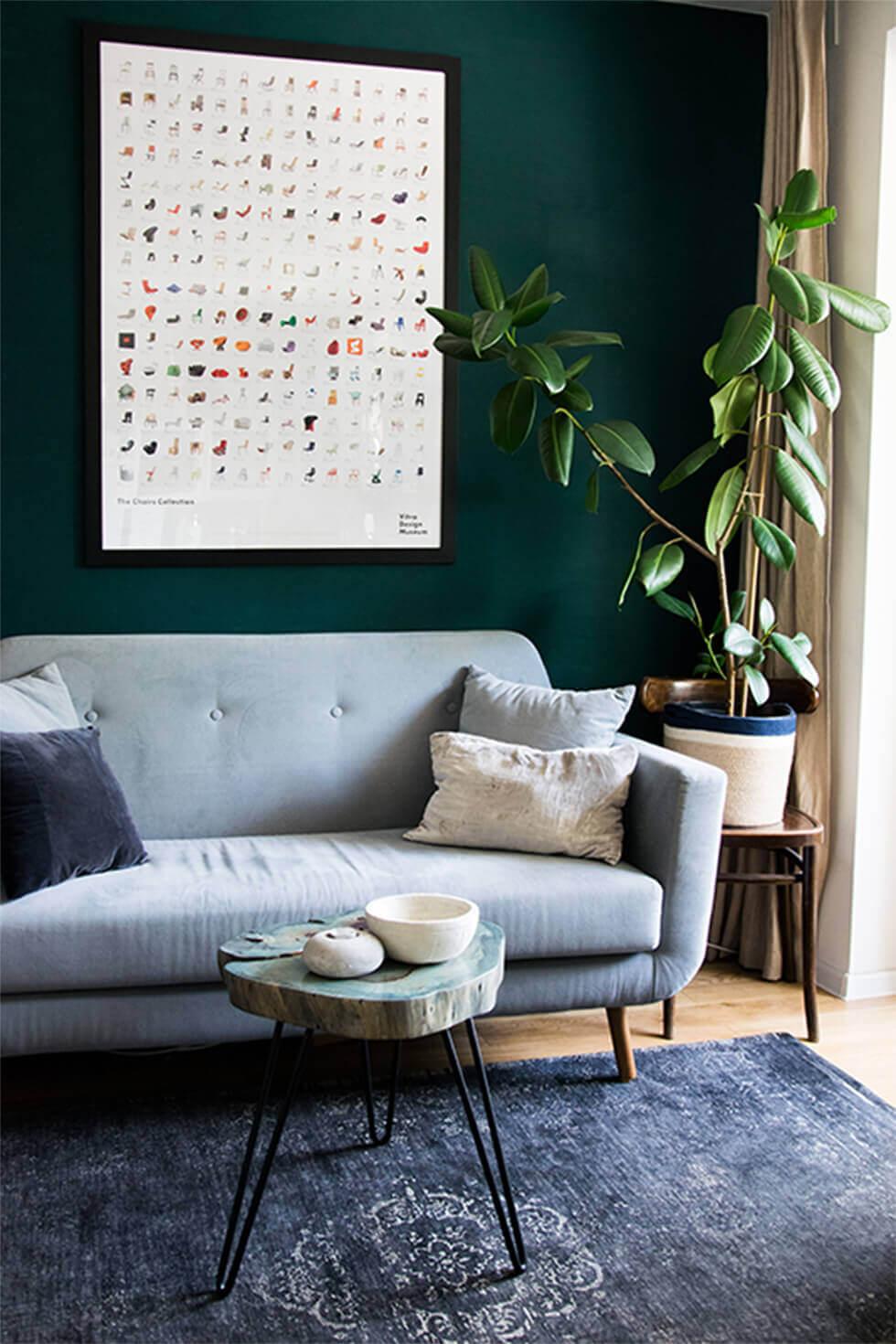 While they might have a reputation for being just a tad gloomy, dark colours at home can actually be great ways to add some drama and polish. They can also make your space look cosy and inviting, and in some cases, even make small rooms feel larger.
So if you enjoy decorating with darker tones, a grey sofa might be the perfect choice for you. Here, a grey fabric sofa sits beautifully in a lush green living room, lightening the space up without being too stark - bridging the gap between the dark walls and lighter wooden floor.
6. Add pops of colour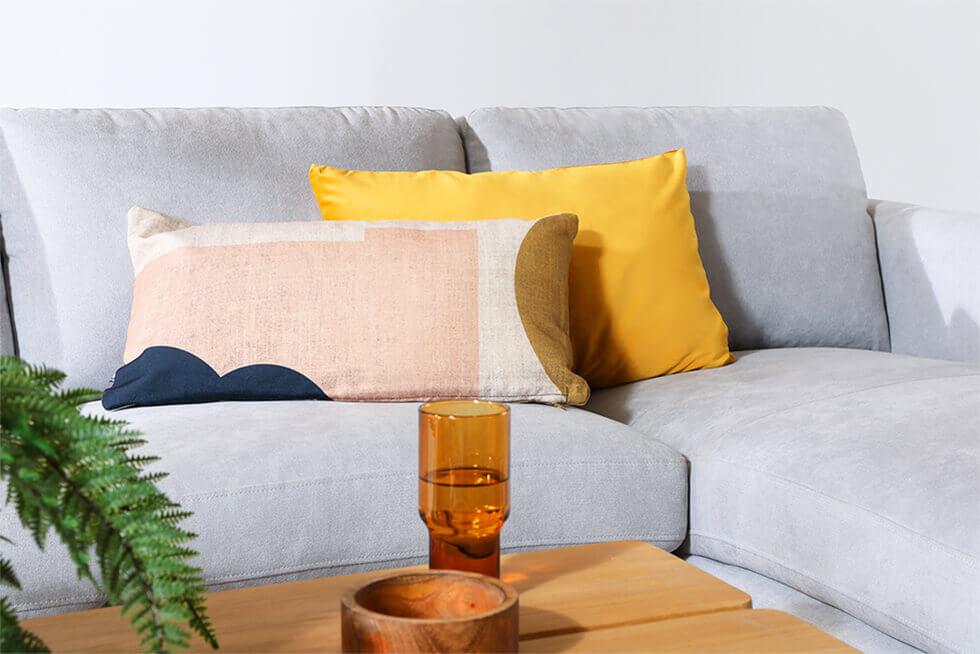 If you enjoy the quieter charms of your grey sofa, but want to add a playful element to your living room, colourful cushions are the way to go.
With a soft grey sofa as a starting point, you can layer in different shades and prints, truly anything goes. However, some brighter colours that go particularly well with grey include pink and yellow.
7. Bright and cheerful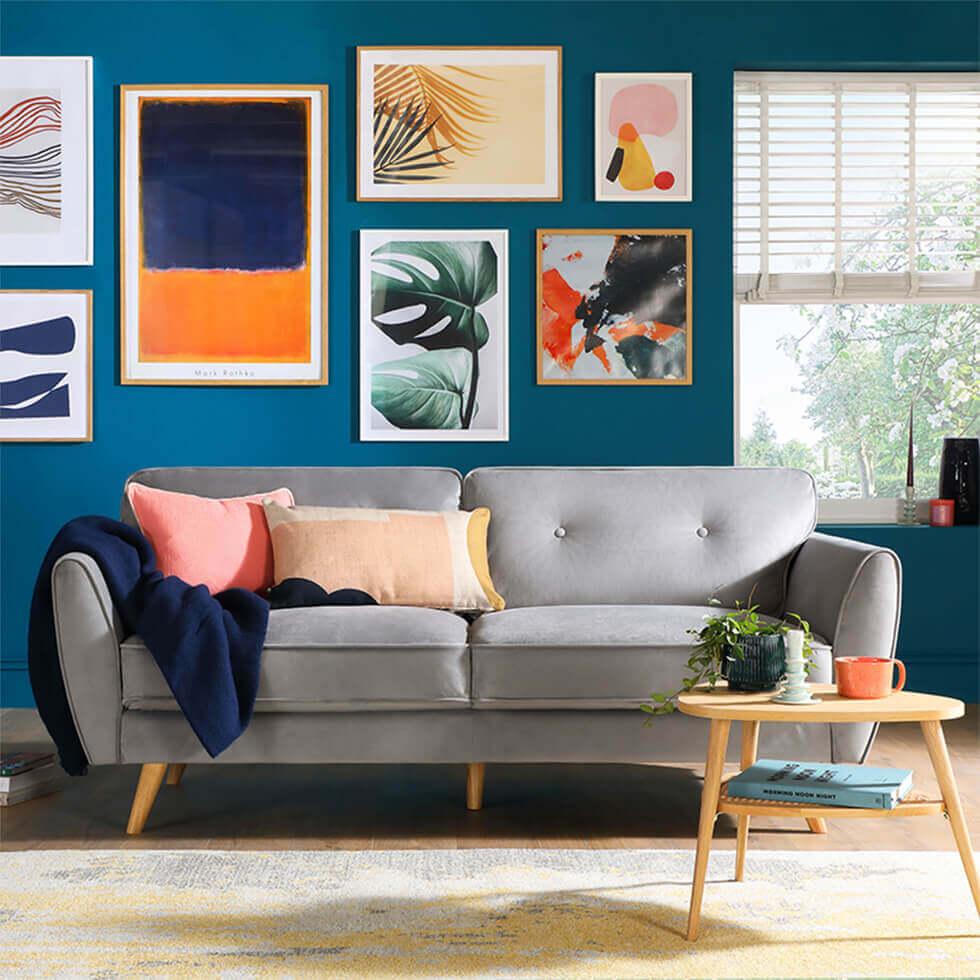 On the other hand, if you love colour and want to make the most of it, make full use of grey's understated quality and style a grey sofa in a bright, colourful room!
In an otherwise busy space with lots of vibrant shades and prints, this grey sofa works as a neutral anchor, giving the room a lived-in, comfortable feel. Look for a sofa that has a strong, simple silhouette so that it doesn't compete with all the other elements in the room.
What look are you going for in your living room - cosy, colourful, elegant? Discover our wide range of sofas to find one that suits your style.