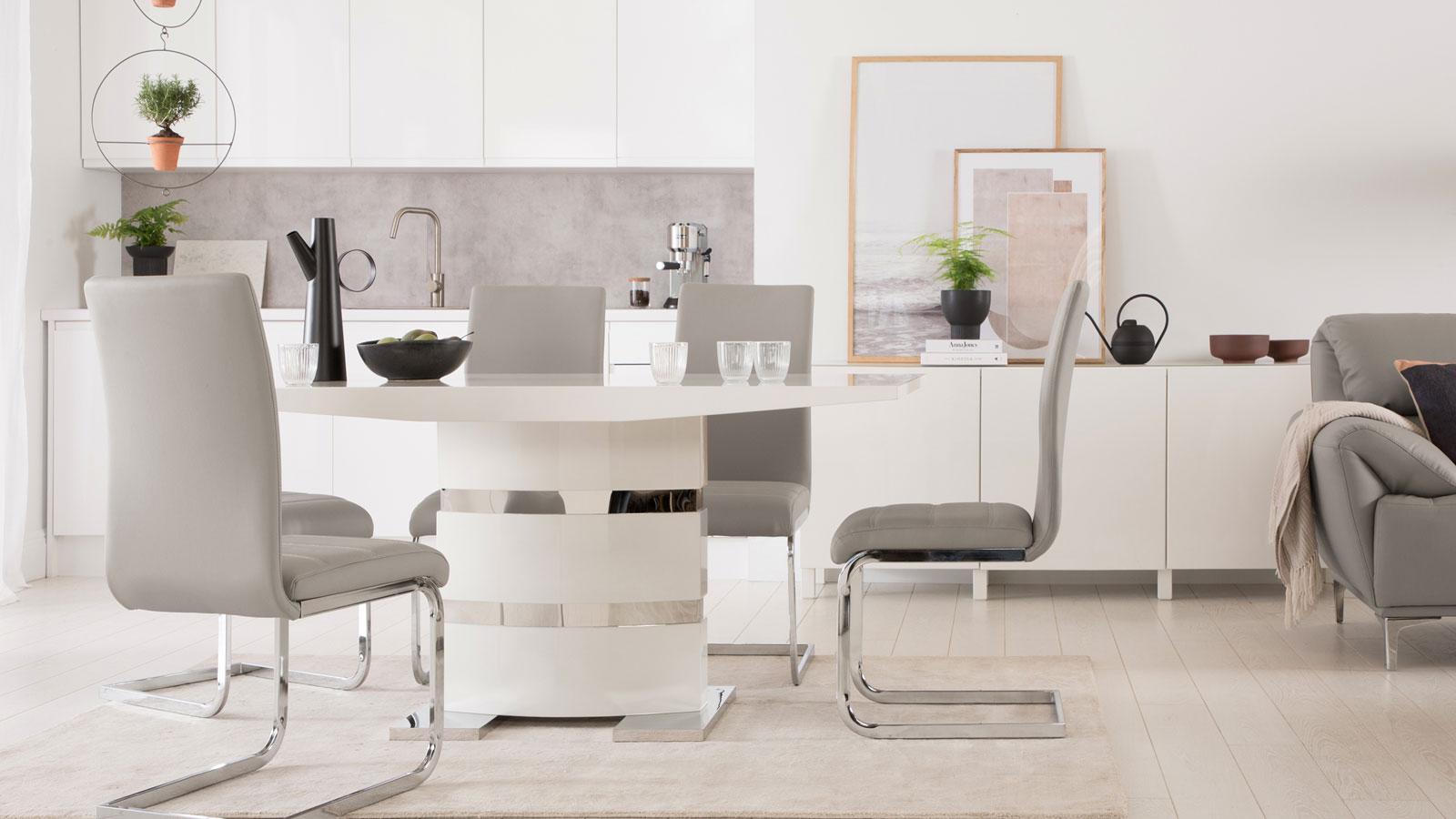 Let's start with a question: how often do you use your dining room? And for that matter, how often are you really glad that it's a separate, self-contained space?
We're asking because while a formal dining room has its charms, it can sometimes go unused. And in modern homes where space might be an issue - an open plan kitchen and dining room can be a good idea.
An open plan kitchen is a space where the kitchen, dining room - and sometimes even the living room - flow together, creating an accessible, inviting feel that is perfect for entertaining family and friends. If done well, it can achieve several things at once, a sense of being both spacious and cosy, functional and stylish, and multitasking and purposeful
But how should you properly lay it out for a chic open plan kitchen that works for your home? Read on for 7 of our best tips!
1. Zone and plan your space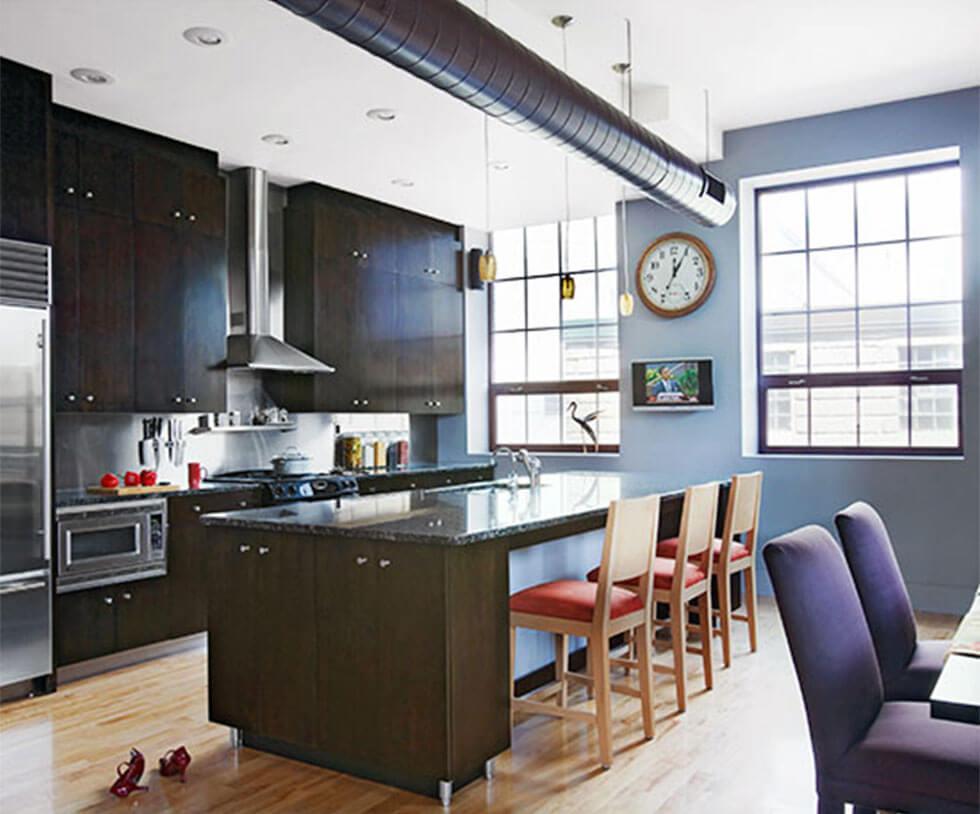 First of all, think about the layout of your kitchen, and how it will function within the home and interact with other spaces. One of the fundamental points about an open plan kitchen is that it's just that: open. Which means everything - appliances and all - will be in plain sight. From the dining table, a clear view of the kitchen and living room may be possible (and vice versa!), so planning and clever solutions are very important.
Begin by considering the space you have, and think about where you want everything to go. Plan around natural light as much as possible, and try to place the stove and oven close to the window for ventilation.
You'll also want the dining table to be relatively close to the cooking area to prevent a long walk and possible spills, but far enough away from the living area so that sounds and smells aren't a problem. When planning the flow throughout your open kitchen, think about how you'll use and move through it on a daily basis, and go from there.
2. Create separation markers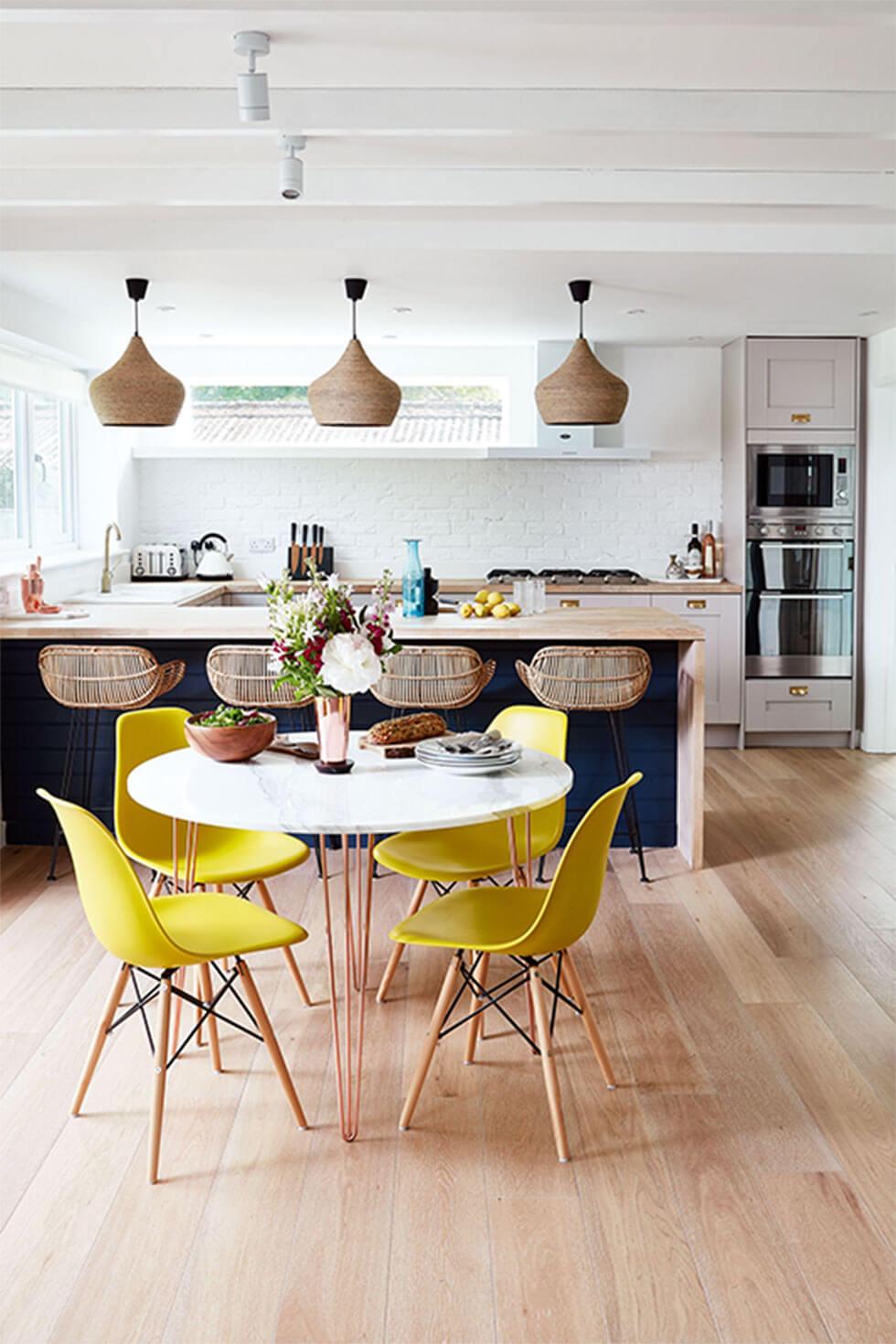 Once you have a layout, it's crucial to create markers of separation between the spaces, to indicate where one area begins and another ends. A great example of this is a kitchen island, which can demarcate the dining area and kitchen while still keeping a sense of openness and space. It's also incredibly functional, as it can be used for food preparation as well as eating meals, as well as storage.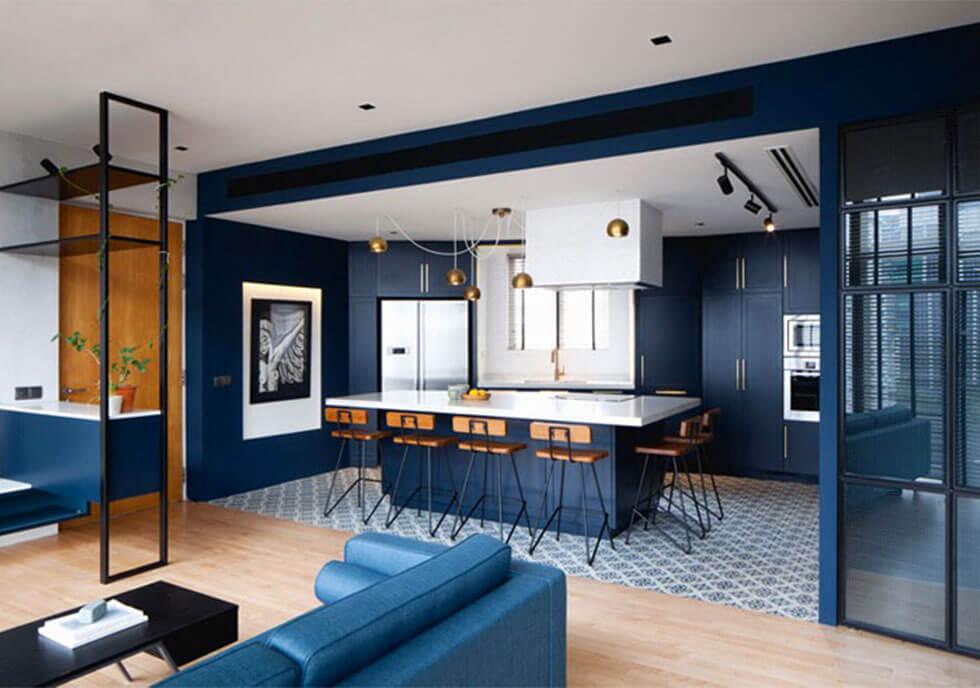 You can also use different flooring in different zones of the room. For instance, you could opt for softer flooring such as wood in the living or dining space for a warm feel, and use hard wearing options such as tiles in the kitchen for easy clean up. Having different colours on the wall (for instance, working with varying shades in a complementary palette) can also be a way to indicate that you're moving from one space to the next.
Other ideas include shelves, steps and half walls to achieve this separation of space as well as a clear flow. This might involve taking down walls and renovations, so do consult with an architect, builder or kitchen designer if need be!
3. Consider storage and functionality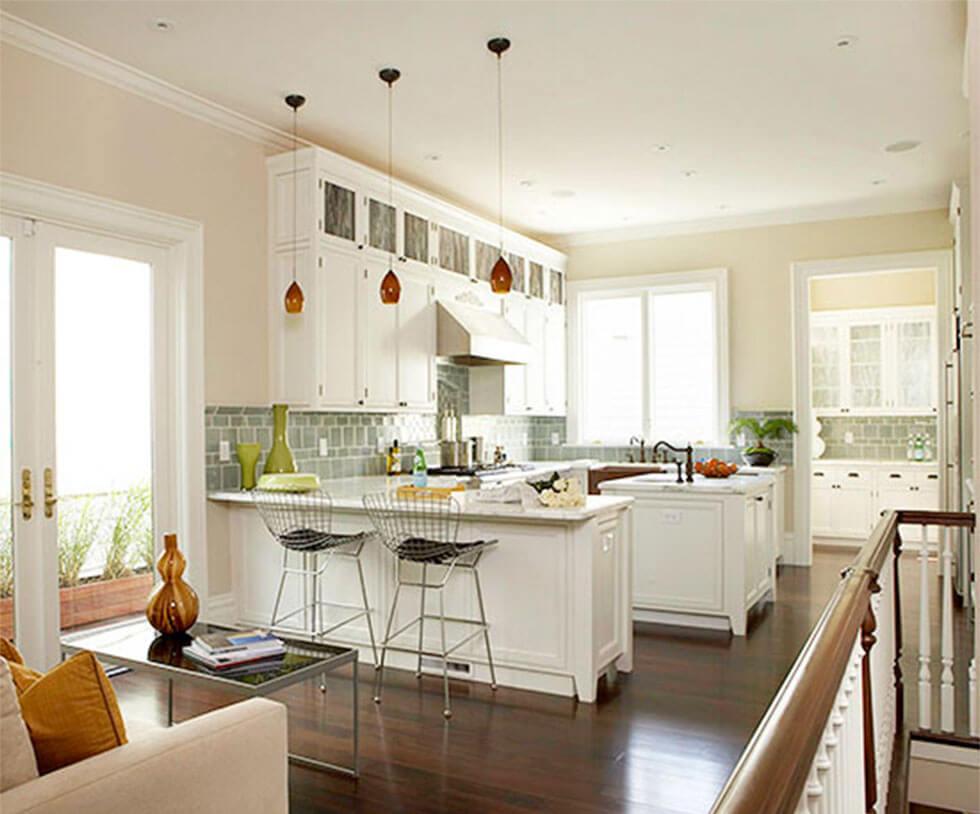 With an open plan kitchen, clutter can easily become a problem - and worse still, can spread more easily, since a messy kitchen will almost instantly mean a messy dining space too. So prioritise storage and functionality.
Floor to ceiling cabinetry is a sleek solution, and building cupboards into your kitchen island can also work. The important thing here is to create lots of storage options, so that cutlery, dishes and appliances can be neatly stored away, but also easily accessible.
As far as possible, try to resist the urge to decorate too much, especially in the kitchen and dining area, and keep it visually clean and simple. With a multipurpose space, it's also a good idea to keep thoroughfares clear, so people can move around.
Still need more kitchen space? Check out these genius tips to get more kitchen storage.
4. Make clever appliance choices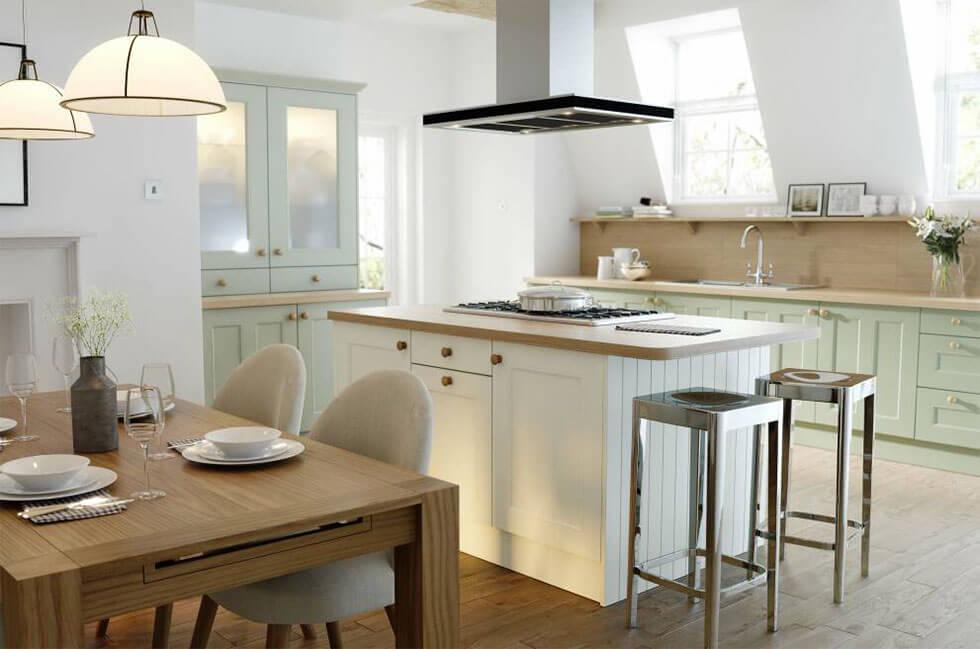 With an open space, trying to manage smoke, smells and sounds is important! One crucial aspect of this is making smart choices when it comes to appliances.
An efficient cooking hood and fan will be able to extract unwanted odours and smoke, and prevent them from lingering. Look for models that are quieter so it doesn't interrupt people relaxing in the living area.
And of course, as mentioned above, it helps to place the cooker near a window and as far from the living spaces as possible.
5. Manage sound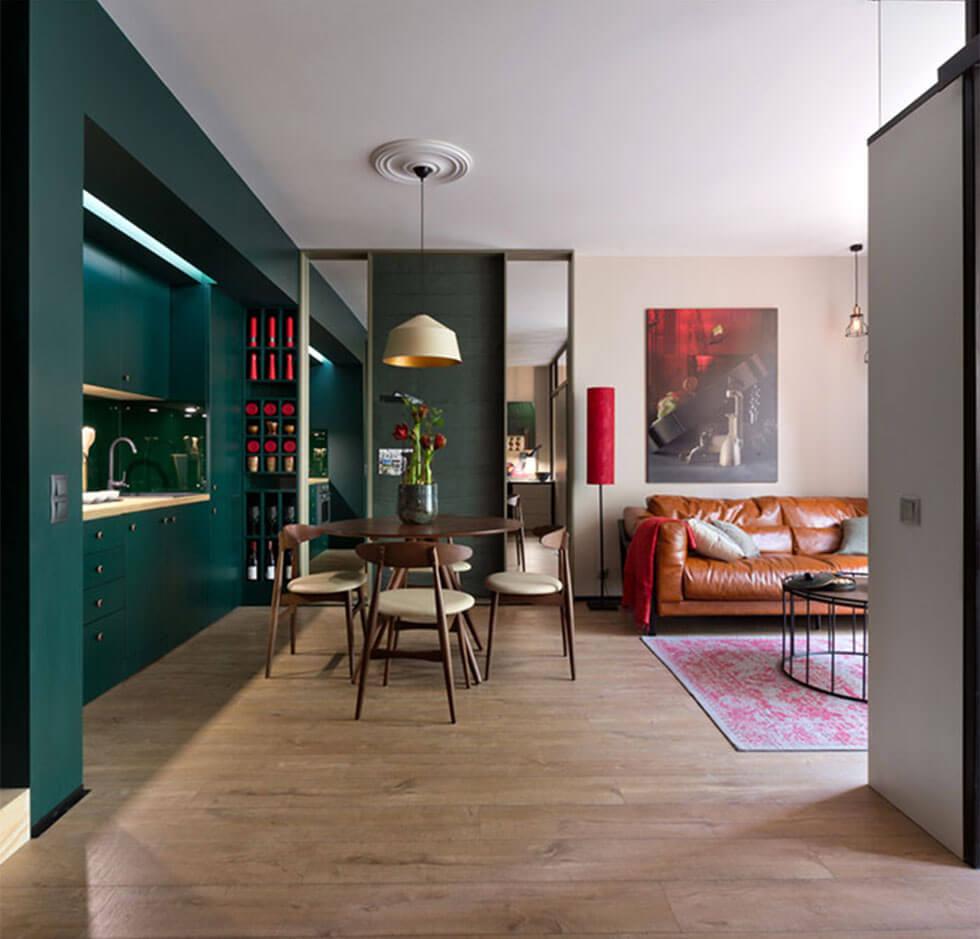 And while we're at it, we need to talk about sounds, which travel freely across an open plan kitchen dining area. So for instance, while a dishwashing machine can help with post-meal cleanup, it can also contribute to extra noise, so do look out for options that are quieter - and read reviews to get an idea of real-life use!
But it's also about how you decorate an open kitchen living room. Rugs, cushions and soft furnishings can all go a long way towards absorbing sounds, and create a pleasant environment, especially in the living area.
6. Optimise lighting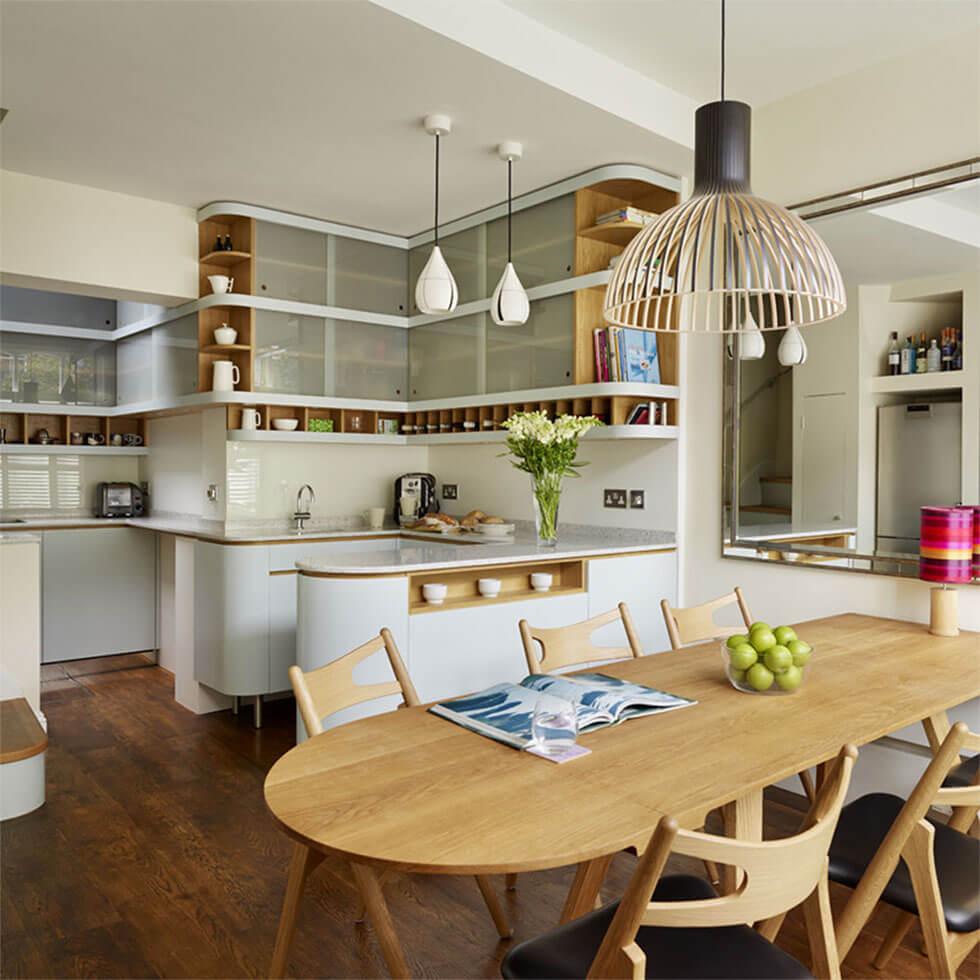 In terms of creating different spaces and moods, lighting can be very helpful to create 'rooms' in an open space. For instance, you can spotlight specific areas in your kitchen where you want attention focused on, such as the kitchen island and dining table.
Using low pendants over a dining area will achieve this, while floor lighting can create a softer, more diffused mood.
And when it comes to function over form, built-in lighting for shelves and cupboards is discreet but keeps everything accessible, and spotlights will give more focus in areas where you'd be doing tasks such as cutting food or washing dishes.
7. Choose a theme for furniture and stick to it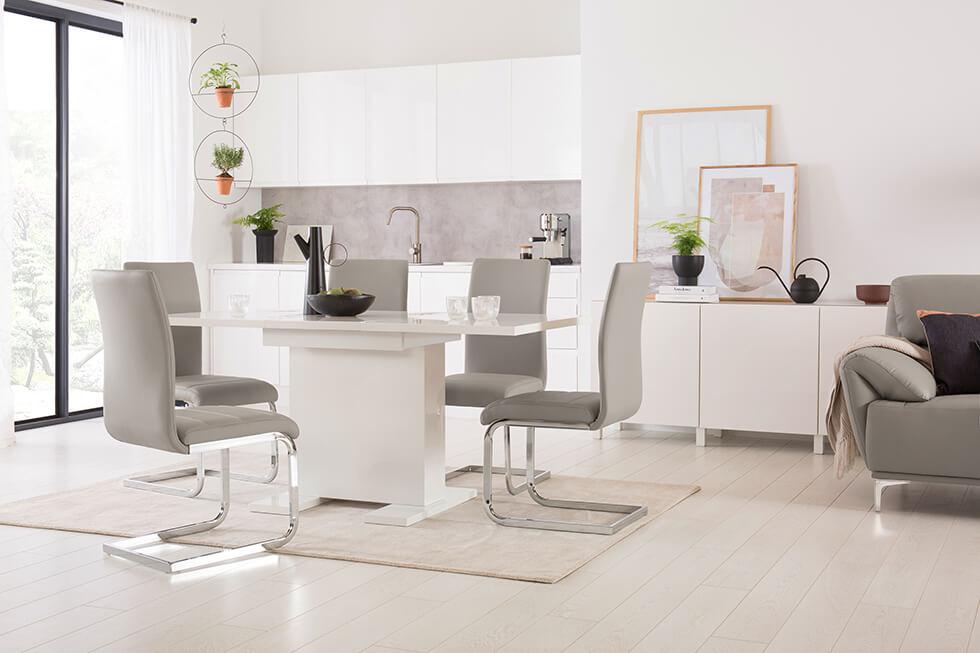 And finally, it's a good idea to pick a theme and have it carried throughout the space, whether it's in terms of overall look ( modern versus traditional) or even finish (dark wood versus high gloss). This way, you'll have a cohesive space that feels chic, and purposeful.
Colour also plays a major role, as the right choice can tie it all together. Going for a lighter colour can create a sense of airiness and space, while a darker tone can be an edgier, elegant choice.
Another approach is to choose an accent colour and employ it strategically throughout the space, such as having a wall in the kitchen match the cushions in the living room, or even the dining table runner.