Spare rooms are always overflowing with possibility when we first look around a potential new home. It's easy to come up with grand plans for your dream space, but all too often a spare room will just end up as a store room for furniture, books, boxes and junk that don't have a home anywhere else.
Have dreams of B&B-style hosting, a secluded space to work on creative projects and hobbies, or just an extra space to unwind, since been buried under clutter? If you have a spare room that's more of a dumping ground, then unlock its potential by giving it a new purpose within your home.
Guest room
A guest room is possibly the most common use for a spare room, but it's prone to the same traps as a general-purpose spare room: there may be a single bed, but it's piled high with boxes of odds and ends.
To turn a spare room into a functional guest room that is both welcoming and comfortable for extended stays from friends or relatives – or maybe provides your first forays into B&B hosting – shift out the clutter to make space for a double bed. Alternatively, a sofa bed can provide seating by day and a spacious bed by night.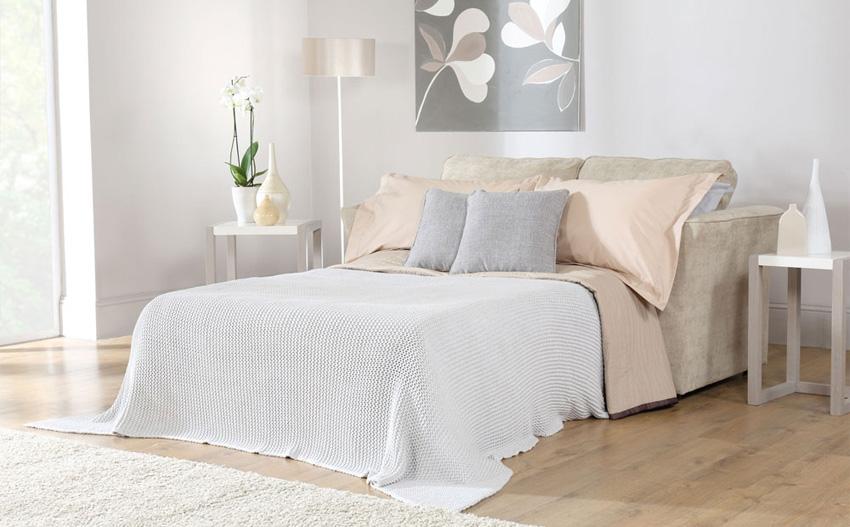 Add the comforts you would want to see in a hotel room – an armchair, a desk or dressing table, a small wardrobe, you could even wall-mount a TV – and decorate in easy-on-the-eye light pastel colours that will provide a restful surrounding for guests of all tastes.
Office space
Converting a spare room into office space is an ideal way to make the most of the space while also helping you get the rest of your home organised. If you constantly have bills and important documents hidden away in drawers and crowding surfaces, then a dedicated space with a filing cabinet will help you to de-clutter and stay on top of your outgoings.
A floor to ceiling bookcase could help turn a spare room into the library of your dreams. A desk and comfortable office chair will provide a secluded space to work at the computer in peace and quiet, rather than propping a laptop on your knees and trying be productive in a crowded living room.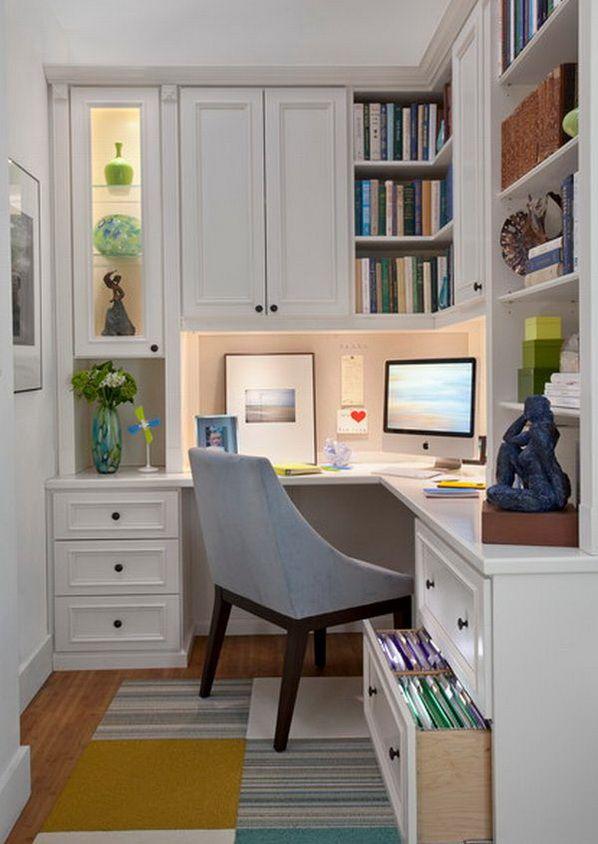 For anyone who works from home, this is surely a must – keeping work and home lives separate is important for a healthy work-life balance, which is next-to impossible when you're shifting spreadsheets around to set the table for dinner.
Opt for traditional themes with comfy carpets, sturdy wooden furniture, and plenty of dark browns and greens for a classic study style, or go down the minimalist route with light and airy whites contrasting with darker highlights for a contemporary work space.
Creative workshop
If your house or flat is home to an artist, then using a spare room as a workshop or studio space could be the key to unlocking their creative spirit and taking their dream projects to the next level.
Storage for tools and materials will be essential, so choose plenty of wall-mounted shelves or rails to make sure there's adequate space to have everything to hand, and adequate work surfaces to spread out on. Furniture on castors will allow you to quickly rearrange when extra space is needed for a large-scale creative endeavour.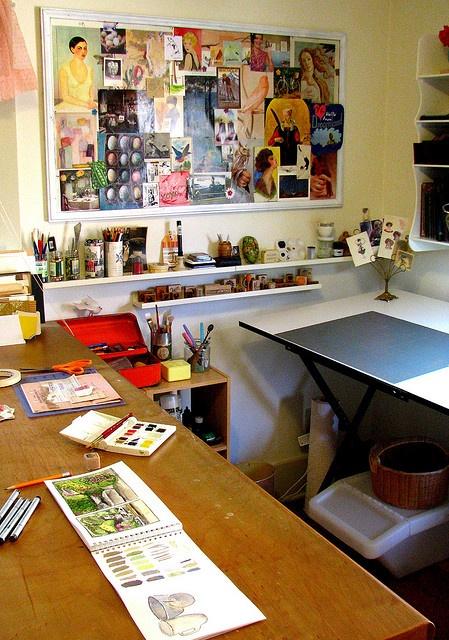 Decorate with plenty of colour to awaken the imagination, and hang frame clusters with inspiring works from your favourite artists. Opt for laminate flooring, as they're much easier to clean in the event of spillages during messy creative sessions.
Playroom
Having plenty of space to play and be themselves is vital for children, and converting a spare room into a playroom for the kids will encourage their development in a number of ways. Separating sleep and play spaces encourages children to fall asleep more readily without distraction, and giving your kids one shared space instead of individual rooms will encourage sharing and co-operation.
There is also the added bonus of keeping the house a little bit tidier – with a dedicated room to store them, toys and games no longer need to be scattered across the home. It also ensures a little bit of peace and quiet for the adults if children have their own space to play.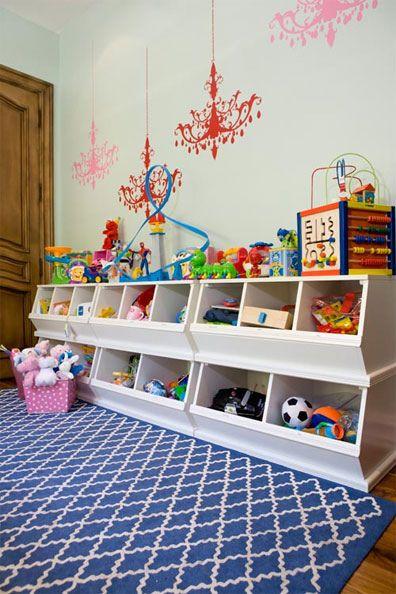 Of course, playrooms aren't just for the kids: a comfy sofa and a games console can be the perfect place to unwind and relax after a long day without subjecting the rest of the house to the sounds of digitised gear-changes.
Mix and match
There's no reason to choose just one of these options – creating a multi-functional space can be simple no matter how much room you have available.
One of the easiest ways to achieve this is by giving any space the option to become a functioning guest room when needed. A sofa bed is the perfect way to achieve this – by day a comfortable sofa, ideal for a lengthy gaming session or curling up with crafty projects, and by night a cosy space to sleep. Many have the option to extend into a double bed, perfect for visiting couples.
If a workshop space is being shared, or if you looking to create an office corner and a creative corner in a larger room, then keep projects and purposes separate with a partition screen – you can keep it simple, or go for something a little more creative to add an extra design feature.
When a space is shared for multiple uses, then keeping things separate becomes very important – no one wants to have to shift art supplies in search of bank statements or vice versa. This is where choosing the right storage becomes essential – perhaps a colour coded system could be an ideal solution.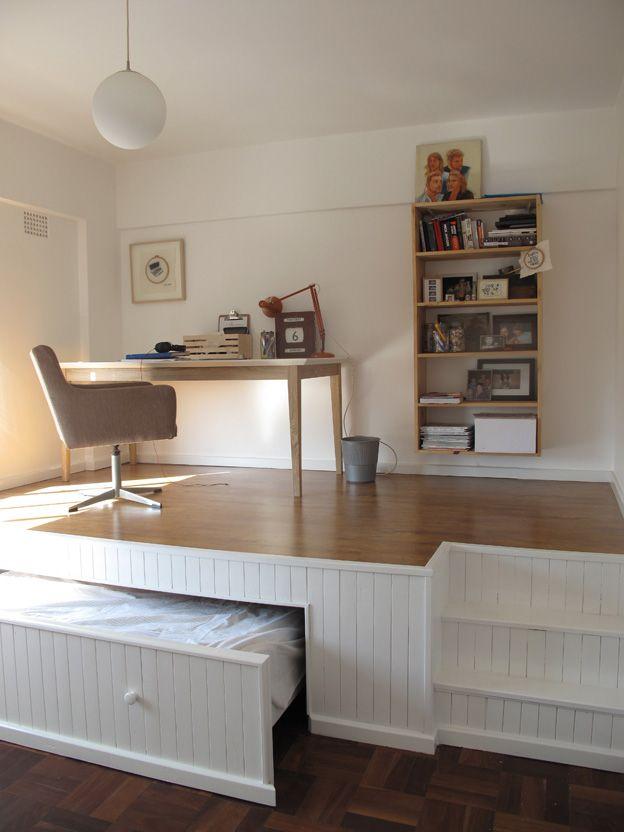 Of course, if you are serious about maximising your space, then some DIY work can go a long way – we love this raised floor which hides a pull-out guest bed underneath an office space.
Don't be discouraged by decluttering
If your spare room is currently used as a store room, then everything that's been dumped in there will need a new home. Don't be distracted, and use it as an excuse to declutter. If something's made its way into an odds-and-ends corner, it's because you don't need it to hand. Ask yourself – do you need it at all? Be ruthless, and your spare room will be a dream space in no time. Take a look at our Top Ten Storage Tips to help you on your way.