8 cool ideas for blue living room ideas (from tranquil to vibrant)
Versatile, chic and a classic in the home: blue will always be a favourite. Check out these blue living room ideas for inspiration to transform your home.
From the light, airy tones of the sky, to the jewel hues of sapphire and teal, and all the way to the inky, changing shades of the sea - blue is a classic in the home, and for good reason.
Its versatility makes it a particularly good colour for the living room, as it can be both a calming, gentle all-round shade (especially in softer, pastel tones) or a vibrant, punchy accent. It all depends on the tone you choose and the look you're going for.
Here are some of our favourite tips, tricks and looks in the living room featuring this perennially chic colour.
1. Start with the sofa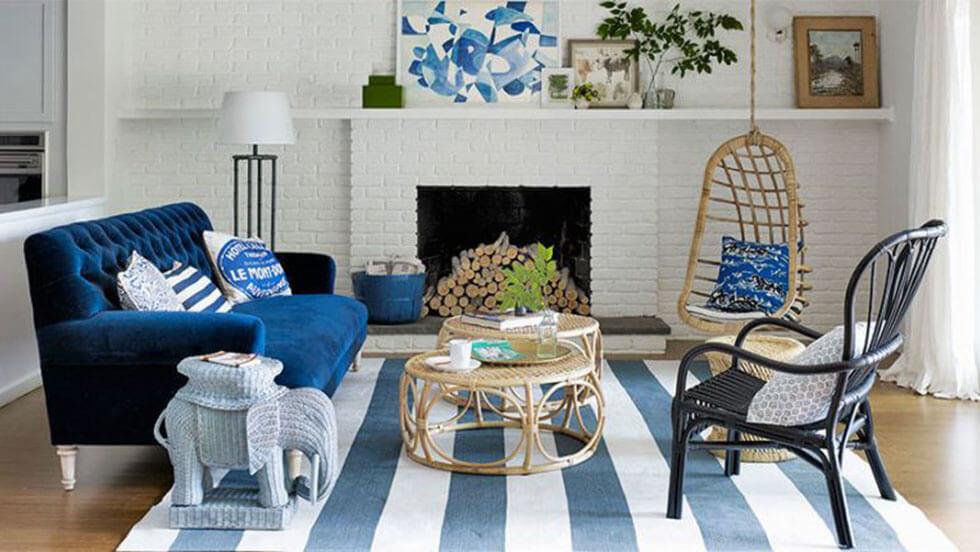 We're going to get to wall colour in just a bit, but one of the easiest ways to introduce blue to the living room is by looking for a sofa in this shade. A rich, dark blue sofa - particularly in a textured fabric, such as linen or velvet - is a strong, stylish centrepiece that can easily be a standalone standout.
However, you could also use it as an anchor to build the living room around, using different tones of blue in accessories such as pillows and art, for a nautical, beach-inspired living room.
2. How to go light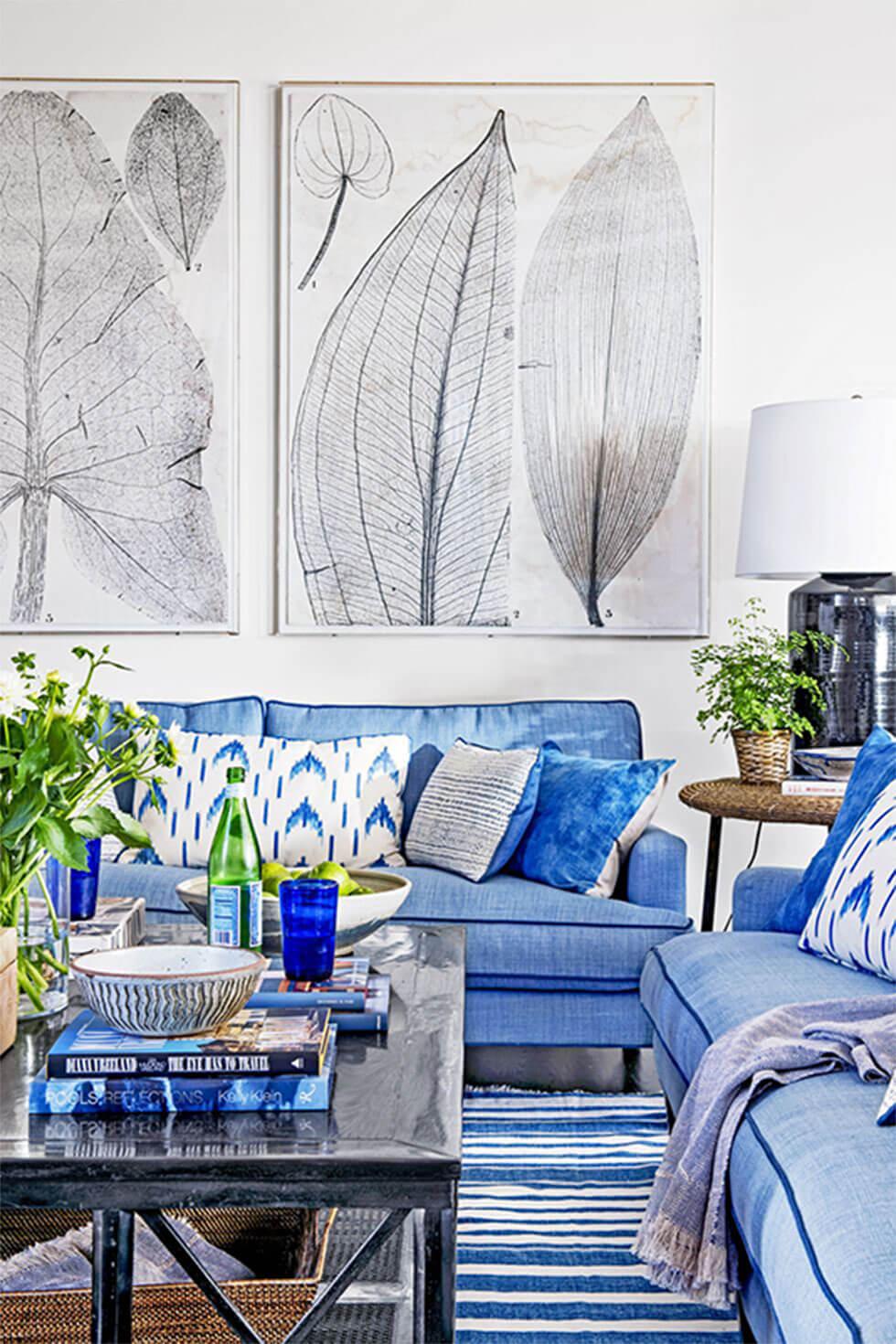 On the other hand, you could also take advantage of the bright, airy nature of light blue and incorporate it into your living room. A light blue sofa immediately adds a vivid touch to the home, and is set off beautifully with white walls and accessories.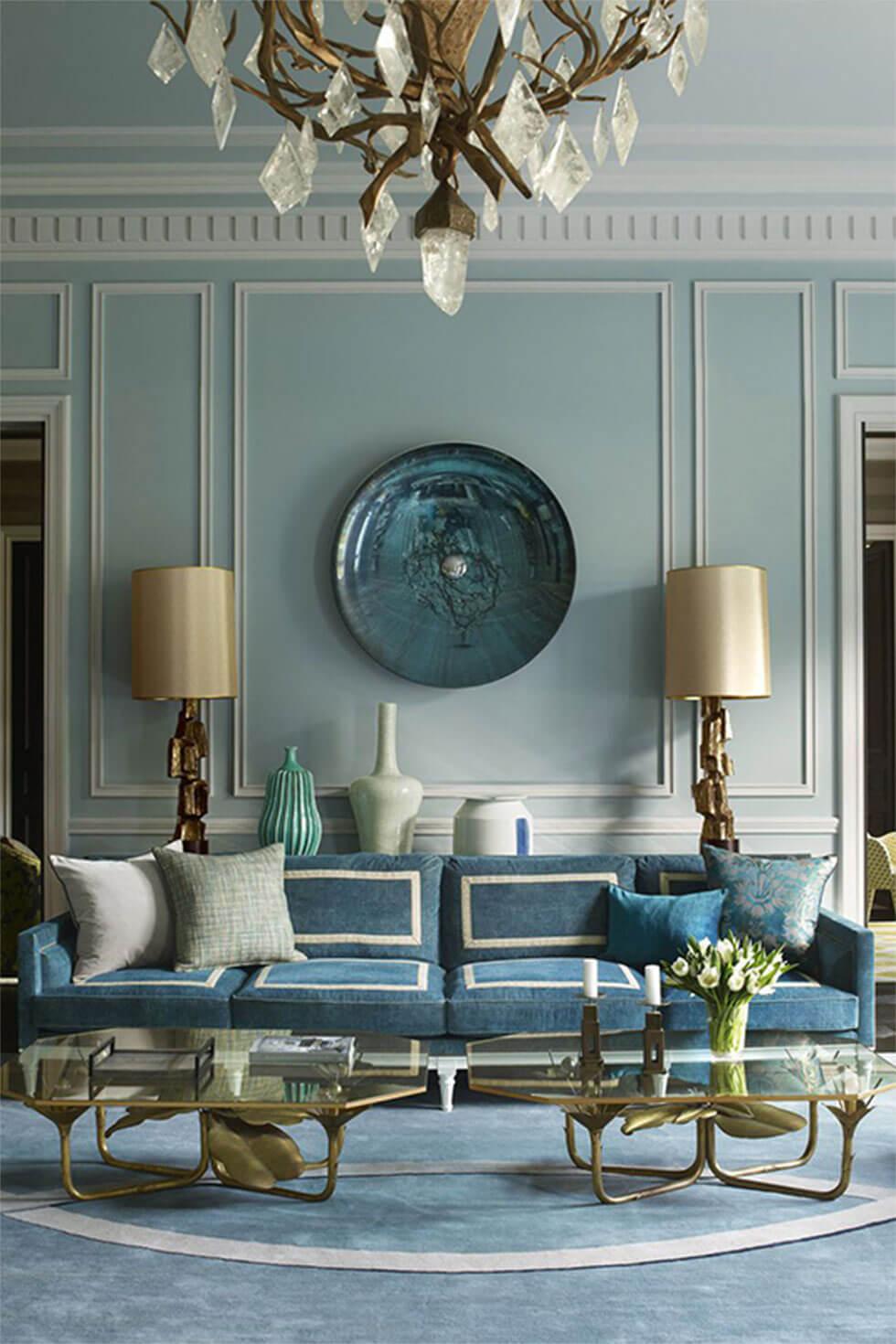 Pastel, powdery tones also work beautifully when you're considering blue living room walls, whether you're just looking for an alternative to neutral tones, or styling a vintage-inspired, classic space. This colour's softer touch also means that it can be incorporated into different elements of the room, such as a rug and pillows for a tonal look.
3. How to go dark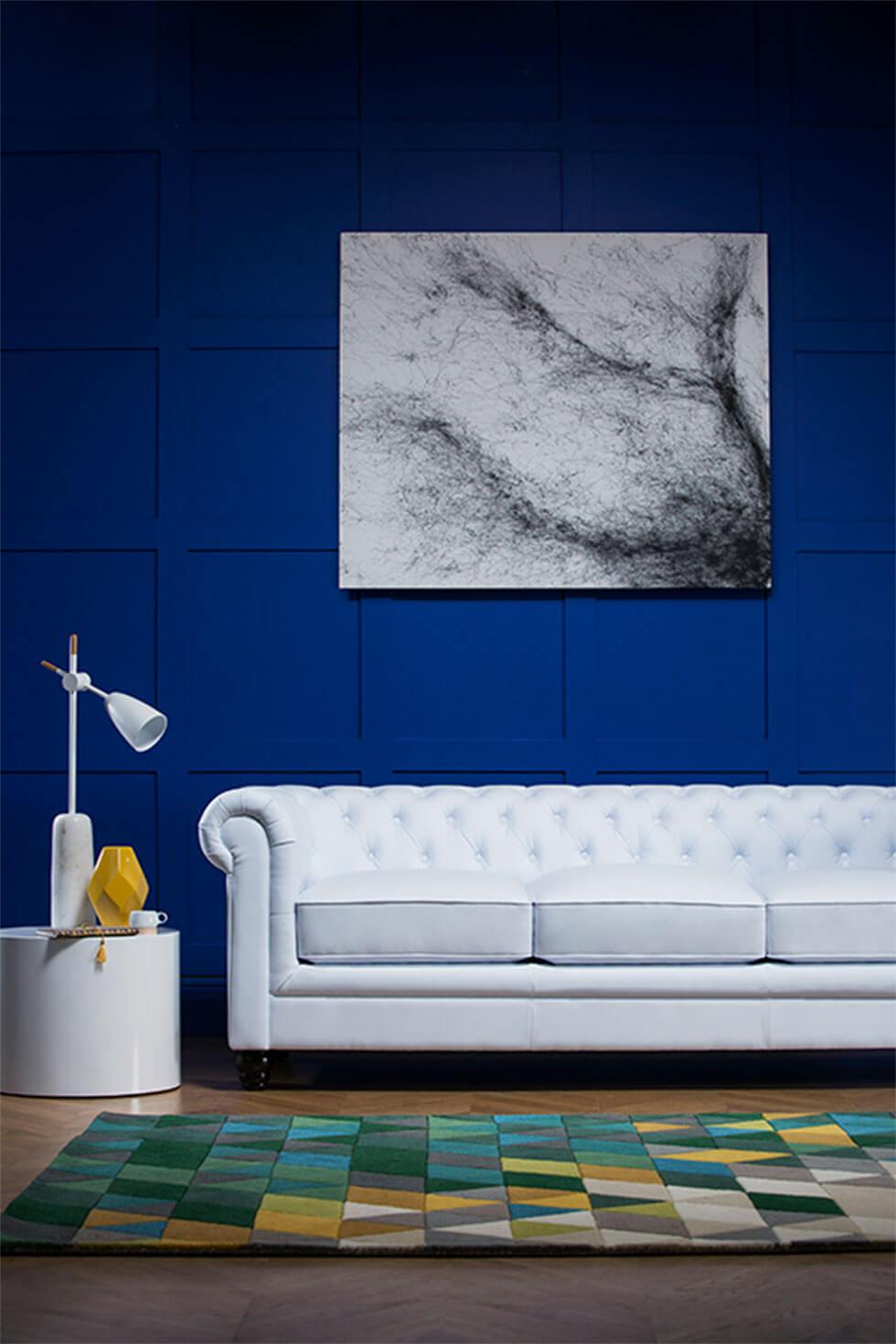 On the other hand, moody, rich dark blue is always a good option. While this colour can seem intimidating in theory, darker navy or jewel tones are actually very welcoming, calming wall colours for a living room. Against this backdrop, other colours, such as yellow, pink, and even white can really pop and help to lighten up the space as well.
4. Pair blue and white for a truly classic approach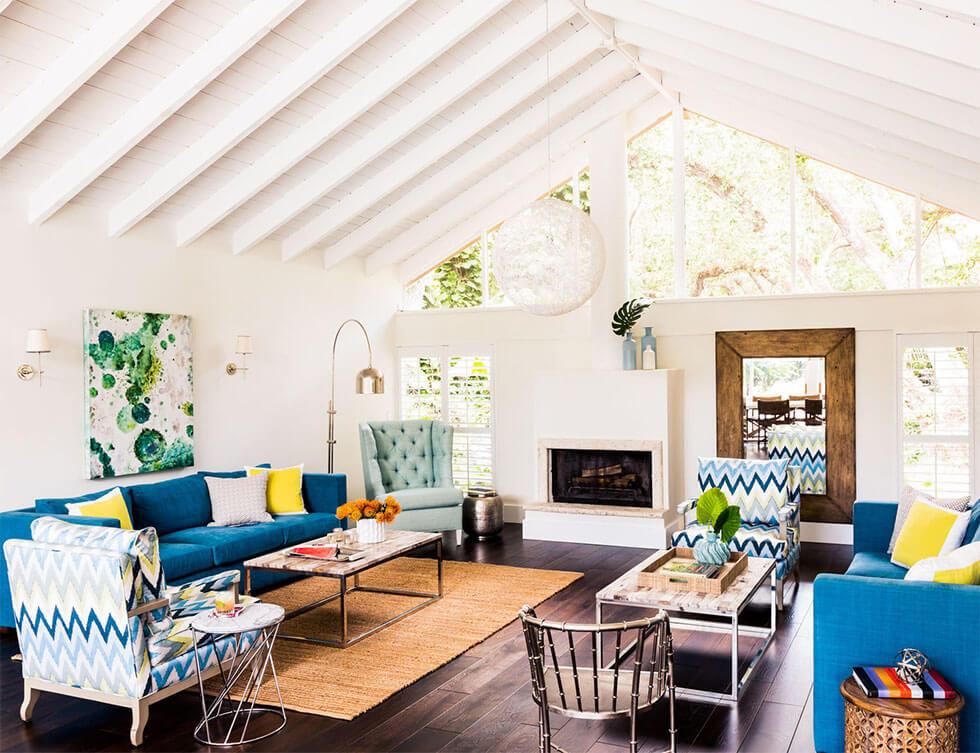 Whether you go with dark or light blue, pairing it with white is a classic approach that always works. Taking a cue from nautical inspiration (think Breton stripes) and nature (blue skies and clouds, sea and foam), a base of blue and white is a great base to build on.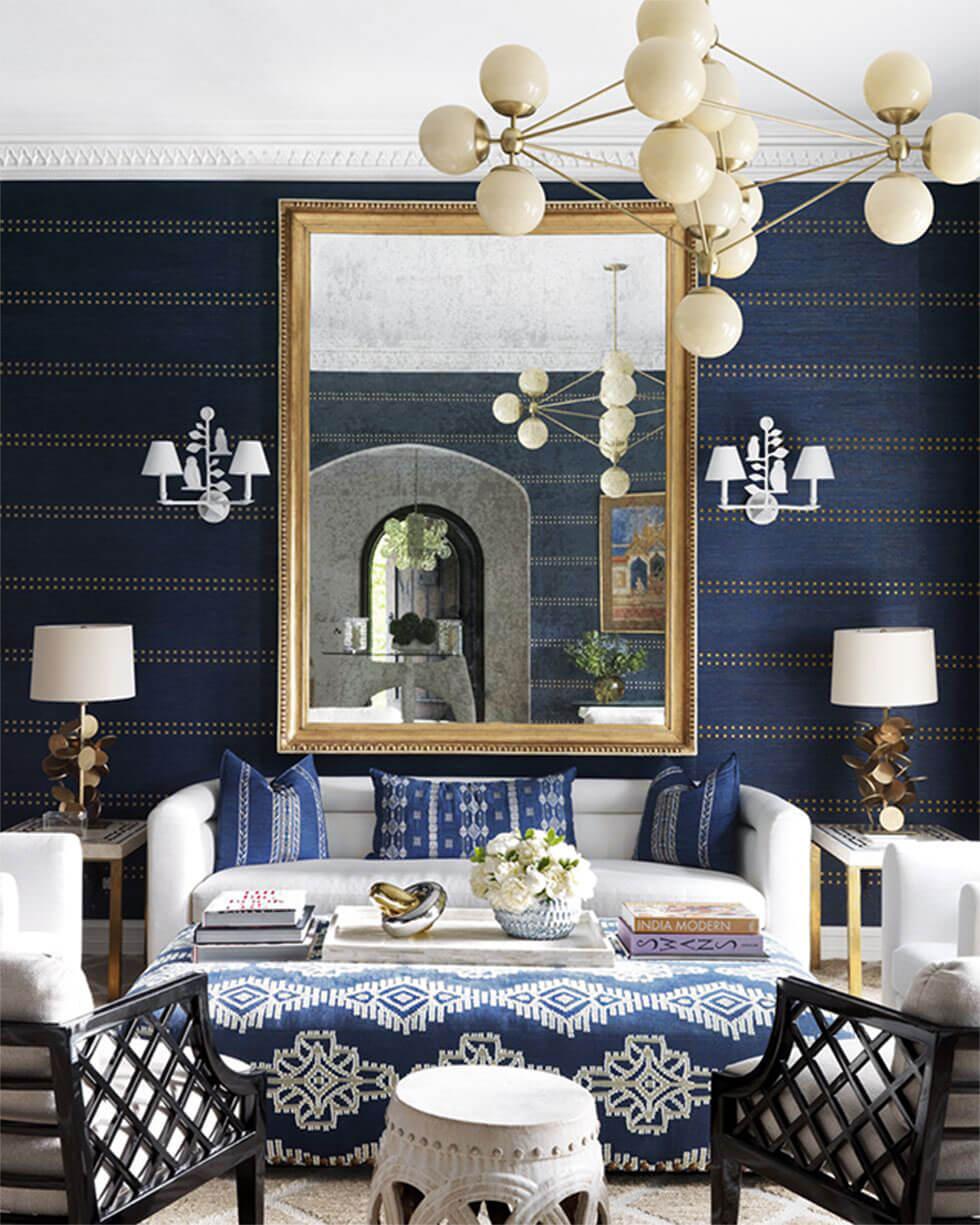 You can keep it simple for a minimal approach, or really play with patterns and cool accessories such as a bubble chandelier. Having a blue and white two-tone palette allows for experimentation but also means you can't really go wrong!
5. Go for gentle pairings, such as pink and green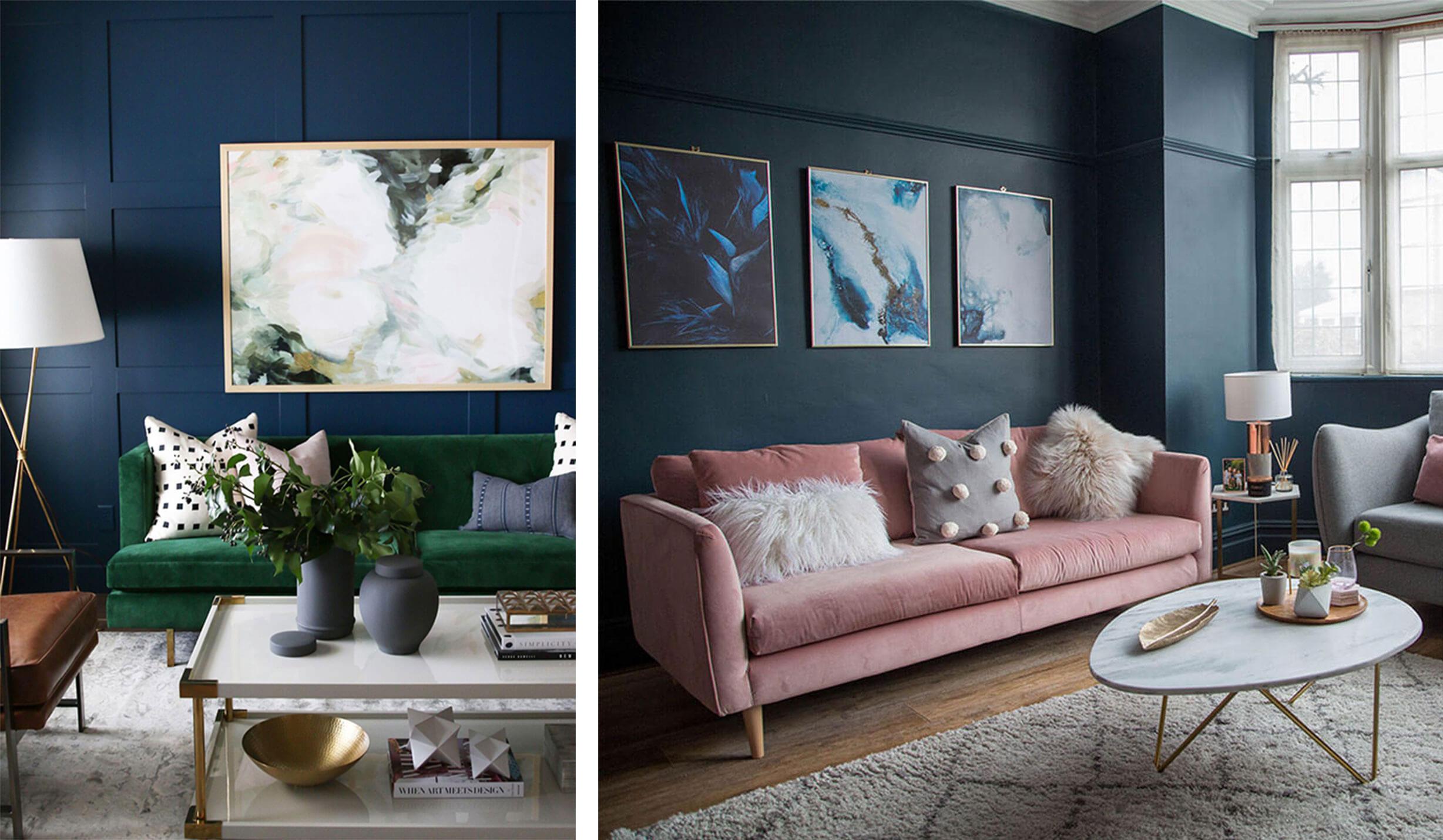 If you want more colour in your living room, blue's sophisticated, gentle tones pair up beautifully with lots of different hues. When you have blue walls, look out for furniture - such as sofas, tables and armchairs - that can introduce different colour dimensions to your room.
Our favourites are pink, for a soft contrast; and green, for a jewel-toned pop.
6. Play with contrasts, such as orange and yellow!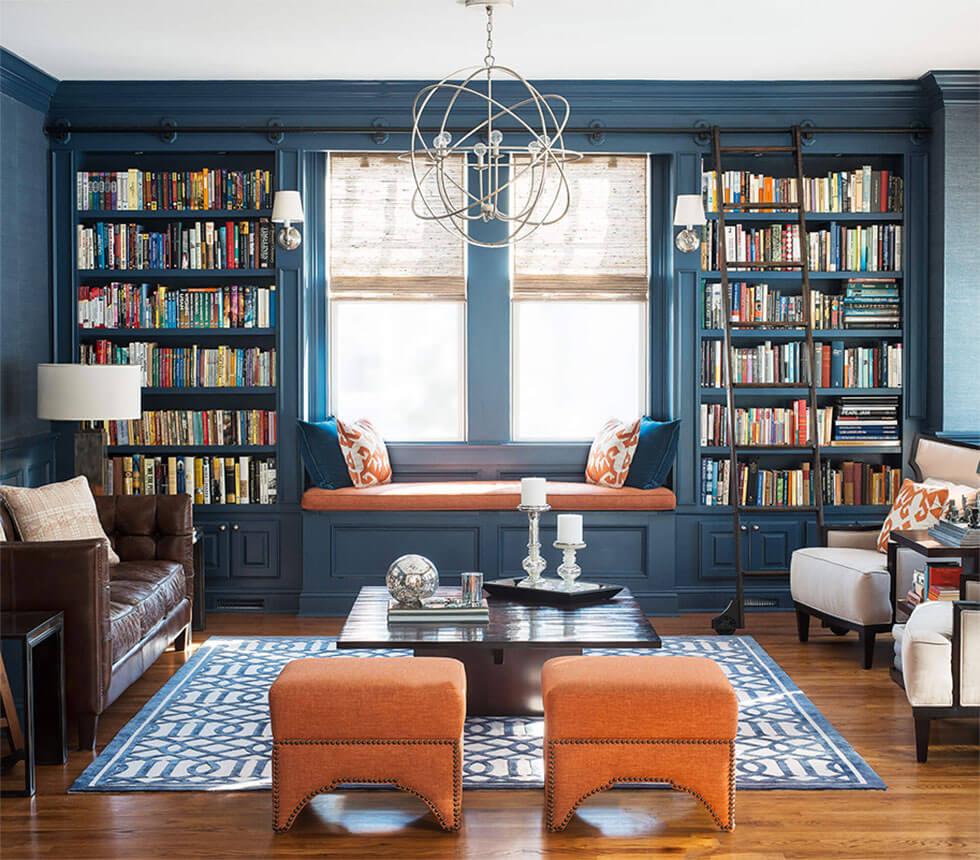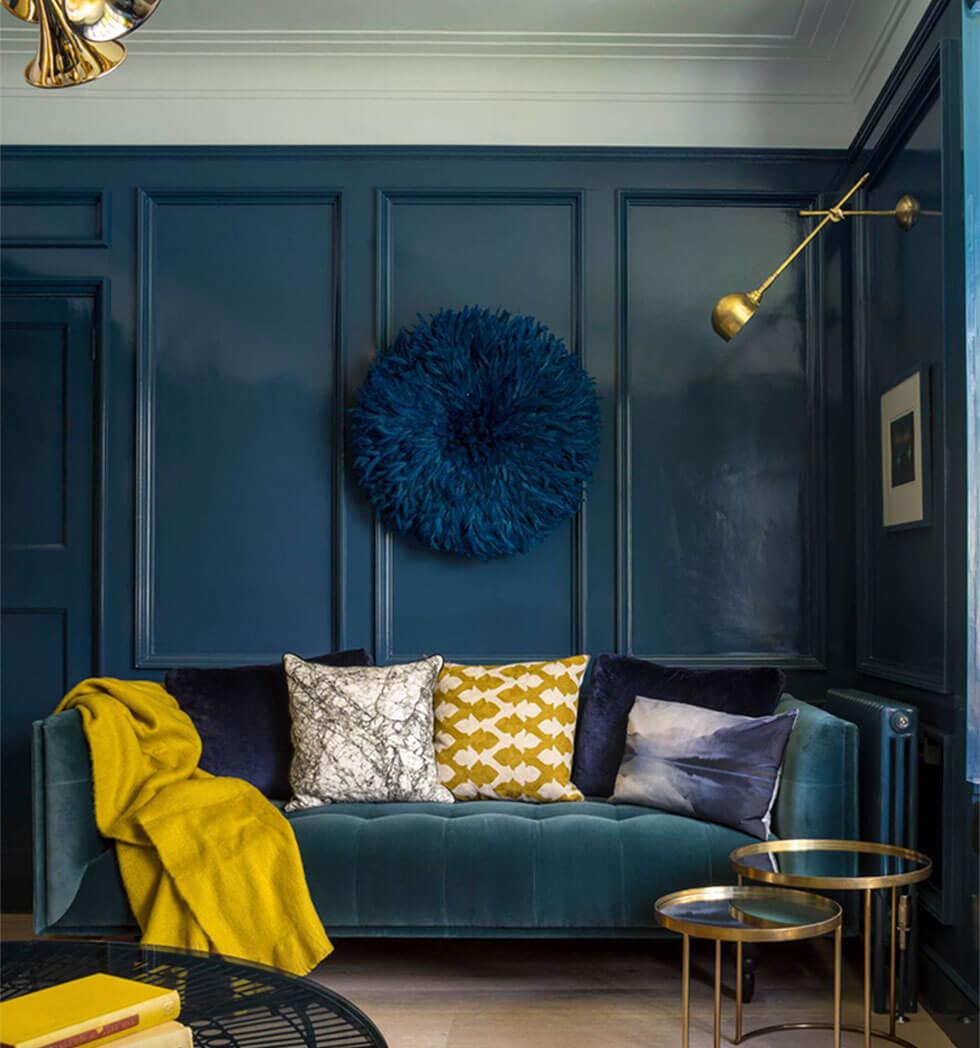 Or go for a high-contrast look with complementary colours to blue, such as orange and yellow. With such bright colours, the trick is to use them sparingly, as accents and pops of decor and print. For instance, cushions and throws are always quick ways to incorporate colour into the room, as are upholstered pieces, such as footstools.
7. Tonal tips and tricks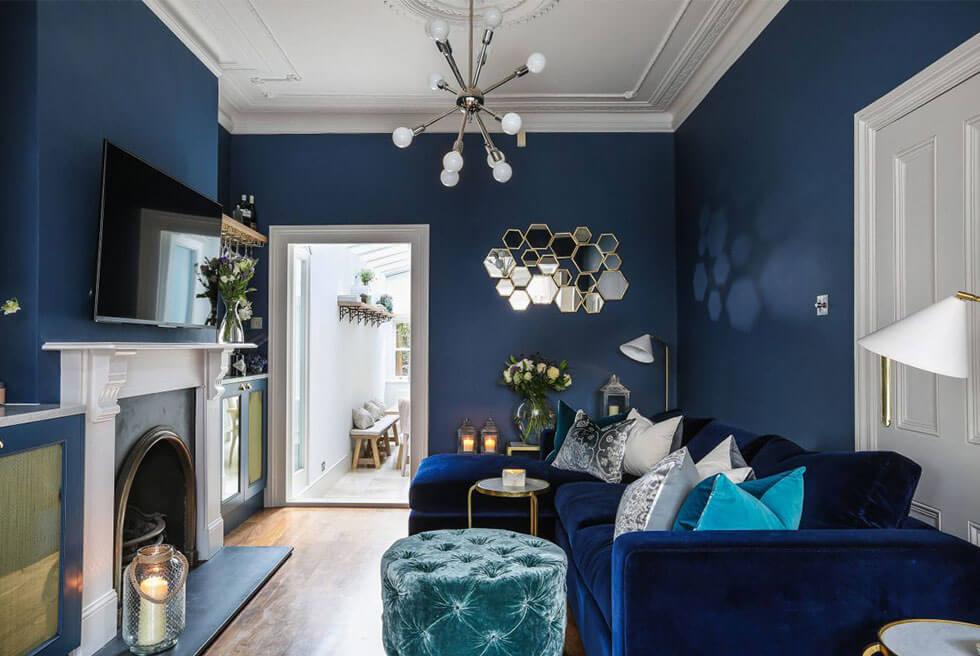 Going tonal is a sophisticated, minimal approach, but decorating a room in one colour can seem like a big commitment. To keep it from looking or feeling dull or flat, look out for fabrics or finishes that can add dimension and texture to a room, such as plush velvet or leather.
Accessories and decor, such as metallic lamps, mirrors, and frames, will also add a bit of shine and extra glam to a tonal blue living room.
8. Texture matters
And on that note - since blue is such a classic shade, it's important to add on textural elements to keep your room looking fresh and elegant.
Fabrics and finishings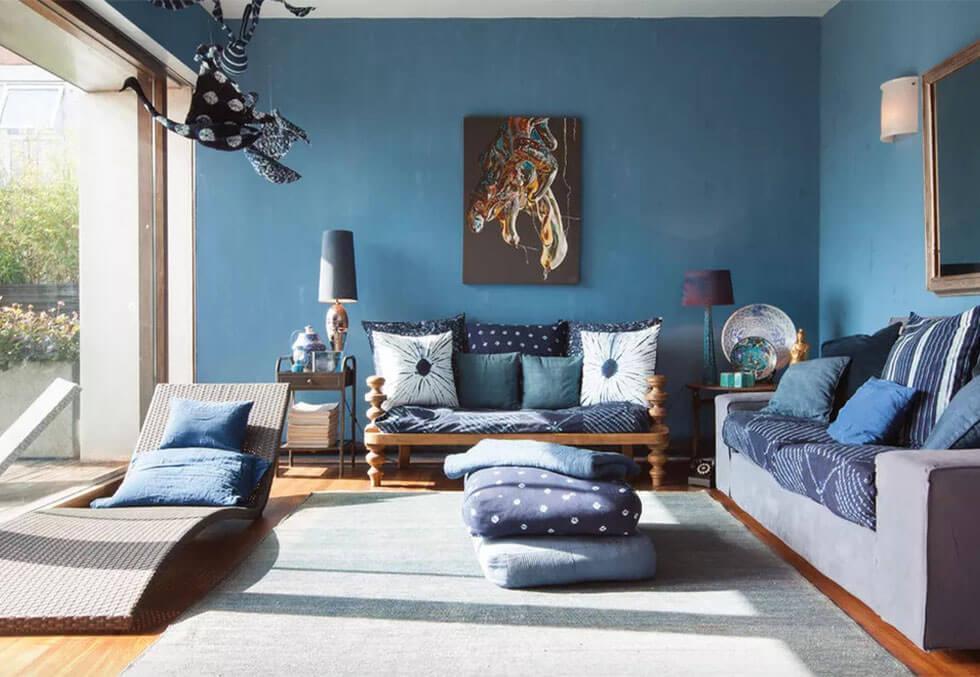 For instance, keep an eye out for patterns and fabrics that can incorporate blue in new and exciting ways. Ikat, shibori and batek are just some fabric dyeing styles that often use blue, and can add beautiful patterns to your space.
And using natural materials such as rattan and seagrass can immediately evoke a nautical, beachy feel, while if you're going for a more vintage look, decor that included porcelain or tiles would be a great inclusion.
Lacquer and matte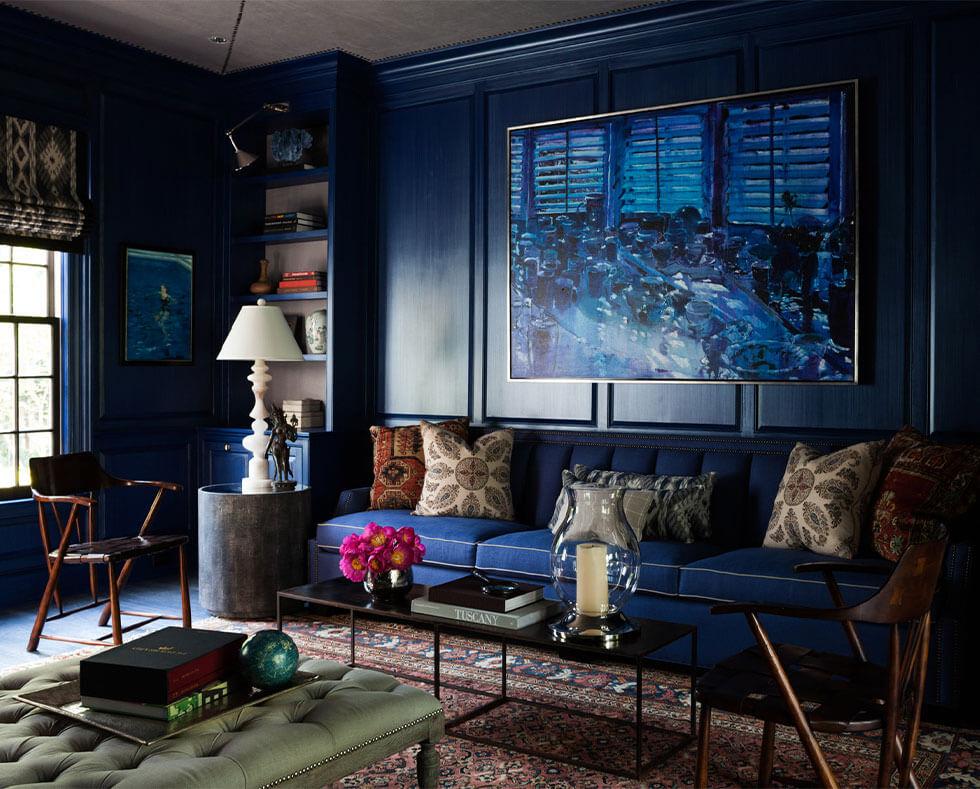 It doesn't just end with choosing your wall colour - the finish matters too.
Playing off the contrast of lacquer and matte finishes adds an interesting touch to your living room. For instance, it can create some edge to play against the softness of light powder blue, while it can also prevent a navy blue room from feeling too heavy and dark.
9. Consider the room as a whole
And finally, going beyond wall colours and furnishings - don't forget to consider your room as a whole! Blue rugs and drapes can really help tie the whole room together, and add a little extra dose of colour and pattern.