Classy, clean and elegant: white is definitely the new black!
When you're looking for ideas for your dining room décor, you can't go wrong with a white dining set. Clean and fresh, white goes with everything, and while a white gloss dining table looks fabulous matched with the smart sheen of leather dining chairs, it also suits the natural grain of wood perfectly.
Conjuring up a feel of space and light, choosing to stick to all white for your dining room décor is a bold decision. When painting the walls, remember that there are multiple shades of white paint colours – from antique white to sail white to china white – each of which will give a subtly different effect. The trick is to step away from the cheap all-purpose builders' tubs and invest in a good quality paint. You can always make savings by looking out for multiple buy offers on quality paint brands.
If you choose an all-white or mostly white colour scheme, you can add variety through texture, for example: voile or linen curtains and a sheepskin or chenille white floor rug with a gloss-white dining table and white leather dining chairs. Another way to add variety is to play around with shapes. Introduce curves with a round white table, a circular rug, a round or oval mirror and other curved accessories – or through a circular pattern on wallpaper and fabrics.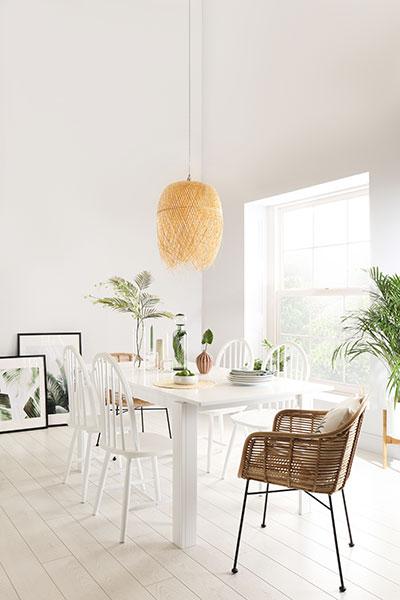 Featured products: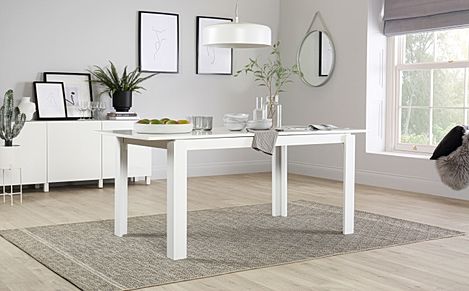 Do mix whites with colours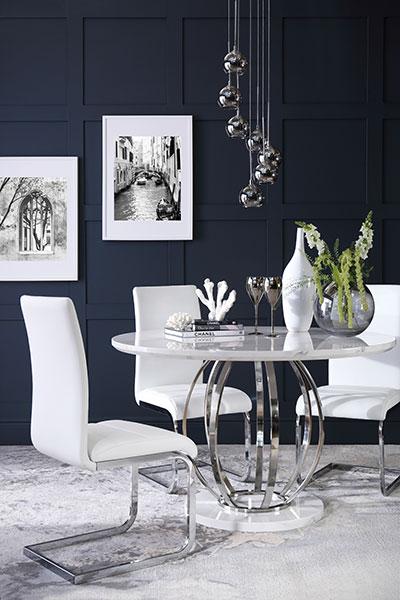 One rule for the washing machine – another for decorating your dining room! Used as a blank canvas, white can be partnered with multiple shades of one key accent colour, or with a range of colours, for maximum effect. If your focal point is a white dining table, why not pair it with contemporary dining chairs in bright colours, such as purple, red or pink. You can then choose accessories to match, from table linen to glassware.
Take this dining room design idea a step further by painting floorboards in white and walls in bold shades to match your dining chairs. Another approach is to take white as your blank canvas and add multi-coloured accessories, such as rugs, cushions and curtains, or invest in an original piece of art.
Featured products: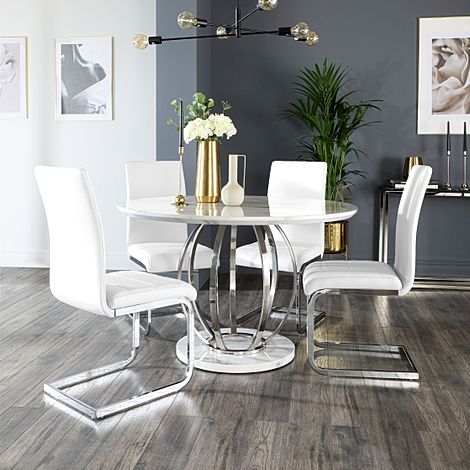 Country dining room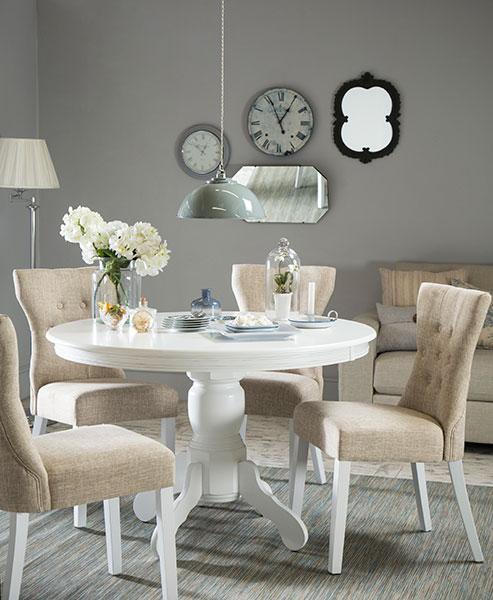 White dining room furniture is usually thought of as an obvious fit with contemporary décor, however, it can look equally at home in a rustic setting such as a farmhouse or country cottage kitchen. A white dining table with wooden top can be paired with white painted chairs or solid wood dining chairs with white leather seats; choose an extending table if you often invite family or friends round.
Solid oak dining tables painted white can be dressed with rattan or wooden table mats – perfect for serving up hearty country fare, from warming soups to stews. Gingham and floral patterns work well in this setting – think smart country style rather than dainty and twee.
Black and white dining room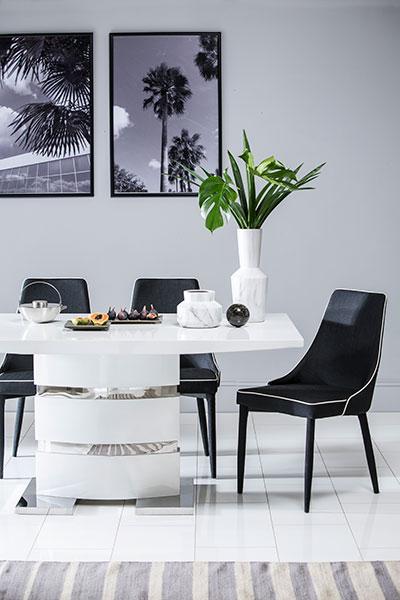 Popular with 1960s retro lovers, monochrome remains one of the most striking decorating styles. Using black and white furniture and decor in your dining room makes a bold statement, introducing clean lines for a simply stylish effect.
Black and white is all about contrast. As with an all-white colour scheme, be aware of the different shades and tones of black furniture and accessories and play around with texture, pairing a high-gloss white dining table with matt black leather dining chairs with chrome legs. Metal curtain rods and wall mirrors keep this look sharp and stylish.
While a monochrome rug with geometric design will fit in with the 1960s retro feel, you can update this to a more contemporary look by adding in shades of grey in paintwork and blinds. Grey stonework and floor tiles can also soften this dining room decorating idea. A simple white flower in a black vase glass will provide a striking centrepiece to your white gloss dining table. Add a smart chess set on a side table or hang some monochrome prints of your favourite place.
Featured products: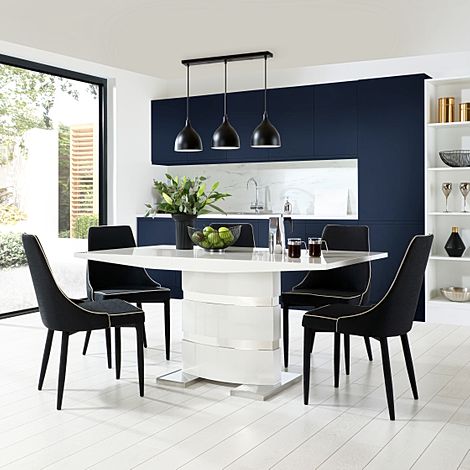 Cleaning white furniture
While white furniture can look smart and stylish, it may need a little extra care to keep it clear of marks and scuffs.
Here are a few tips: High-gloss dining tables can be wiped clean with a damp cloth and dried with a duster. Avoid using abrasive or corrosive cleaning products as they can scratch the gloss surface. White leather dining chairs should be treated with the correct leather cleaner and sprayed with leather protector between cleans. Always use tablemats and coasters to prevent surface damage from hot cups, plates and dishes. Wipe up spills immediately, so that they don't have a chance to sink in. If your dining table has to double up as a kid's play table, use a wipeable plastic tablecloth to protect the surface. White dining tables with glass tops can be wiped first with a damp cloth then polish the glass to a shine using glass cleaner. Use a quality chrome polish for chrome legs on dining tables and chairs as it will both clean and protect the chrome; avoid cleaning products that contain ammonia.