Style Guide: Cosmic Spaces
We share helpful tips on decorating the home inspired by Marvel's superheroes franchise.
With Captain Marvel, Avengers: Endgame and Spider-Man: Far From Home out in cinemas soon, it's pretty safe to say that it's going to be a Marvel-lous year!
Known for its bold, action-packed sequences and zippy one-liners, the Marvel cinematic universe is an exciting one with plenty to draw inspiration from. With so many of its adventures taking place in the far reaches of the galaxy, this is right on-trend. Space-themed interiors are the look of the moment, whether it's about playing with constellations and stars, or experimenting with colours - so the sky's the limit!
We've previously offered style tips around a Captain America-focused look, but this year, we're supersizing it up with two distinctive interiors in honor of Marvel's biggest movie yet, and the much anticipated arrival of Carol Danvers aka Captain Marvel. Drawing from her cosmic origin story and mixing it with the Avengers' punchy comic book references, we take the superhero-inspired look to new heights.
Read on to find out more!
Let Marvel-inspired details shine next to cosmic décor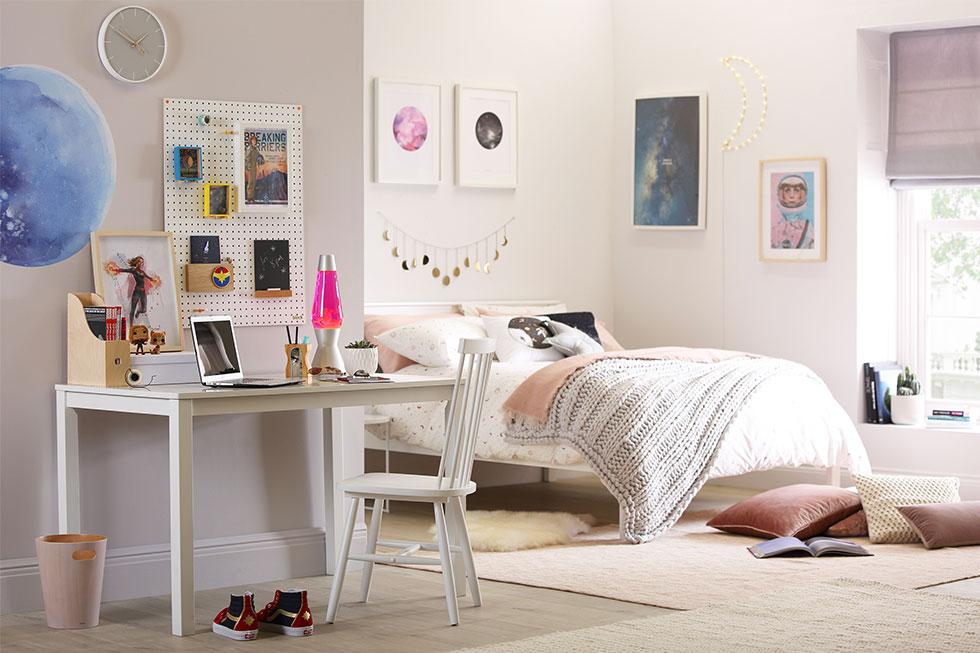 The bedroom is the best place to introduce a minimalist aesthetic while slipping in subtle and interesting details from your favourite Marvel movies. Opting for a light, neutral palette provides a great foundation to accessorise and layer with different textures while giving the bedroom a cosy feel.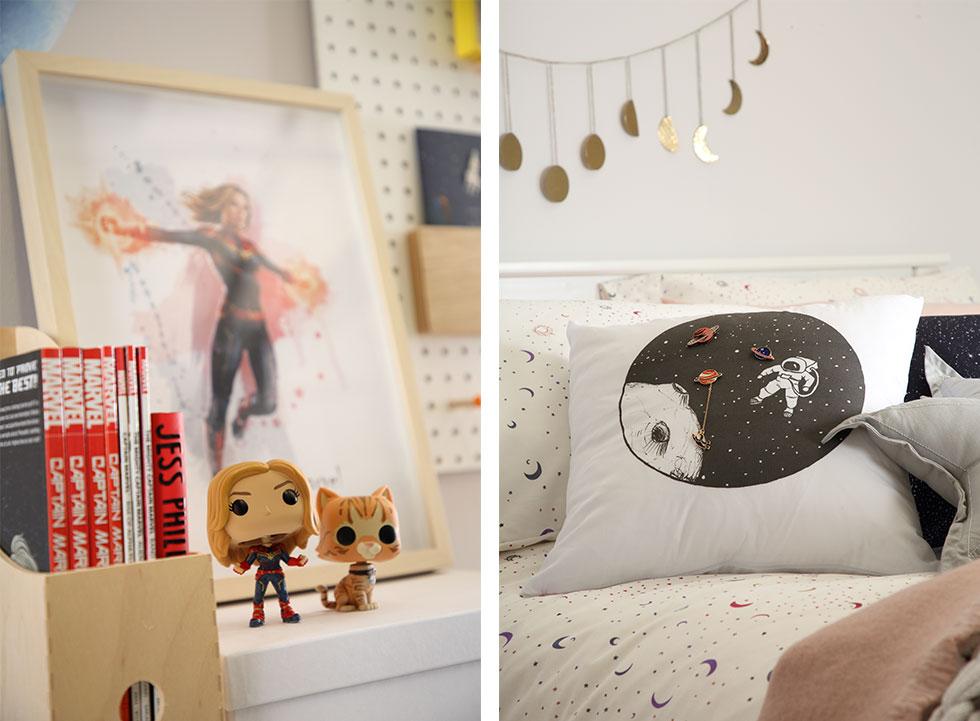 With this simple backdrop in place - it's time to get creative and let your inner child shine! Take a leaf out of Captain Marvel's cosmic origin story, and experiment with space and constellation themed references when décorating. Whether it's space-inspired artwork, enamel planet pins on a moon landing cushion, or even just a cute vinyl Captain Marvel bobblehead, these details add a touch of whimsy to a fresh, neutral space while also giving it a huge dose of personality.
Shop the look: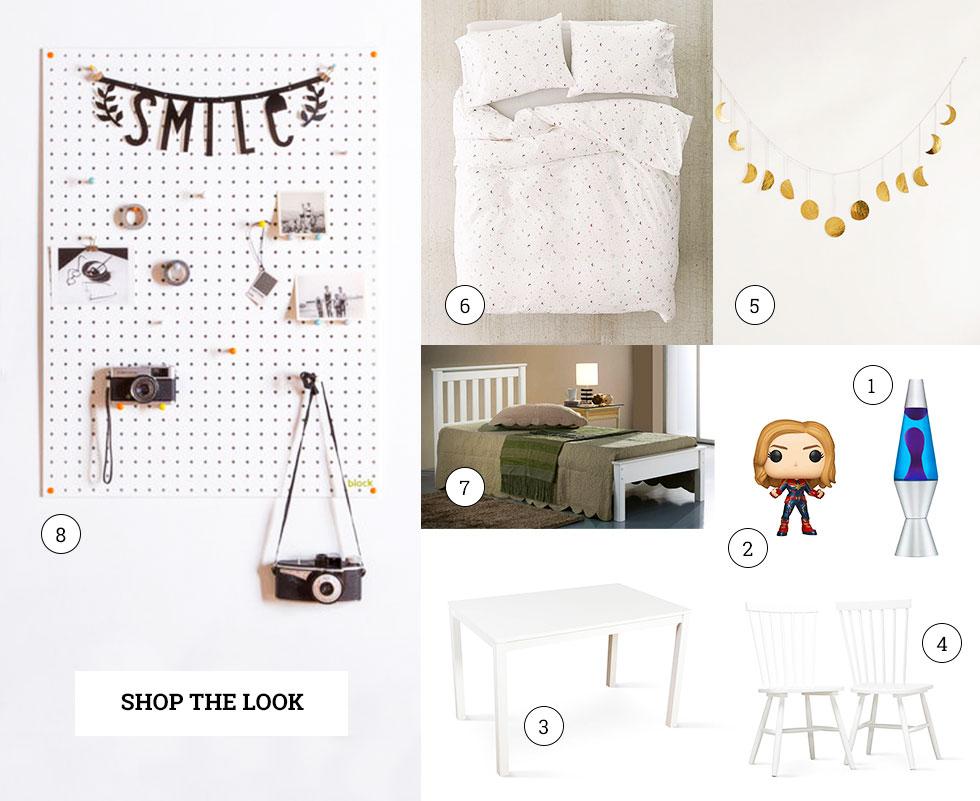 Trend tips
Small details aside, you can also add a cool touch to your room with artsy DIYs. Most projects are customisable to suit your preferences, and are simple to complete with rewarding results.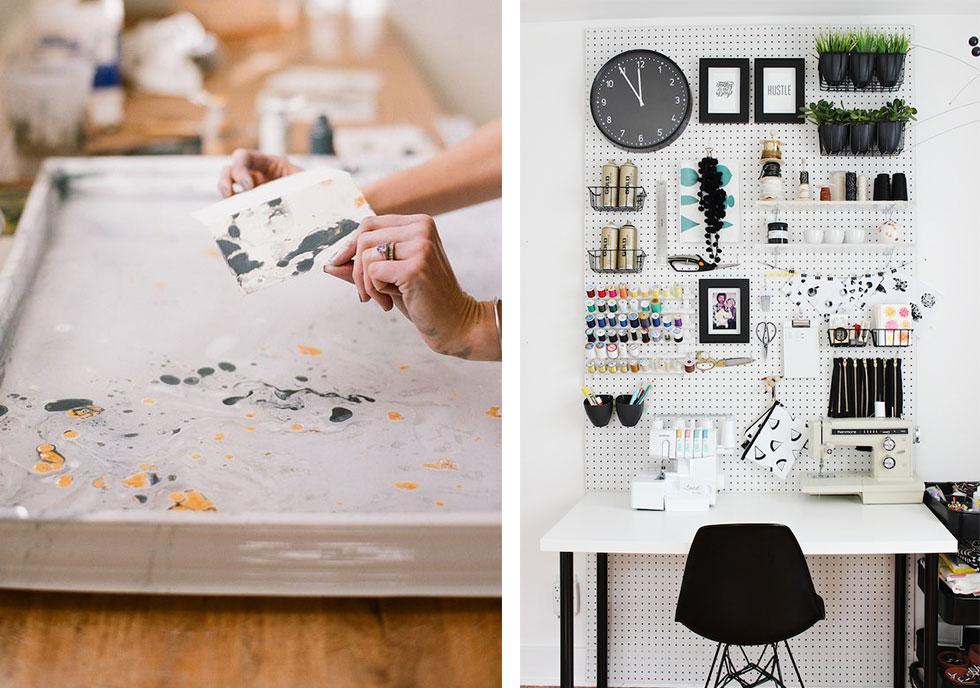 Marbled art is a beautiful take on the galaxy trend, and you can make one-of-a-kind paperweights, wall art, and even a functional clock if you're up for the challenge! This technique dates all the way back to 12th century Japan, but the steps are easy to recreate with modern-day supplies from the craft store.
Another little DIY is both practical and fun. Peg boards aren't just for organization – they can also be jazzed up to match the look and feel of your space. Refresh yours with different colours, or step up your shelfie game by turning it into a wall shelf for tools, plants – you name it.
Make a bold comic book-inspired statement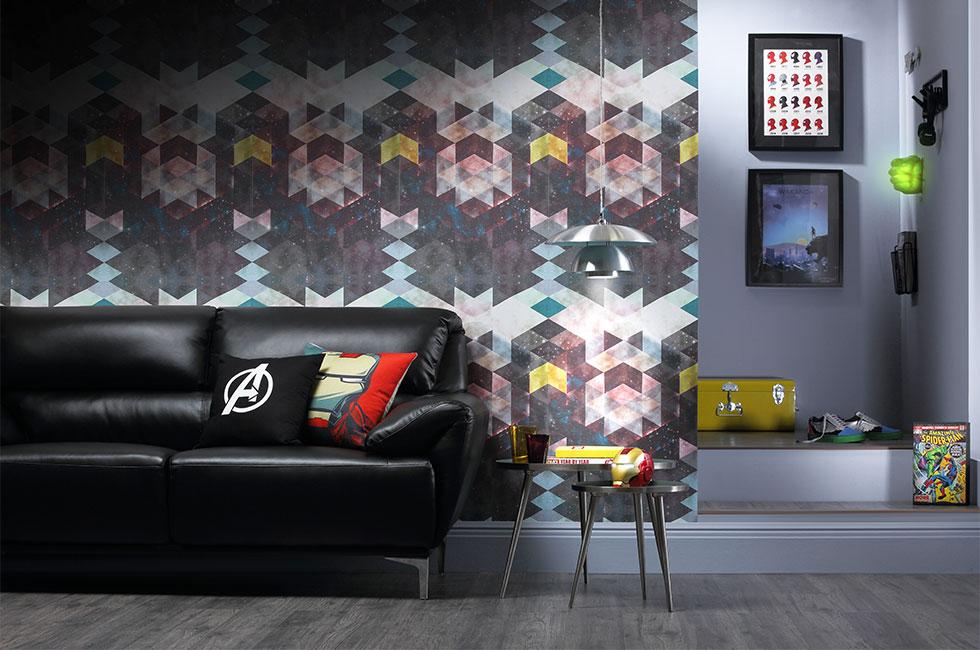 If you're looking to embrace a bold statement look, the living room is an ideal place to show it off: colours, vivid prints and all. A feature wall of multicoloured space-inspired motifs are a subtle nod to the Avengers' galactic adventures, while also creating a focal point in the room. As this is a theme that's all about distinctive décor and hues, balance it out with minimal, modern furniture for a stylish, cohesive feel.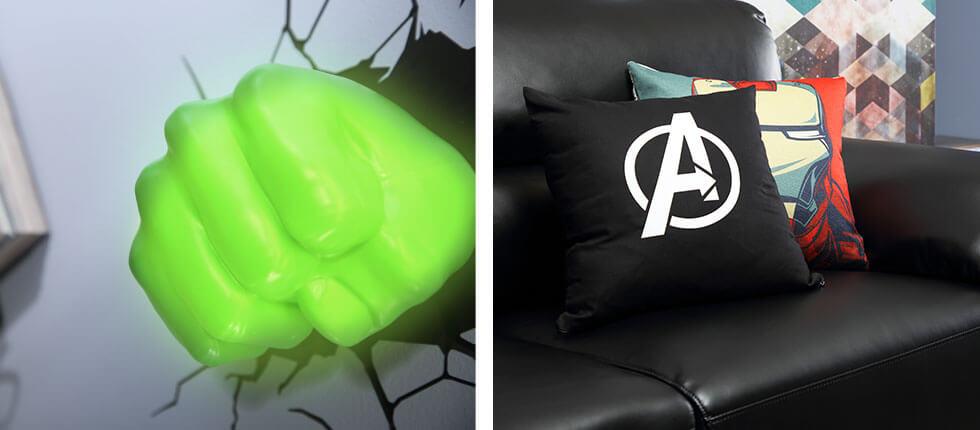 Superheroes are known for a signature look, so take inspiration from their visual cues from comic books and apply them around the room. Slip in vibrant accessories for a pop of colour, or better yet - go all in with fun superhero-themed décor for a (literally) punchy look. Unique lighting in the shape of Thor's hammer, Hulk's fist or even Iron Man's helmet will instantly give the room a playful spark of positive energy.
Shop the look 2: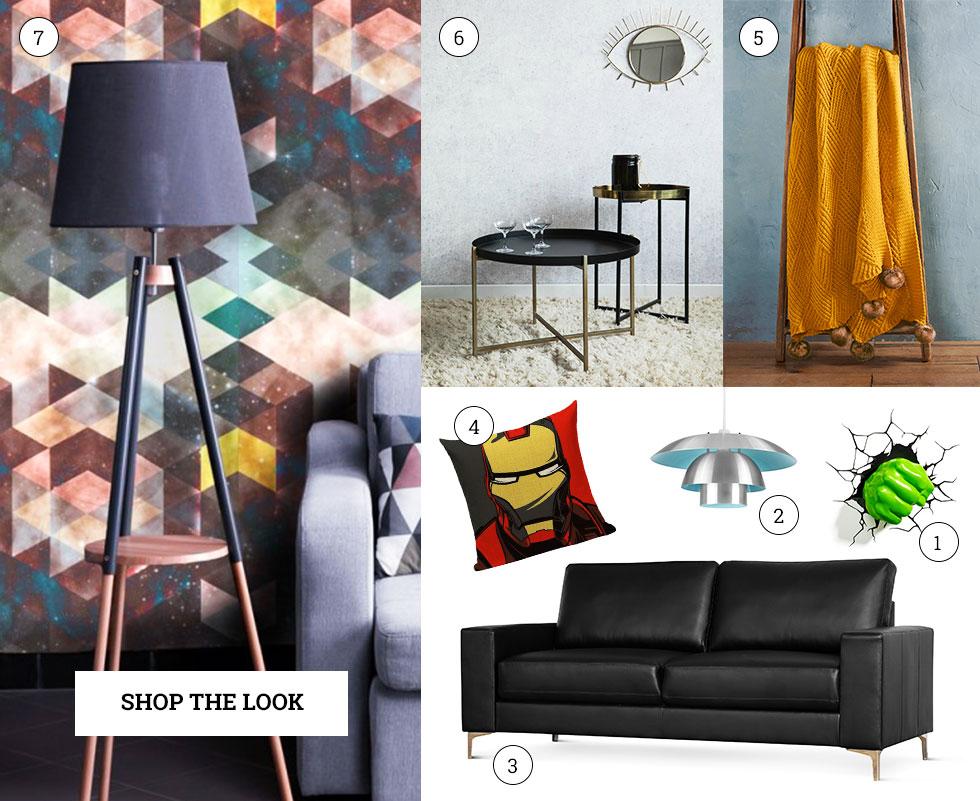 Trend tips
If you're not ready to take on the power (and responsibility) of a fully-realised superhero-inspired space, you can always play it coy with subtle nods while keeping up with more mainstay interior trends. After all, not all heroes wear capes!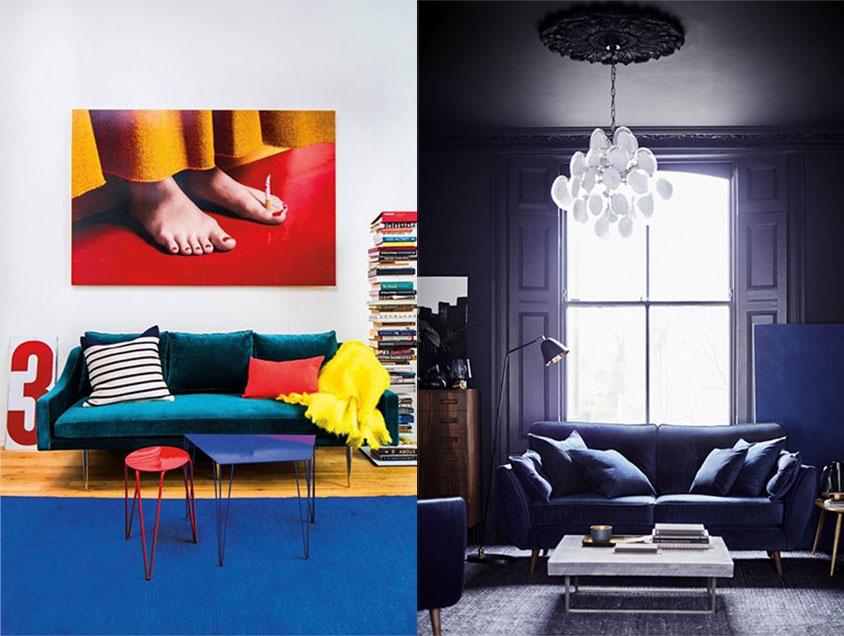 Colour blocking is a hugely adaptable trend and can be used to reference a character's signature colours, whether on a large scale or in small doses. This is a low-key approach for those who want to pay homage to their favourite character, but still wish to keep things modern and trendy. For a bright, energetic approach, Captain Marvel's blue, yellow and red hues can work as a striking, contemporary statement. If a monochromatic palette is more your style, evoke a luxurious, dramatic feel with the rich, ultraviolet tones of Black Panther.