Memory foam mattress or latex? Pocket sprung or open coil? Medium or firm? The choice on the market today is overwhelming and we've hardly got started on the fillings! When you're looking at buying a new mattress there's a lot to consider and it's helpful to have an understanding of what's on offer. That way you can pick the best mattress for your needs and enjoy a good night's sleep for the lifetime of your mattress.
Bed Bases
A simple divan base consists of a wooden frame with a sheet of hardboard on top to support the mattress, commonly known as a platform top. A more supportive option is a sprung base, in other words, a spring system within the divan base. Some bases have additional spring support at the edges. Divan bases generally provide more support than slatted wood bases, as they offer an even surface for the mattress springs to sit on.
Fillings
Mattress fillings are usually a combination of man-made and natural materials including natural blends. Common mattress fillings include:
Natural fillings will usually be more effective than manmade fibres at absorbing moisture and helping to regulate temperature to stop you tossing and turning in bed.
Firmness
All mattresses, whatever the size, can be manufactured with different tensions from soft to very firm. Firmness is different from support and relates more to your sleeping position. Firm and mattresses are most suited to people who sleep on their back or front, whereas a medium and softer mattress are better for those who mostly sleep on their side. If you suffer from back or joint pain, a firm mattress is not automatically the best choice, and you should look at orthopaedic options.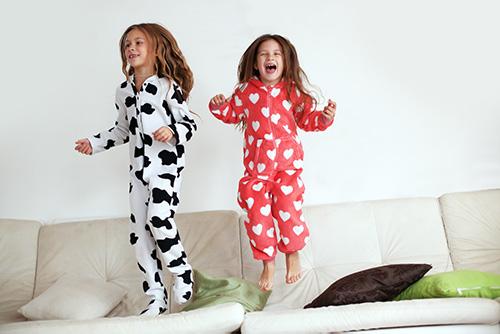 All foam mattresses
Resilient, supportive and cost-effective, foam mattresses are normally made of flexible polyurethane foam (high density foam/reflex foam) and can be used in combination with pocket springs for additional support. Light and versatile, all foam mattresses are often vacuum packed for ease of transport or storage.
Gel mattresses
Gel foam, Geltex or Gel Memory is the latest innovation in foam development to contribute to an excellent night's sleep. It has the ability to conform to individual body shape and weight but also provides a gentle cooling sensation.
Latex mattresses
Ideal for those with allergies, natural latex mattresses are hypo-allergenic, anti-bacterial and dust mite resistant. Synthetic latex substitutes are also common, as are latex and memory foam combinations. A latex mattress has elastic properties that help support the body in sleep and will keep you cooler than a memory foam mattress. As a sustainable material (it comes from the sap of the rubber tree), natural latex is also a good choice for those concerned about their carbon footprint.
Mattress covers
Also known as mattress protectors, these are light quilted covers that protect the mattress. Usually made of cotton or wool, they can be removed and washed at a high temperature – over 55ºC (130ºF) will kill dust mites. Some mattress covers are designed to be waterproof.
Mattress toppers
These can be used alone or in conjunction with a mattress cover and should help to extend the life of your mattress. Mattress toppers are usually between one and five inches thick; thinner mattress toppers or enhancers are washable, but the deeper ones should be used with a washable cover. They can be made from a range of materials, such as cotton, wool, feather and down, or memory foam.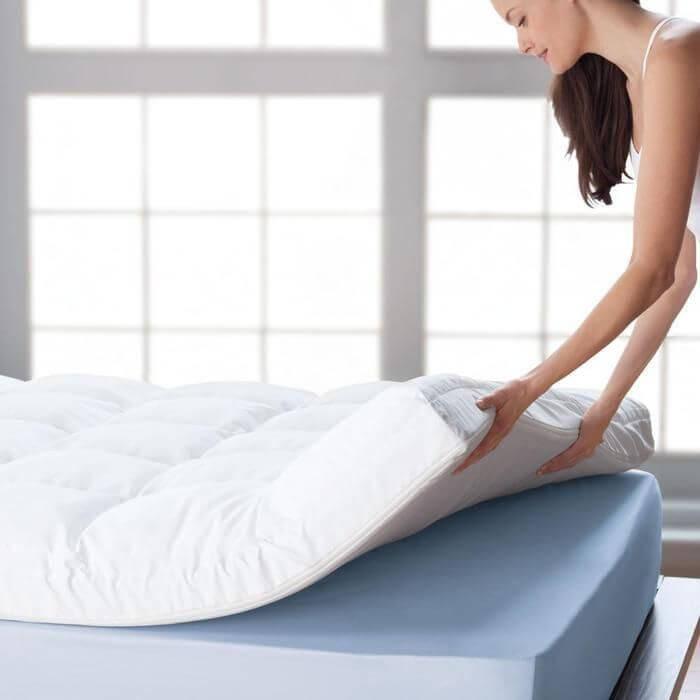 Memory foam mattresses
One of the most popular options today, a memory foam mattress contains a layer of visco-elastic foam, usually in combination with a spring system. This slow-recovery foam responds to the body's natural shape and weight, providing support, relieving pressure points and promoting blood flow. This can improve quality of sleep and relieve joint and back pain. Memory foam is also hypo-allergenic and retains warmth for longer than traditional mattress fillings.
No-turn mattresses
The layers of filling in a no-turn mattress are designed to reduce settling. This means that the mattress does not need to be turned, which is ideal for anyone who needs to avoid heavy lifting, for example the elderly or those with back problems. It may still be beneficial to rotate the mattress on occasion, especially if used by two people of differing weights.
Orthopaedic mattresses
These are specifically designed for those who need good all-over body support, in particular for people who suffer from back or joint pain. Available in pocket sprung or memory foam options, an orthopaedic mattress is not necessarily firmer than a standard mattress but should offer more cushioned support. The best orthopaedic mattresses will be developed with advice from back specialists. Read our guide on orthopaedic mattresses here.
Pillow-top mattresses
These come with a mattress topper already stitched on to the mattress and are no turn. The benefits are that the pillow top will prolong the life of your mattress by providing an extra layer; however, the downside is that, unlike mattress toppers, they cannot be removed and washed, and if the filling starts to compact, the mattress can't be turned to use the other side.
Quilting vs Tufting
Quilting is when the ticking, or mattress cover, is stitched to the first layer of filling, creating a flatter and smoother surface to the mattress than tufting. A tufted mattress has stitching that holds the mattress fillings in place, along with soft felt or material buttons on the outside of the mattress. A good quality mattress will be hand tufted; cheaper mattresses will have nylon ties rather than thread stitching.
A tufted mattress is more effective than a quilted mattress at preventing loose fillings from moving around and is generally used with pocket springs. It offers a firm support as the fillings are held tightly in place. Quilting is normally used in open coil spring mattresses and provides a softer sleeping surface that you will sink into, rather than the firmer option of a tufted mattress.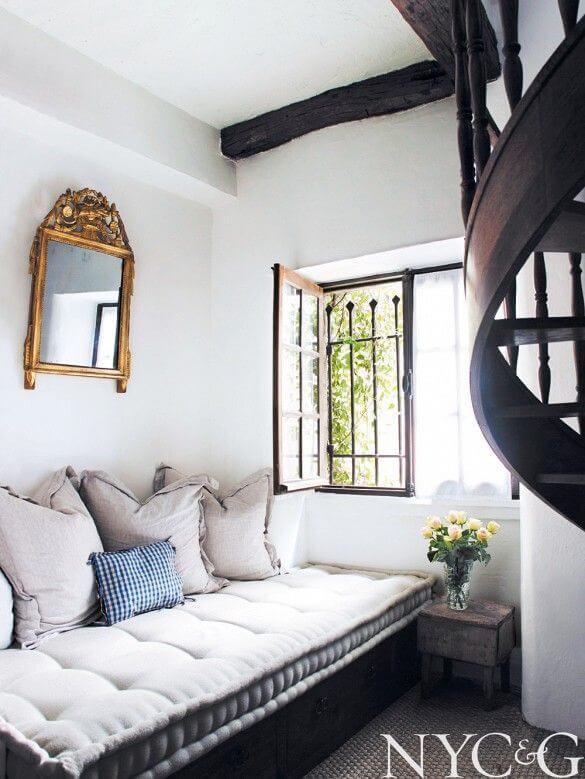 Side stitching
Most mattresses have two or more horizontal rows of side stitching to anchor the outer spring units to the mattress ticking. Side stitching also helps to keep the edges of the bed firm, increasing the available sleeping space.
Size
In the UK, standard mattress sizes are given in feet and inches and represent the width of the bed. The Furniture Choice site also includes the depth of each mattress under "Dimensions". Most bed frames will be made to these sizes, so if you are buying a new mattress to fit an existing UK frame, there shouldn't be any issue. However, certain suppliers such as IKEA work to "European" sizes, even with beds sold in the UK, so if in doubt, make sure you measure the inside edges of your bed frame before you order your mattress.
Standard UK size
Small single
2ft 6" (75cm x 190cm)
Single
3ft (90cm x 190cm)
Small double
4ft (120cm x 190cm)
Double
4ft 6" (135cm x 190cm)
King size
5ft (150cm x 200cm)
Super king size
6ft (180cm x 200cm)
Continental size
Small single
2ft 7" (80cm x 200cm)
Single
3ft (90cm x 200cm)
Small double
n/a
Double
4ft 7" (140cm x 190cm)
King size
5ft 3" (160cm x 200cm)
Super king size
6ft (180cm x 200cm)
If you're not sure which bed and mattress to choose, it's better to choose a larger size than risk buying a mattress that is too small. Consider, for example, that a child sleeping on a small single bed will have the same width of sleeping space as each adult sharing a king size bed.
Spring systems
The most common spring systems are Bonnell springs (also known as open coil springs) and pocket springs; however many of the major bed manufacturers have developed their own spring systems. The different spring systems can be used in conjunction with a variety of fillings, such as memory foam, for a range of firmness, support and longevity.
Ticking
Ticking is the name for the mattress covering, which helps the mattress retain its shape. It is usually made from a strong, tightly woven fabric, such as cotton or viscose, or from a man-made fabric such as polyester or polypropylene. A budget mattress will usually have a cover made from stitchbond. Damask is a woven patterned fabric named after the city of Damascus, known as a centre for textiles. Used as ticking, damask is often made of cotton or a cotton and viscose blend, but might also be made from a range of fabrics such as rayon, linen, silk or wool.
Microquilts are soft, knitted fabrics often used on foam mattresses. They create a flat, level sleep surface.
As the closest point of contact between the body and the mattress, ticking should ideally be made from a breathable material. To prevent overheating look for a Coolmax© cover. It may also be wise to invest in a mattress with hypoallergenic or dust mite resistant ticking. Sealy's Bugshield© is even anti-bedbug. Some mattresses have organic cotton ticking for a more eco-friendly approach.
Now you know a little bit more about mattresses, for a more in-depth overview of the different types of mattresses and how to choose which is best for you, take a look at our definitive mattress guide.