What goes around, comes around - and style is no exception.
Retro interiors are back, and bigger and cooler than before. This fun, lively approach can be worked into your home in many ways, from mere hints of eye-catching elements to going all out with striking, funky focal points.
Accessories are a quick and affordable way of introducing a mood and feel to your space - a style shorthand, if you will. Here, we've rounded up some of our favourites that capture the energy and essence of different eras and their styles.
The 60s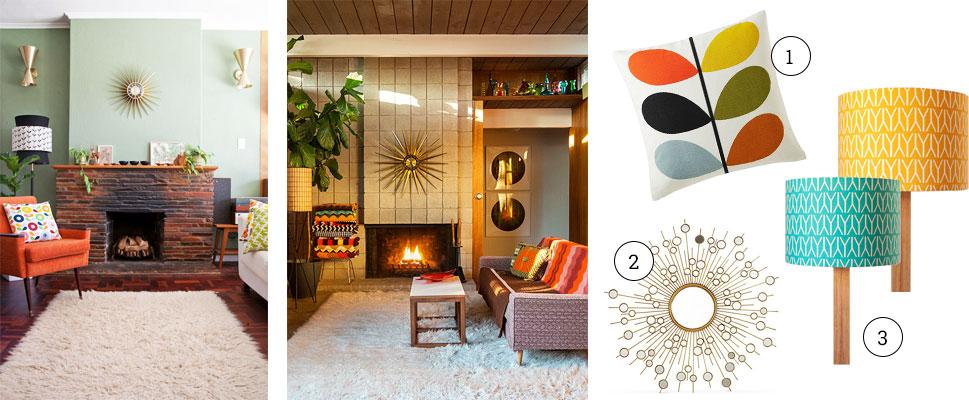 The 60s was a period of change and rebellion, with exciting statements being made in fashion, music and of course, interior design.
Bold colour palettes were used generously around the home in the form of stylish accessories and furniture. For instance, a vibrant coral armchair or textured pouf might be the stars of the space, but it's the details and smaller elements that really tied the whole look together.
Brass accessories like a sunburst mirror - ubiquitous in the 60s and 70s- and geometric light sconces are great ways to work in some shimmer without drawing attention away from the bright colour theme, while patterned lampshades are another way to work texture into the space.
Colour block cushions and throws also keep the look both visually striking and comfortable, while a soft and fuzzy neutral-toned rug keeps things grounded.
The 70s

Building on the changes and growth of the 60s, the 70s brought an explosion of colour, but in a different palette to the preceding decade.
Earthen, muted shades like mustard yellow and avocado green were popular picks, often matched and contrasted with brighter hues like red and orange. And if the 60s was the era of the hippies, the 70s was all about glam: mod chairs and gilded decor were in, with metal finishes and minimal, modernist shapes making the rounds.
Flower power might have been waning, but there was still an embrace of indoor plants as well as natural and handmade materials. Wicker baskets and crafty DIYs like macrame wall art helped balance out the colours, while adding personality to the space.
The 80s

Ah, the 80s. The decade that brought us Miami Vice, Boy George and all things neon.
The look here was built on contrasting colours and prints, with a more exaggerated aesthetic. Think approaches like the classic Miami style where a white space is adorned with plenty of vibrant, funky furniture and accessories.
Another look that is synonymous with the 1980s is the iconic Memphis style. It's easy to see why it's remained in vogue today, with bright splashes of colour and abstract patterns that fits in well with the millennial design aesthetic.
This approach is a fun, kitschy way to jazz up the home, and whether you wish to start at 30% or go full throttle, it's all up to you. For a small taste, printed pillows and art pieces are great for putting a finishing touch without committing too heavily to the look. Or you can slip in pieces like a rug or a cool light fixture, or dive right in with a statement sofa (or bedspread!) for maximum effect.
Mix it up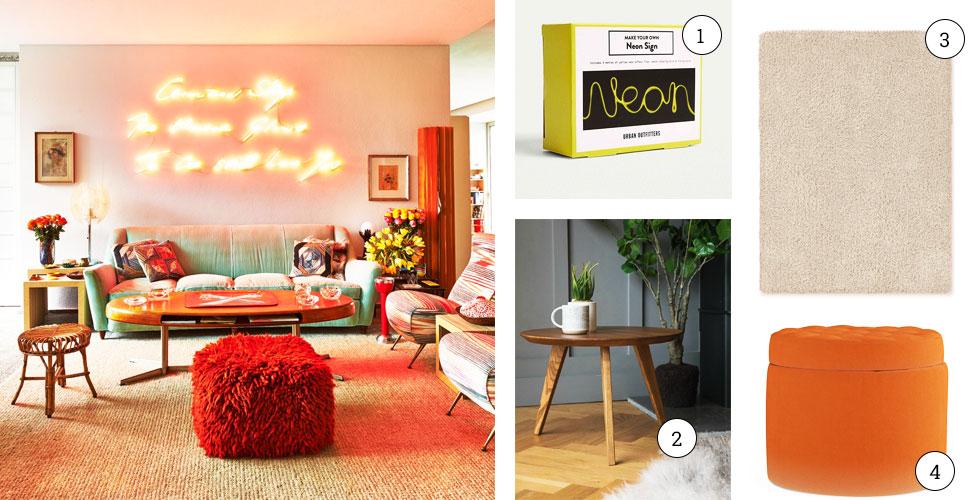 Or why pick a specific era? The beauty of living in the present is that we can pick and choose and remix our favourite influences to create something that has the comfort of familiarity, with a fresh update.
An orange pouf immediately signals a return to the groove and vibe of the 60s, but a neon sign on the wall has an instantly modern feel. A mid-century modern inspired sofa and table can also be modernised with an understated woven rug.
The idea here is not to ground down into a specific decade, but to cherry pick what you like, and rearrange them into something that's thoroughly your own - and accessories are the quickest way of achieving that look. With a few strategic choices, you'll have a versatile, chic space that is open to reinvention and being reimagined - the sky's the limit.