With the pandemic temporarily shutting down restaurants, and putting a stop to most of our usual pastimes, it seems like staying in is going to be the new going out for 2020.
And while things are slowly starting to return to normal, more Brits than ever before are preferring to plan get togethers at home - with many opting for a takeaway as their treat meal of choice.
In fact, nearly six in ten (58%) UK households say they enjoy spending some quality time together with a takeaway - with the average monthly spend on takeaways coming in at £54.60. But what's been the go-to cuisine of choice, and what exactly do Brits consider when it comes to ordering food to their door? Let's find out more below.
What's on the menu?
While 35% of UK households think it's important to sit down and eat together every single day, almost a third (32%) revealed that they're more likely to hang out together when a takeaway is involved. Whether the members of your household are working different shifts, or it's just difficult to get everyone to sit down at the same time, ordering food to your door can help everyone sync up their schedules - the only problem you might face is agreeing on what to order!
Chinese and Indian seem to be firm favourites across the UK, with the cuisines coming out on top in our recent survey. A quarter of participants said their go-to was Chinese, while 23% would choose an Indian as their takeaway of choice. The British classic fish and chips, meanwhile, is in third place with 14% of the votes, and pizza and pasta lovers will be happy to hear Italian was fourth with 12%.
Breaking it down city-by-city, you can view each major UK city's favourite below. Interestingly, the people of Belfast seem to love Italian, both Scottish cities are fans of Chinese and those in Southampton remain divided, and simply can't decide between Chinese and Indian!
Most-loved takeaways by UK City
Belfast - Italian (29%)
Birmingham - Chinese (33%)
Bristol - Chinese (28%)
Cardiff - Chinese (37%)
Edinburgh - Chinese (26%)
Glasgow - Chinese (35%)
Leeds - Indian (30%)
Liverpool - Chinese (33%)
London - Indian (25%)
Manchester - Indian (30%)
Newcastle - Chinese (28%)
Norwich - Chinese (32%)
Nottingham - Chinese (30%)
Sheffield - Chinese (36%)
Southampton - Chinese (25%) and Indian (25%)
UK's Biggest Spenders
While the average UK household will spend around £54.60 every month on takeaways - that equates to a whopping nationwide total of £18 billion every single year - there are certain locations in the country where this monthly cost is considerably more, or considerably less!
It might be something to do with stereotypical London prices, but the average Londoner splashes out a little bit more every month than most Brits - with their monthly total tallying up to £24. They're not the most indulgent however; Mancunians spend around £64.94 a month - which is surprising, as our survey also discovered that the people are Manchester are less likely to order in a takeaway as a treat - under half (42%) said they would in our research.
Manchester and London - our two big spenders - are closely followed by Nottingham, Birmingham and Leeds. Households in these three cities all spend around £55 on takeaways every single month.
At the opposite end of the scale, it seems people in the North East are saving the most cash. Newcastle's average monthly spend is just £39.86 - meaning Newcastle residents are either cutting back on takeaways, or they have some super cheap options to choose from! Southampton and Sheffield spend much less than the UK average too, spending just £41.75 and £44 on takeaways respectively.
Average spend on takeaways per month in the UK: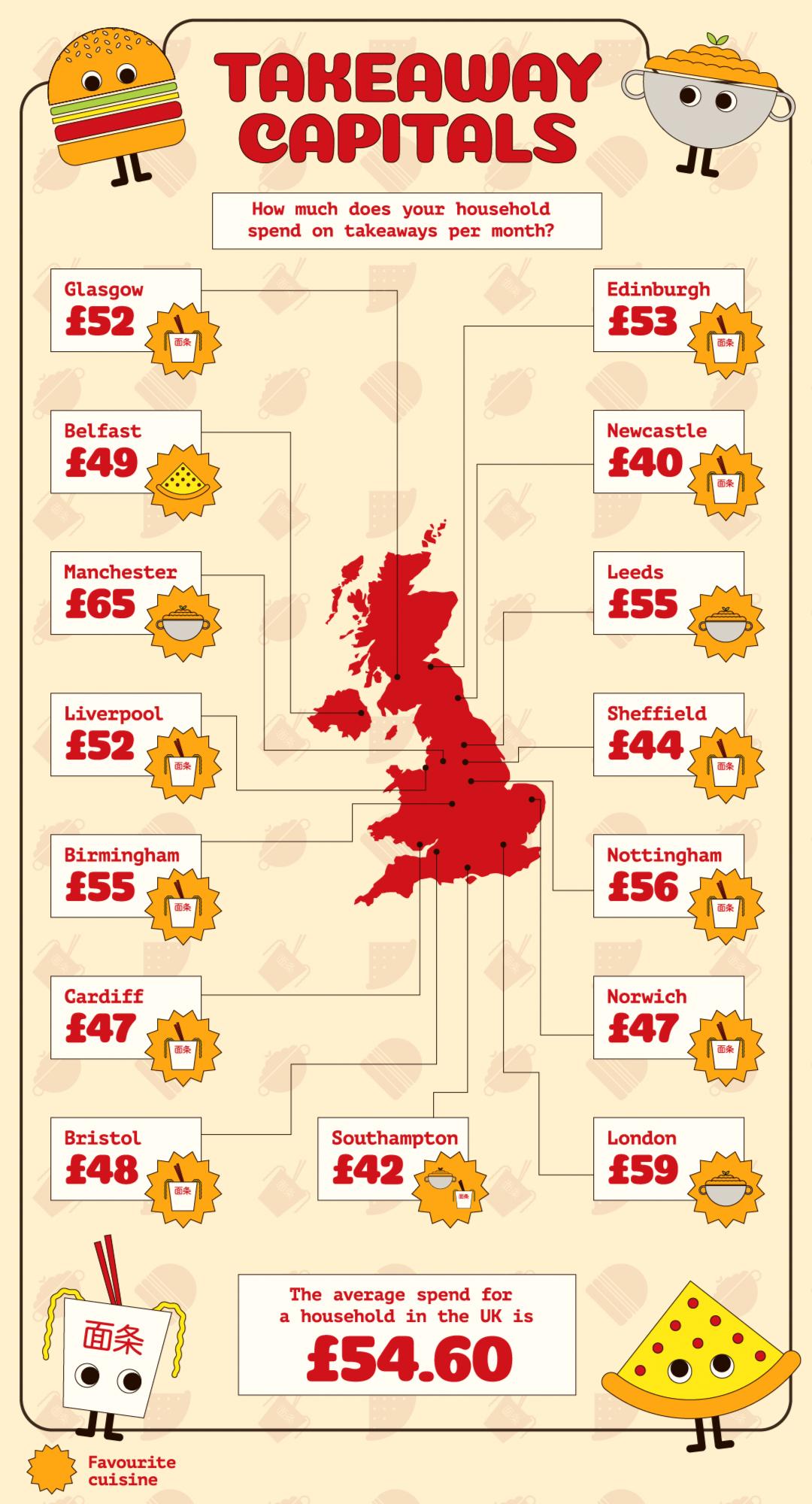 Our survey results also revealed that men are much more concerned about the price of their takeaways than women. 47% of males said price was the biggest influence when choosing what takeaway to order, and where to order from. Women, meanwhile, don't seem to mind spending more to get the dish they want. Almost half (48%) of the women surveyed said the menu was the most important thing when choosing a takeaway, and 33% said a lower-than-expected hygiene rating has the power to completely sway their choice.
Considerations when ordering a takeaway
We've already touched upon price being a huge concern for men across the UK when it comes to picking a takeaway, but what else do UK households think about before hitting order on their next takeaway?
Hygiene
Shockingly, only 1 in 5 Brits (21%) check the hygiene rating of a new takeaway before placing an order. And while it should, perhaps, be the most important factor of all, it seems it's often overlooked by households all over the UK.
A worrying 0% of Edinburgh households listed hygiene ratings as a major influence in our survey, however 36% did say they wouldn't know how or where to find this information. Whether you're in Scotland or anywhere else in the UK, finding the hygiene rating of a restaurant or takeaway is actually very simple. Just head to the Food Standards Agency website and type in your postcode.
Cities doing it right when it comes to hygiene include Sheffield and Newcastle. Residents of Sheffield are the most likely to check a hygiene rating out of all of the major UK cities, and 44% of Newcastle households listed hygiene as one of the biggest factors to influence their decision when choosing a takeaway for the evening.
Other considerations
What else do UK households value when it comes to selecting a takeaway? 46% listed familiarity - e.g. choosing a takeaway from a brand or a location they already know - as the biggest influence, while a further 46% said the menu and choice of dishes available is the most important.
Others, like those in Manchester, Norwich and Sheffield, felt the proximity to their home was a key concern, while 15% of those asked revealed reviews and recommendations from previous customers on the internet had the ability to influence their decision.
Curious to discover what the biggest influence is in each city? Check out the preferences of households in the UK's biggest cities below:
Biggest influence when ordering a takeaway by UK city:
Belfast - Familiarity (53%)
Birmingham - The menu (42%)
Bristol - Familiarity (56%)
Cardiff - Familiarity (49%)
Edinburgh - Recommendations from friends/family (49%)
Glasgow - Familiarity (60%)
Leeds - The menu (54%)
Liverpool - The menu (46%)
London - The menu (57%)
Manchester - Proximity to home (51%)
Newcastle - The menu (50%)
Norwich - Proximity to home (47%)
Nottingham - Familiarity (49%)
Sheffield - Proximity to home (56%)
Southampton - Familiarity (53%)