Summer can feel like such a fleeting season, but that doesn't mean you can't evoke its joy and feel year round in your home.
It's all about creating a mood and a look that makes you happy - with lots of fresh greenery, airy white walls and fun prints coming to play. Just as green has been having a huge moment, tropical themes have also been an increasing presence in interiors recently (think palm leaf wallpaper and punchy pops of colour) and it's no wonder why.
Perfectly toeing the line between trendy and classic, this is a look that really invites experimentation and can easily blend different styles and elements - read on to see what we mean!
Build a classic space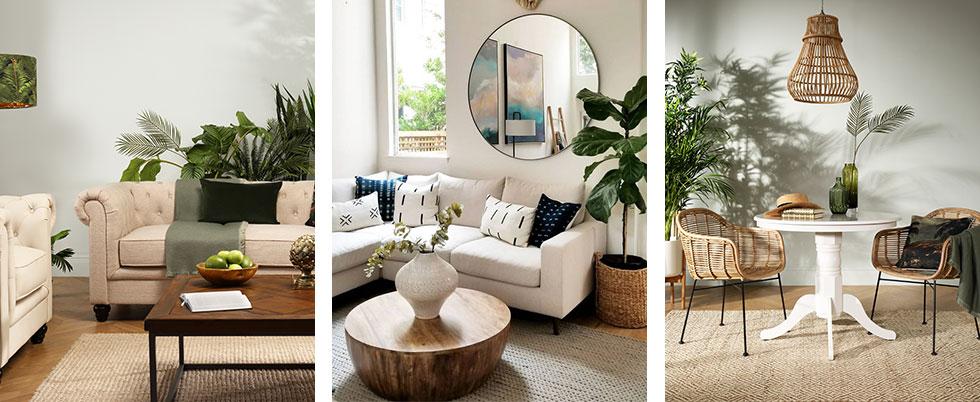 The relaxed, breezy style of tropical interiors is instantly charming, but a huge part of that is having a classic, elegant base to build on.
Let's start off with a neutral palette: you can't go wrong with traditional crowd-pleasers like plush white sofas and natural wooden tables. Set against pale grey or trendy sage walls, they are excellent choices for a modern oasis - bonus points if you go big on natural lighting too!
Rustic details such as ornate pedestals and slatted back chairs add interest and sophistication, while a Chesterfield sofa is a bold, stylish choice that easily transcends eras.
Introduce natural elements and texture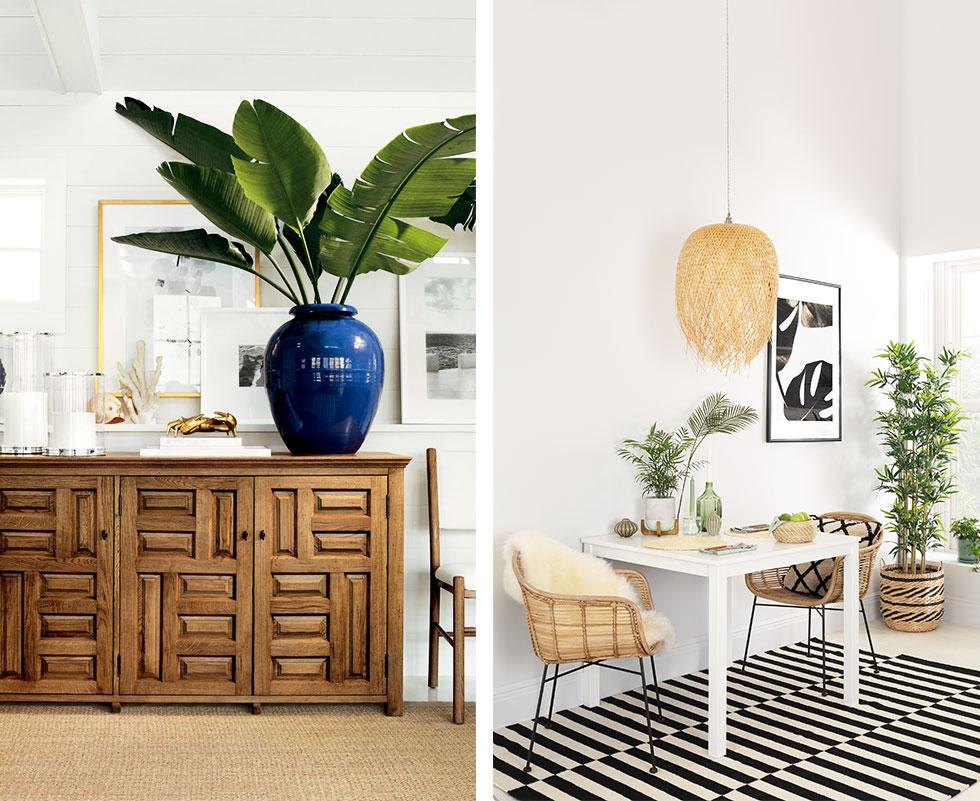 An easy way to pull off this trend is to embrace nature and lots (and lots!) of texture. Experiment with small potted plants as a table arrangement, or go big with larger foliage as a play on size. And more often than not in this style, the more, the merrier: don't be afraid to move your house plants around for the combination that suits you best.
Another crucial element here is rattan, a wonderfully strong material both in look and durability, offering a coastal, handcrafted touch. Extremely versatile and sturdy, it can be styled in various ways: take it slow with baskets and coasters, or leave a lasting impression with rattan dining chairs or a central light fixture.
Shop the look below: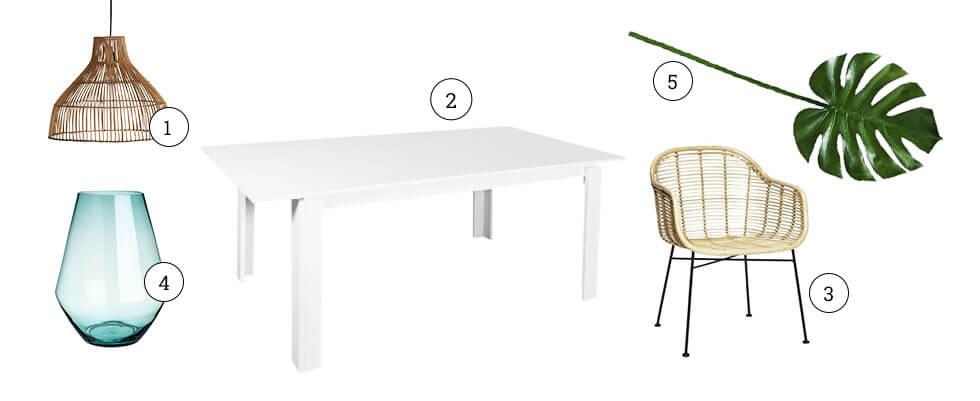 Introduce colour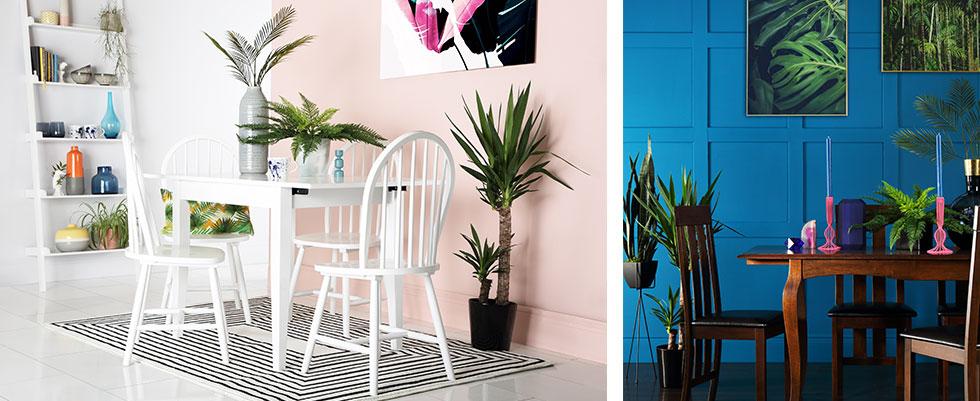 A tropical interior will easily hold up to introducing colour in doses both big and small. A feature wall in a light peach, warm yellow, or even teal (for the brave) is a strong way to start, setting a vibrant tone for your space, which you can then ground with dark wood furniture, or a classic white set.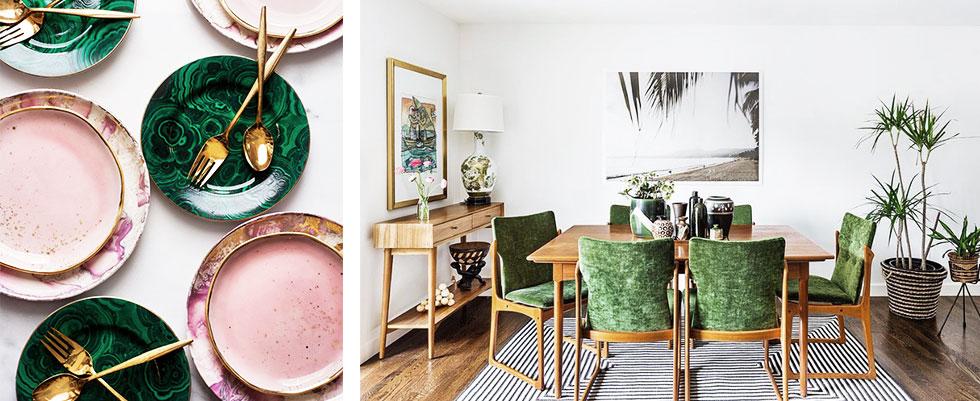 Or start small - bright pops of green and fuchsia immediately evoke the carefree fun of warmer days, and fit into the home seamlessly, whether in the form of small decorations, throw cushions, or even dishes and vases.
It's all about prints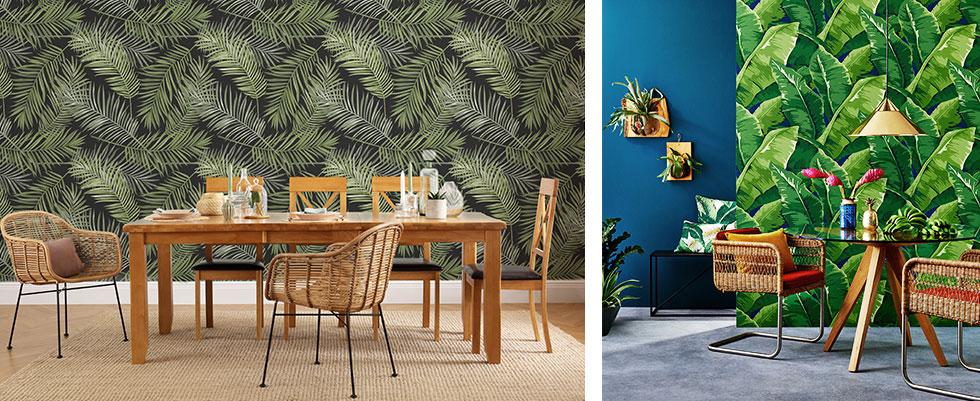 And finally, this is really where a smart print can really shine. Palm leaves are instantly recognisable and the quickest design shortcut for a tropical look, while a banana leaf motif will also do the trick.
There's no right or wrong here: a darker print will create a classic, natural space and turn the spotlight on other elements, while a brighter, larger print is a vibrant take-no-prisoners option.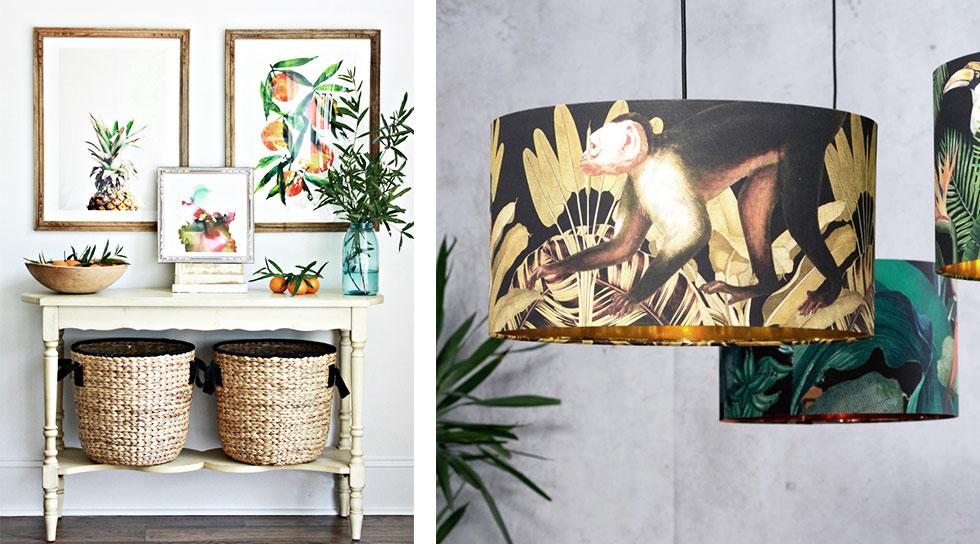 Or go for a more focused look that has just as much impact, with artwork and decor taking centre stage. A pendant lamp with a striking animal-themed motif, or a simple pineapple print rendered in vivid colours can do as much as an entire wall to celebrate summer and the tropics all year round.
Shop the look below: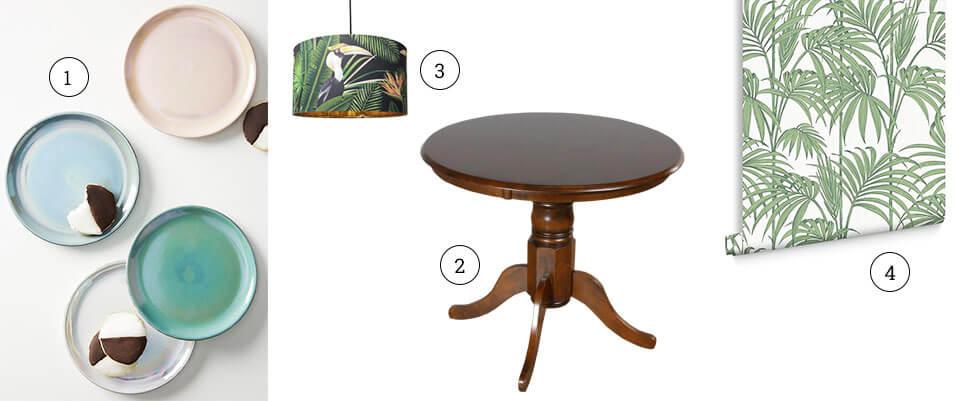 To shop our Tropical Crush trend click here.