A family home is something for us to be proud of. Not only is it a place that gives us shelter, warmth and a sense of well-being, a home can be something of a blank canvas. In this post we weigh the merits of a modern interior, as well as one with its roots firmly planted in the country. Which one do you prefer for your own family home?
Modern
Modern interior trends have always embraced clean lines with a minimal feel - and this is largely down to the Scandinavian design movement. Beginning in Denmark, and soon spreading to Sweden and Norway, the sweeping Scandinavian lines and forms of their iconic furniture comprise the basis of many of our homes in terms of storage, seating and tables.
In the past, this has encompassed warm, wooden tones - but modern design has taken a turn for the truly minimal. Think white furniture with black and grey accents - but don't expect this palette to be restricting. In fact, half the fun of the modern interior movement is in the textures and the details, and this is a theme that runs right through the house.
Starting in the living room, it's fair to say that a white sofa would be utterly impractical when there are children in the home. Those that have already embraced the modern look have combined practicality with style by bringing grey fabric seating arrangements into the home instead.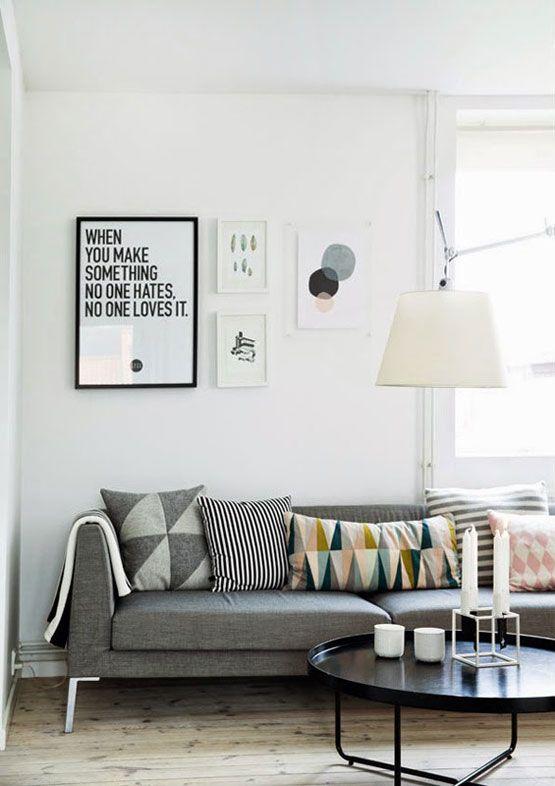 Pairing grey fabric seating like our Buoyant Dexter, Oregon and Buoyant Cassie Costa suites with geometric or striped cushions and a blanket or two can add a touch of softness to what could be seen as a harsh style choice - pure white walls.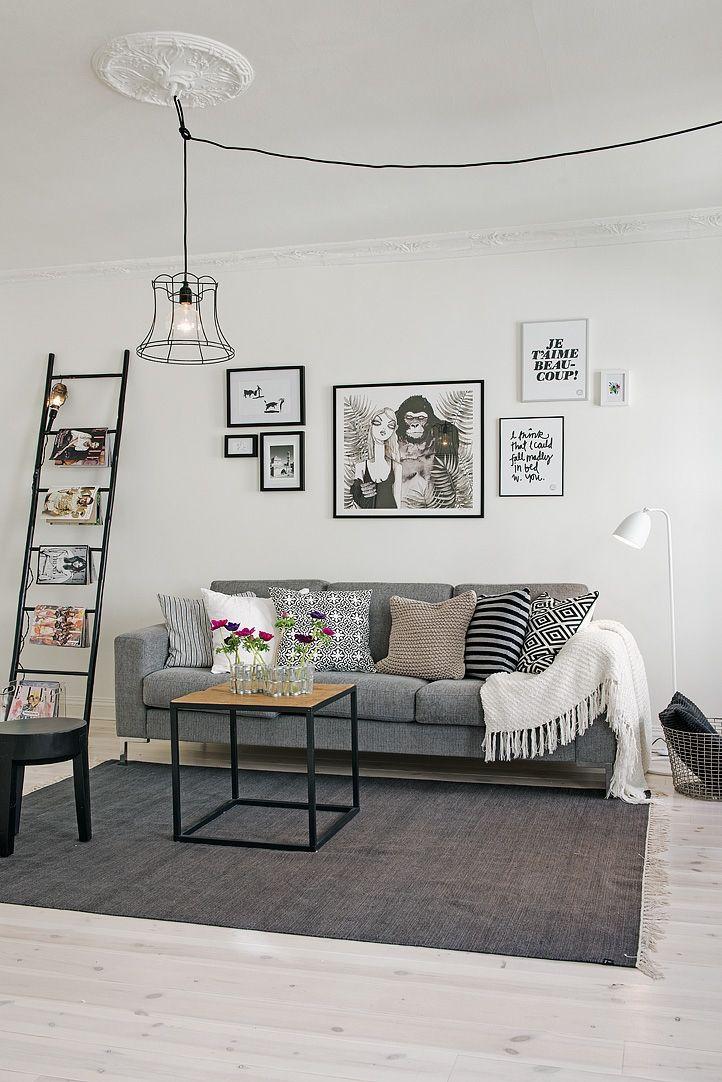 Design-led graphic prints work brilliantly with this style choice too, and can make a great statement when popped in a black frame and hung in neatly arranged clusters. It's this angular geometry in your living room embellishments that can work so well with the plumpness and curves of the sofa. Cuboid candle holders, angular lampshades and even statement small coffee tables can complement each other in this style - just ensure that nothing strays too far from the staple colours of black, white and grey. Greens, blues and yellows work well as accent colours though, and provided they're used sparingly, can add an extra touch of colour to the room without detracting from the minimalist look.
This is also pertinent in the dining room. Though bold white tables (with occasional black accents) like the Tokyo & Perth, Lisbon & Perth, and the Hudson & Java dining sets will ensure the modern style is brought into your sociable eating space too, pops of colour in place mats, napkins or centre pieces can make the world of difference. A hanging terrarium, or one situated in the middle of your dining table is a fantastic way to bring a little natural colour into your dining space, and it is low-maintenance to boot.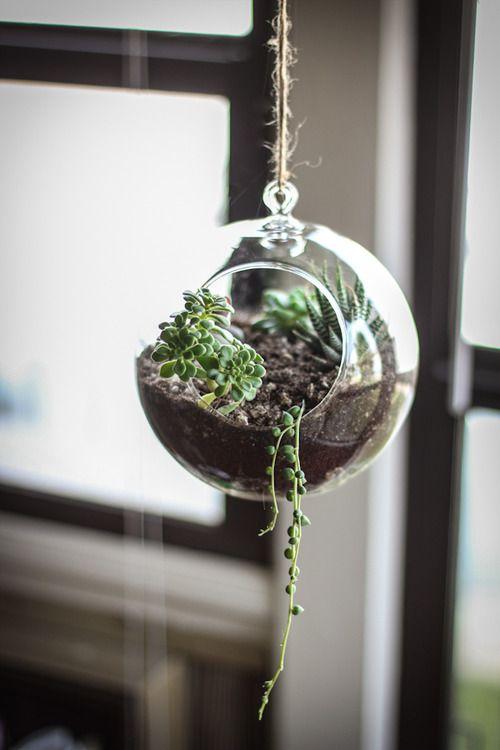 Your bedroom can always benefit from a modern touch, too. White bedframes are a staple of the trend (take a look at the Harmony and the Belluno frames for examples), as they are the perfect blank page on which you can layer fabrics and textures to make the ideal relaxing space.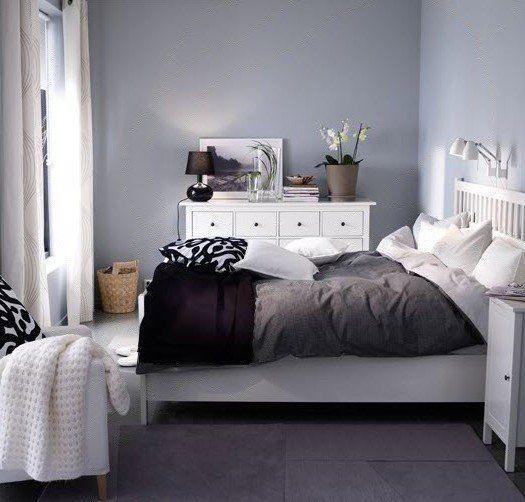 Black accent pieces look great, but in a space like the bedroom, muted greys are a lovely yet modern compromise. Fluffy duvets, an array of throw pillows and waffle blankets can make for a relaxing room that allows your overriding style to come through.
When it comes to the kids' rooms, there's no reason why you can't slightly break away from the modern trend and marry the minimalist theme with a splash of fun colour. Blackboard paint is a great way to allow kids a bit of creative space, and pops of bright, bold yellows contrast against a plethora of prints and patterns in the best way possible - yet the colour palette is still in-keeping with the rest of the home.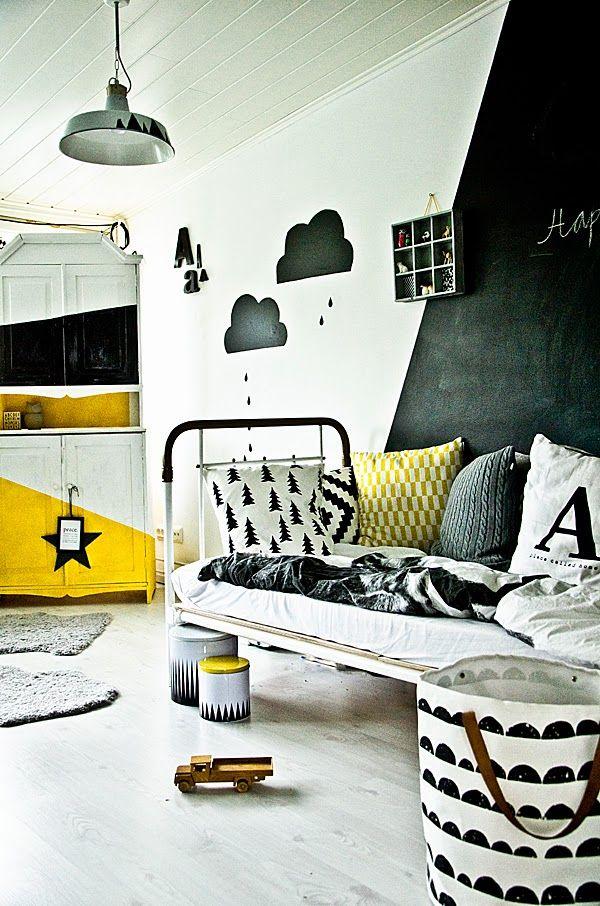 If that's a bit bold for your or for your kids' tastes, you can embrace the bright white walls but ditch the black in favour of a little gender-neutral childhood charm - let's face it, no child really lives or imagines in black and white!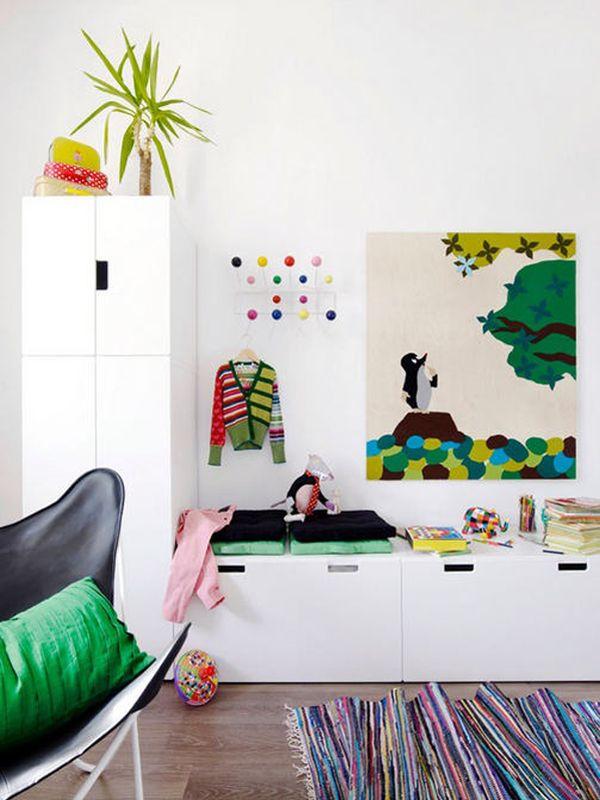 Country
Arguably the opposite of modern interiors, country embraces warm, cosy and familiar aesthetics. The more rustic the better, country-led interiors make the most of chunky wooden pieces and quaint, vintage-style embellishments. Staple colours include cream, duck egg blue and a good smattering of earthy tones - all perfect for mixing and matching, even in the most haphazard of ways. Ideal for the busy family home!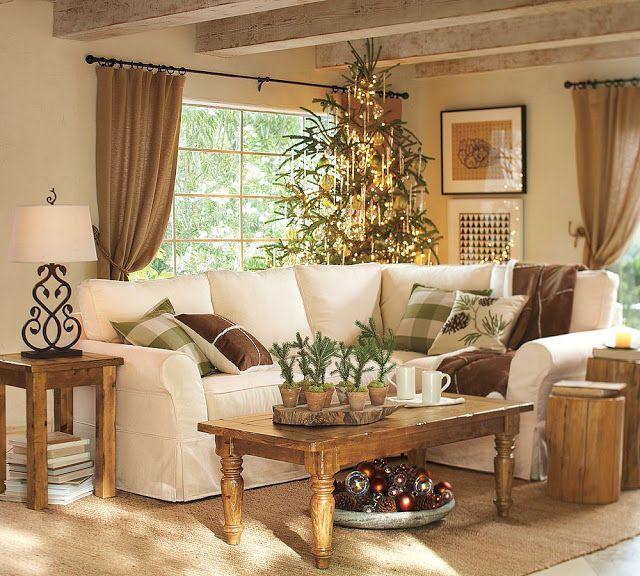 The living room is where you'll find the heart of the country style to be. Starting with a luxurious cream or ivory sofa (don't worry - leather can look and wear fantastically in a family home, and is wipe clean!), build your furniture collection for the room with wooden pieces. Coffee tables like the Portland Oak bring that warmth into the room, and matching nesting tables make having visitors a breeze.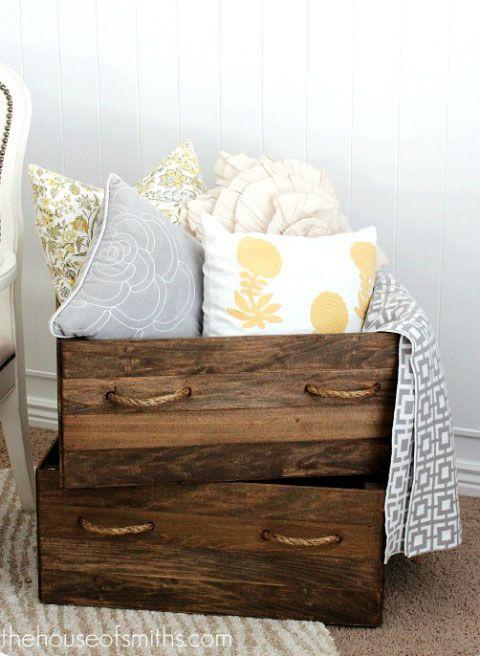 Country interiors are all about accessorising with useful bits and pieces that can add character to a space. Fluffy blankets and floor cushions are great for cosying up with during the winter, and will even get some use outdoors on those long summer nights. Reclaimed wood drawers make great statement storage boxes, and would fit in well with any country-style home. The rope handles on the exampleabove add to the rustic look brilliantly.
The dining and kitchen spaces are arguably the places where it's easiest to implement that look, even if your home isn't an authentic old cottage! Grey cabinets pair beautifully with rich, wooden shelving to create that rustic but useable feel, and white ceramics could be elegantly displayed rather than hidden away in cupboards.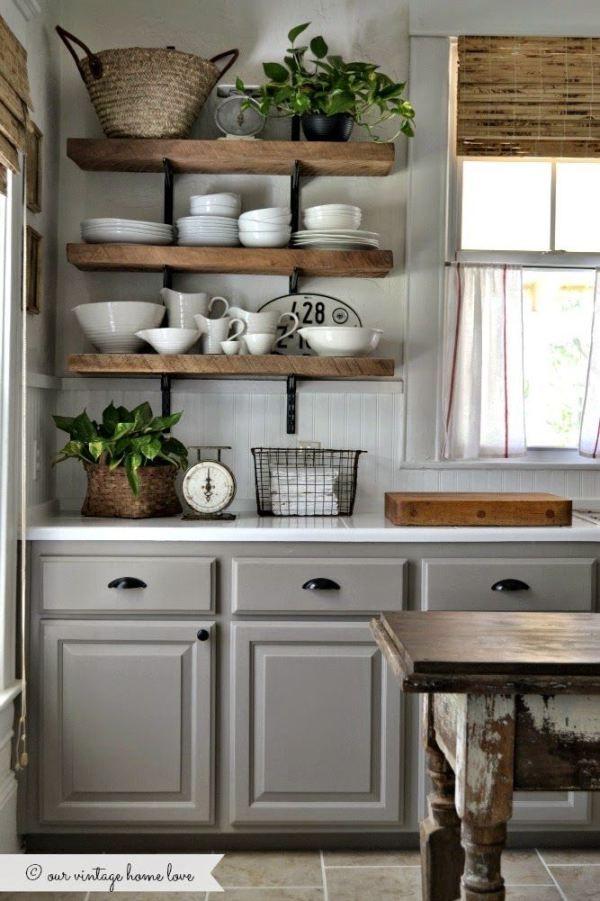 As for the dining table, it will come as no surprise that big, chunky wooden affairs rule the roost here. Though reclaimed wooden options can be done up, the easier option is to bring a new piece into the space, and ultimately, that will give you the updated and fresh take on the country look that works so well in the family home.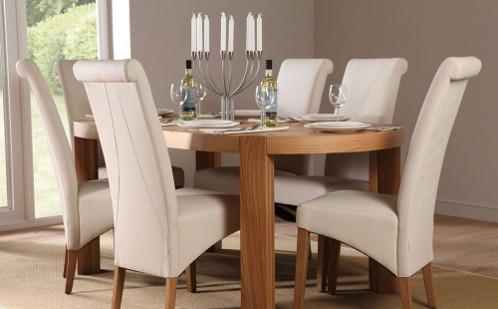 Oak always works brilliantly within the country theme, and looks so timeless when paired with cream, ivory or black leather seating embellishments. The Harrison and Newark, Callisto & Newark or the Clifton & Richmond would fit in seamlessly with this theme. Again, a practical addition to the family dining room.
Finish with some wooden-framed family portraits to really set the room off and make the style your own.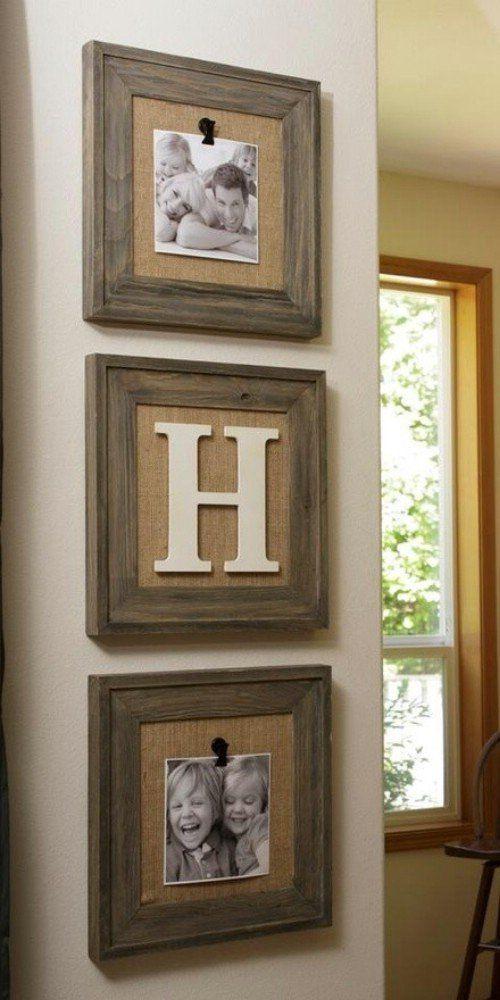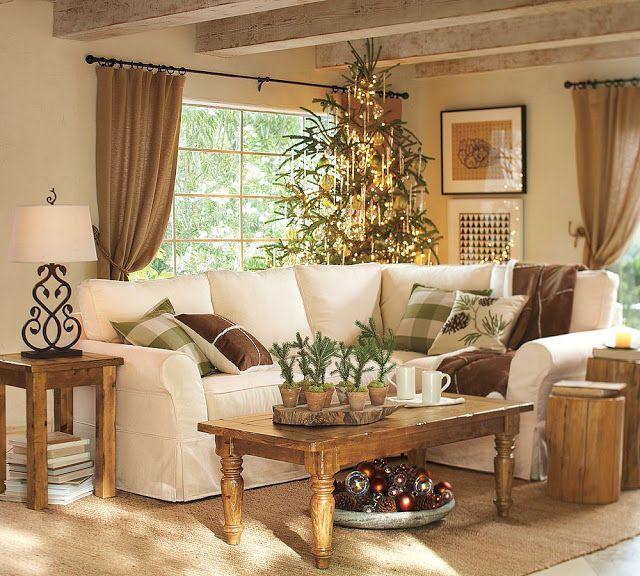 This cosy theme translates very well into the bedroom, too. Once you've decided on the perfect wooden bed (the Sedna or the Terran are great options), the country theme invites you to layer fabrics on fabrics, and create that ideal relaxing and luxurious space that's full to the brim with warm tones.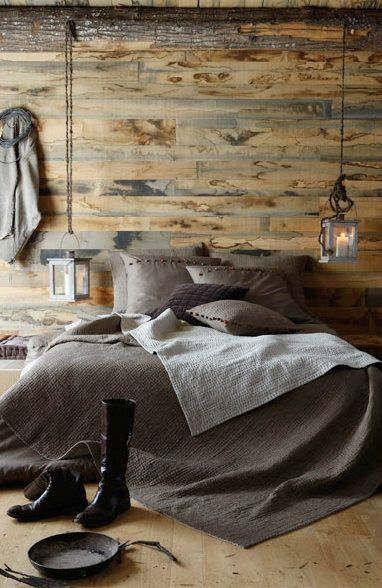 Decorative twigs, vases and beautiful canvas artwork work well here, though don't be afraid to stray from neutral tones! Though bold reds and yellows would be out of place here, soft blues and greens help accent the from-nature tones favoured in this theme.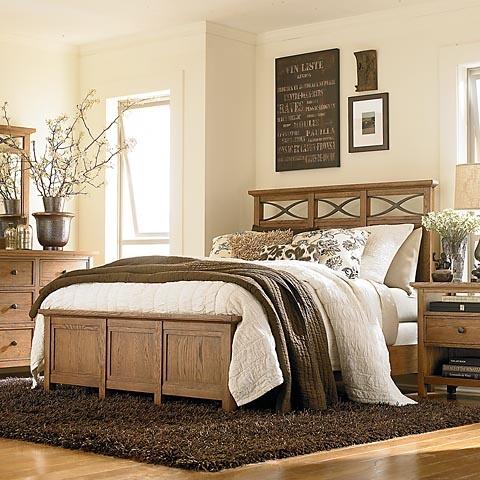 Though we'll leave the winner of this battle up to you, we're big fans of both themes and hope you've picked up some ideas for styling your own home!