How to: Colour block like a pro
We share tips on getting the colour block look at home.
Are you ready for your next home design challenge? If you've mastered the art of layering textures, painting a feature wall and building a space around a statement piece, you might be asking yourself: what's next?
Well, to that we say - why just pick one colour, when you can mix and match two (or three)? Colour blocking is a deceptively simple way to create a bold statement at home, providing an immediate, sophisticated visual punch.
It's all about choosing the right shades, and deciding where and how you'd like to express this colour palette - whether it's on your walls, furniture, or accessories.
Walls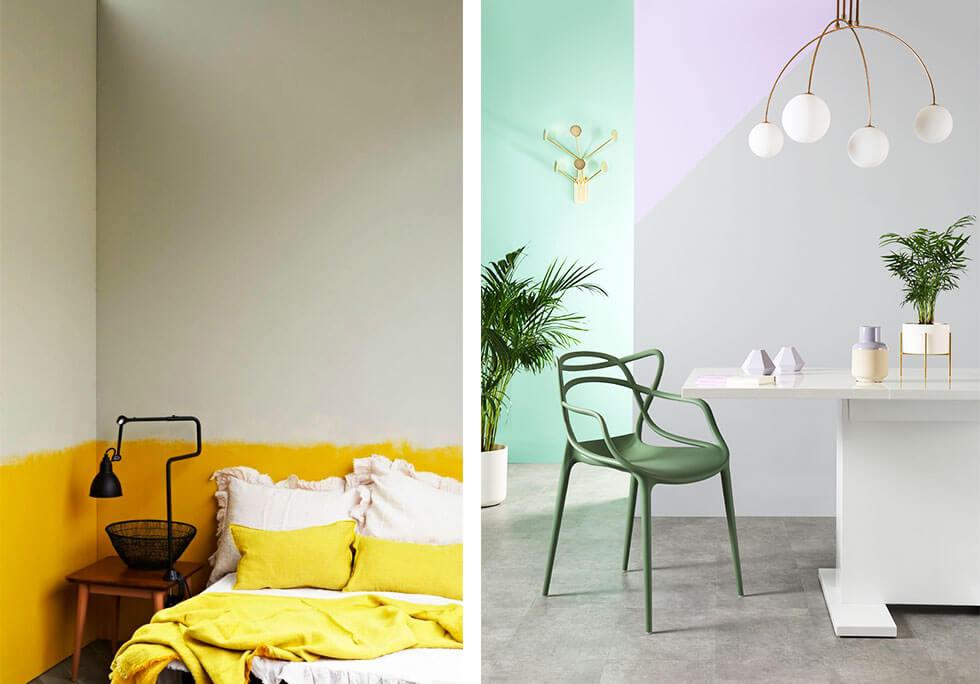 If you're feeling adventurous, walls are the perfect canvas to kickstart the colour block party.
The easiest entry point would be to paint half your wall, adding fun and character to a space without being overwhelming (even for brighter tones like yellow and pink). It's also less work than painting an entire wall - and the edges can be kept fuzzy and imprecise for an organic, lo-fi appeal.
On the other hand, if you're a whiz with masking tape and up for a challenge, a sharp, geometric look with two or three colours might be the way to go.
The trick with this strong, architectural approach is to plan your shades carefully: you could opt for a tonal look within the same colour family, or throw a neutral into the mix if you're clashing warm and cool hues, as we did above with a soft grey balancing out mint and lavender.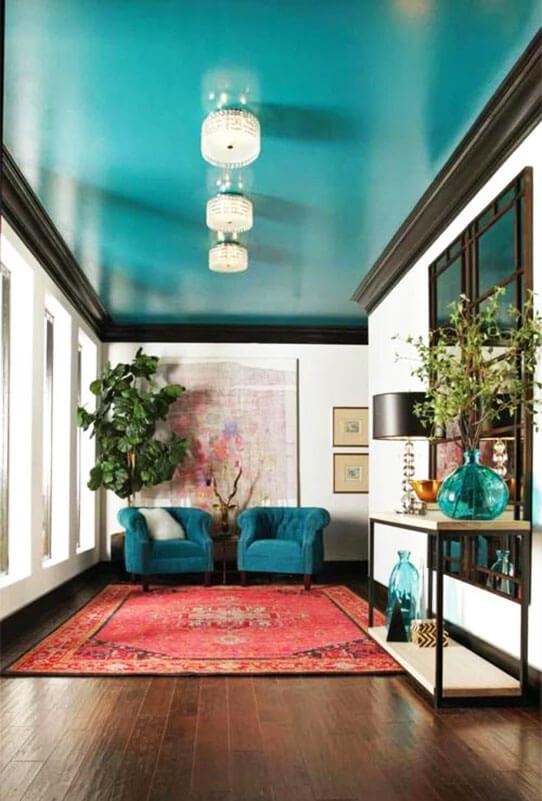 And why stop at the walls when the sky's (literally) the limit when it comes to embracing this trend? Colour blocking a room with the ceiling flips the concept of the feature wall on its head, and is a wonderful way to highlight light fixtures and architectural details.
Placing the colour above the space also allows for more flexibility when it comes to matching furniture - teal armchairs placed against a teal wall might have been too much, but here they echo the shade on the ceiling in a way that's thematic and elegant.
Furniture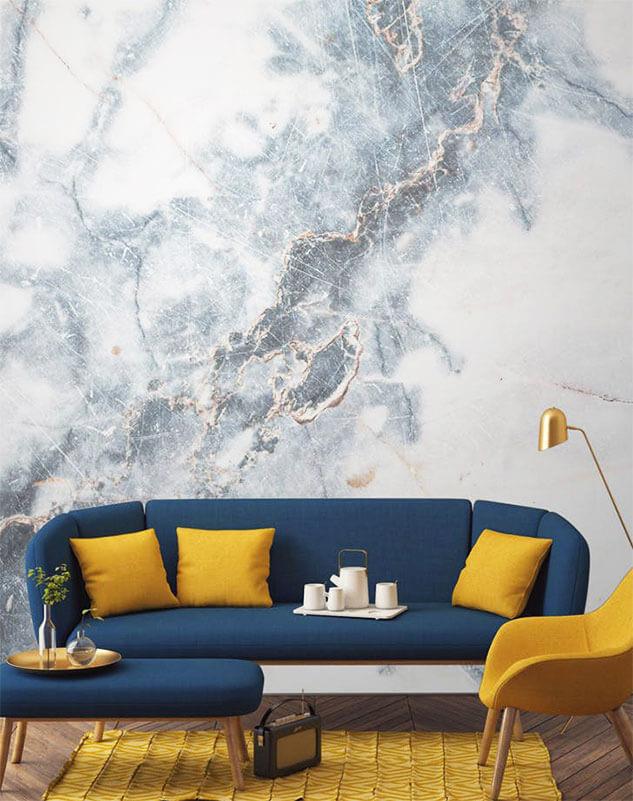 Or perhaps you're not ready for a big paint makeover, which is where colour blocking furniture comes in. This approach allows for more flexibility in styling, and works as a punchy statement in a neutral space.
Again, it comes down to mixing and matching, and choosing whether to take a contrasting approach, or a complementary one. For a bold, colourful take, pick colours that are on the opposing ends of the colour wheel, such as this cool, dark blue sofa set against warm mustard accessories.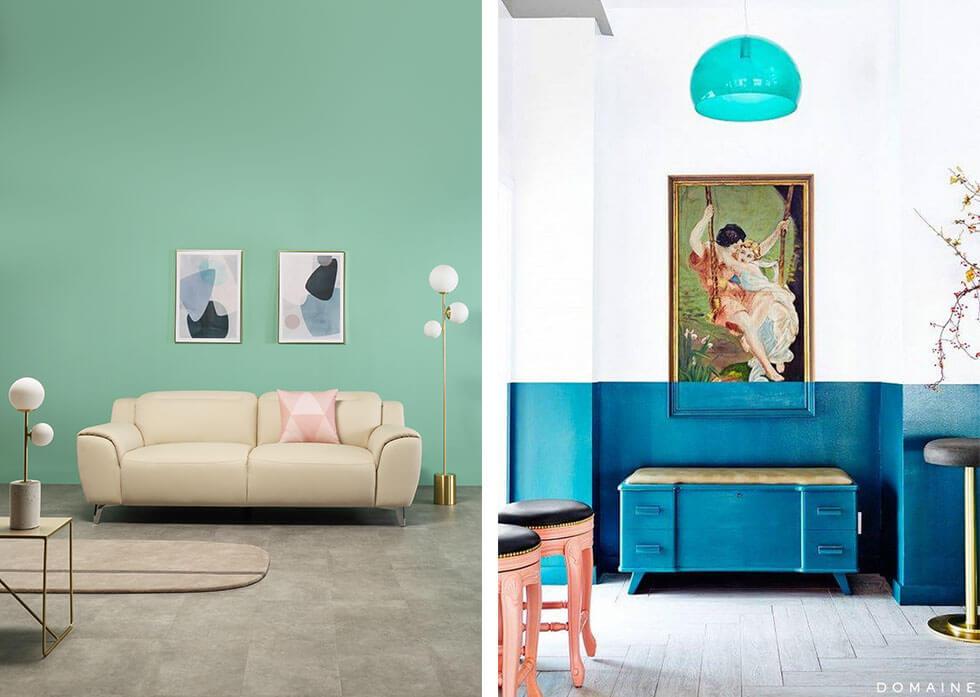 For a gentler take, a light sofa offers a pleasant pop against a minty green wall, with a soft pink cushion adding just the right amount of contrast. This approach allows both the colours of your furniture and wall to shine equally.
And for major style points, take it up a notch by matching your furniture and decor to your wall, like this lovely cerulean example. This is a fresh way to update older furniture and art (note the dedication of colouring over both the frame and painting!) and is endlessly customisable with enough elbow grease.
Accessories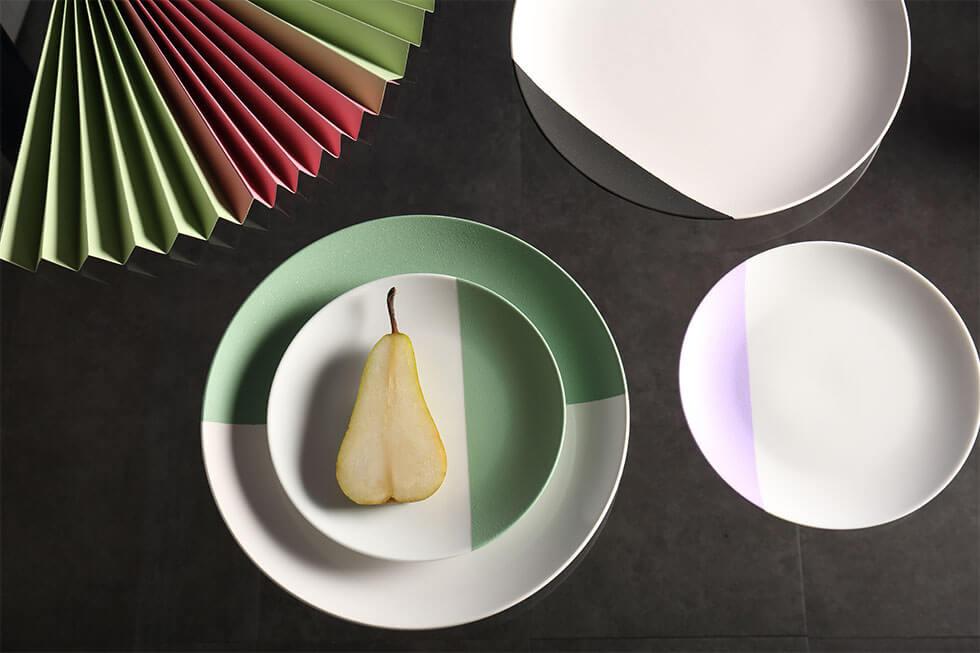 To badly paraphrase the Bard - though accessories be but little, they are fierce. The power of accessories to liven up a space cannot be overestimated: whether it's tableware, lamps, vases, or other knick knacks around the home, accessories often add little bursts of colour and fun.
For example, colour blocked plates and mugs are a quick and easy way to get a smile out of dinner guests… and it doesn't hurt that they're very Instagram-friendly.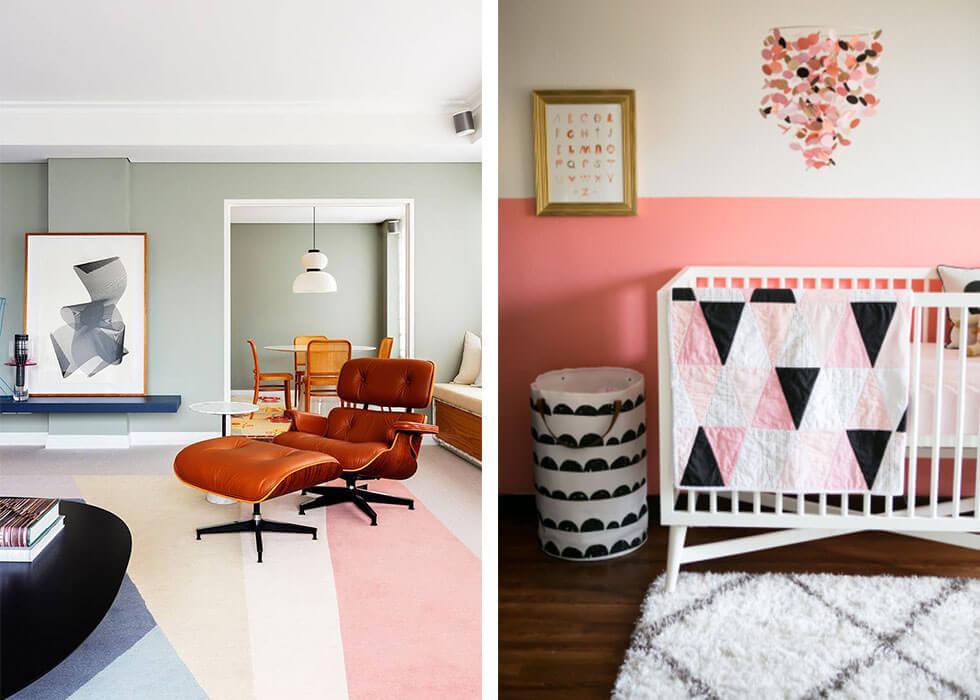 Accessories also offer an opportunity to play with patterns and textures. A geometric, colour blocked rug can really pop in an otherwise neutral space, lending a sense of playfulness and style.
Experimenting with using different shapes in a similar colour theme is also a fun approach, as seen in this beautiful nursery, with triangles and semi-circles sharing the space without tussling over the spotlight.
Bonus: Colour Blocking for Monochrome Lovers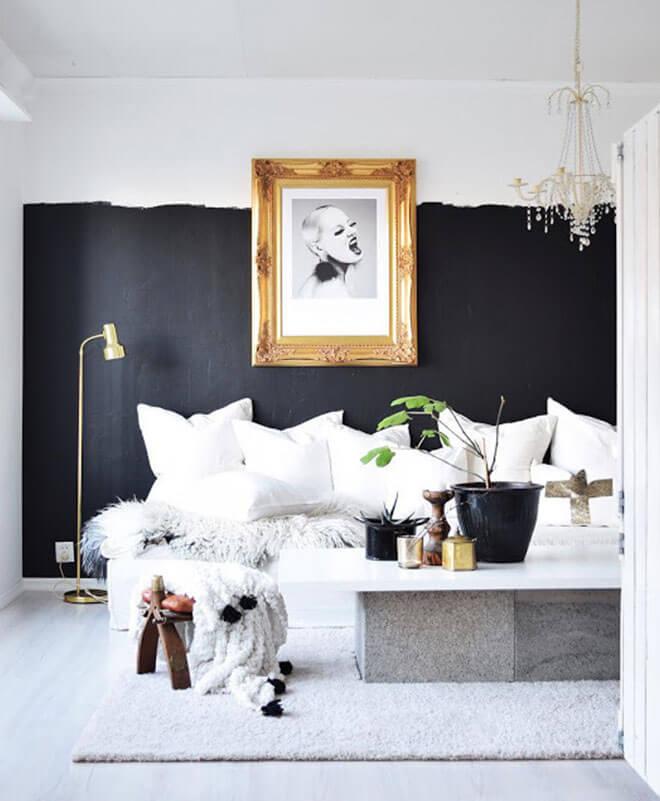 Unlike what the name might suggest, you don't have to avoid this trend if you're colour-averse - taking a monochrome approach can be just as visually striking as more saturated, vibrant colour block looks.
For instance, this modern living room uses the contrast between black, white and grey to great effect, and is warmed up with small touches of gold and brass. The key is in the layers of texture: soft pillows, furs and knits next to a concrete, geometric coffee table play with contrast and add interest.
Ultimately, there are no right or wrongs when it comes to experimenting with colour blocking; it all comes down to your imagination and comfort levels. Whether you choose to go all-out or opt for sweet, subtle doses here and there, it's a fun, lively way to express your personality around the home.