DIY: A stylish Art Deco sideboard you'll want to show off
We give a sideboard an Art Deco-inspired makeover.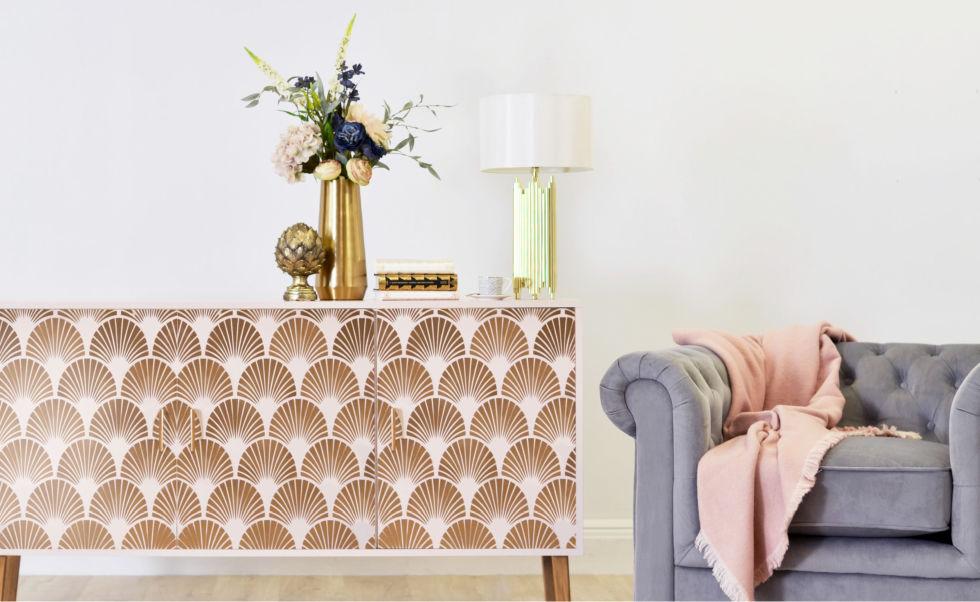 Oh, Art Deco! This chic time period has inspired countless films and a thoroughly distinctive aesthetic since its inception. Its clean lines and gilded details also give a glamorous and timeless quality when applied to home décor.
Art Deco-inspired elements and furniture are perfect finishing touches if you're looking to jazz up your home – pun intended. We're excited to share a fun, budget-friendly DIY that'll upgrade an ordinary sideboard to an elegant showstopper, giving your home a big style boost in time for the holiday season.
Read on for more info on this glitzy art project!
What you'll need:

Gold spray paint or gold paint: We recommend spray paint for an even application.
Furniture or wood paint: We went with an off-white hue to contrast against the gold.
Small paint roller.
Stencils of your chosen design: We went with scallops for a classic Art Deco touch.
A sideboard of your choice.
Step 1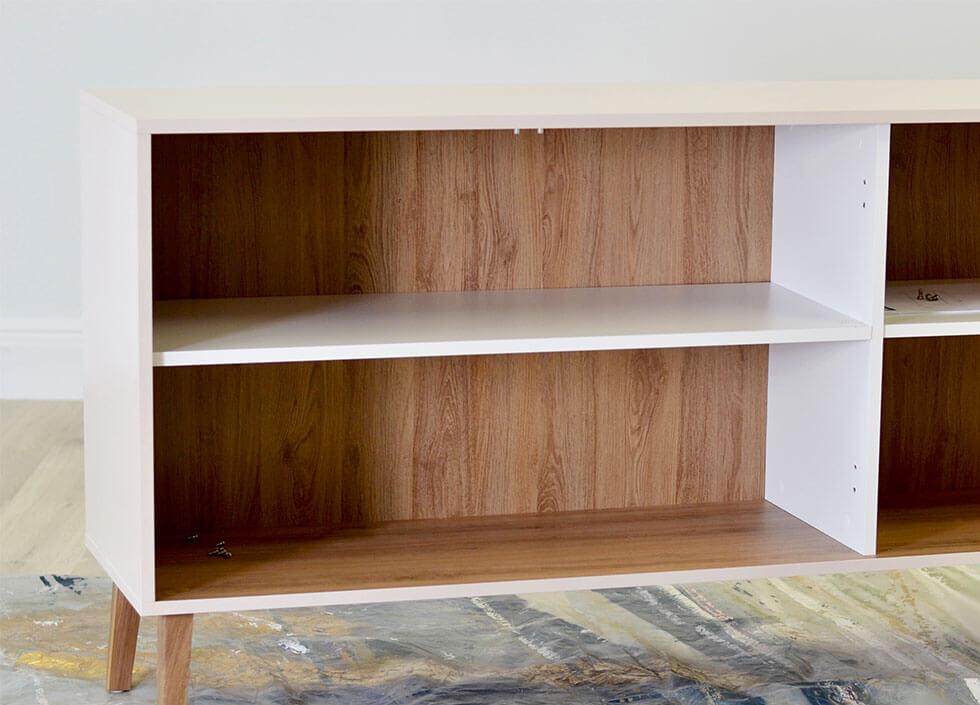 Carefully detach the doors and the feet, and start painting your sideboard. We advise using a paint roller instead of a brush to achieve an even finish.
Step 2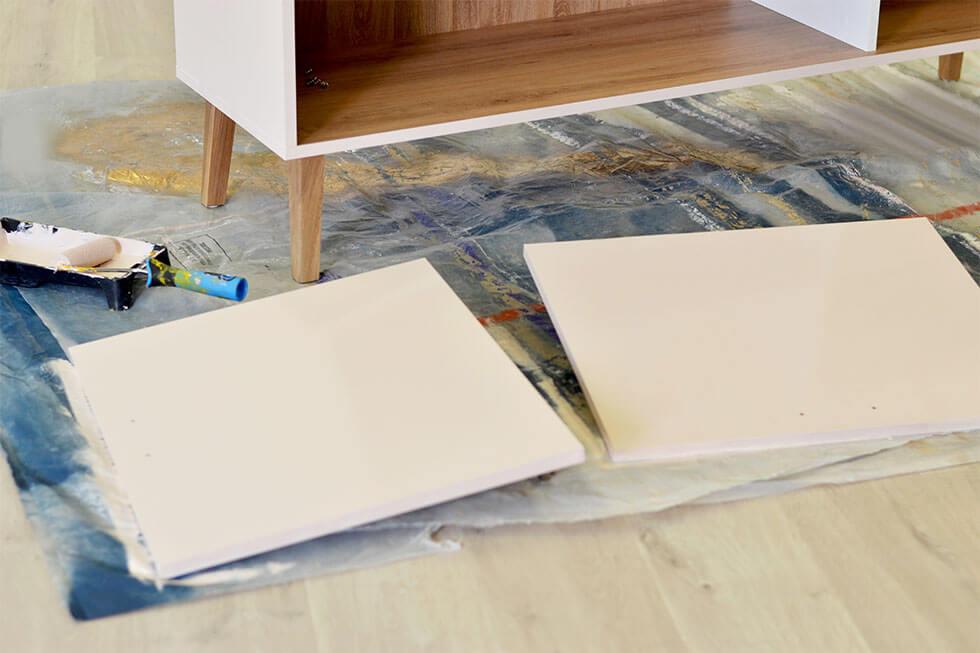 On to the doors! Paint them in the same colour as the sideboard.
Step 3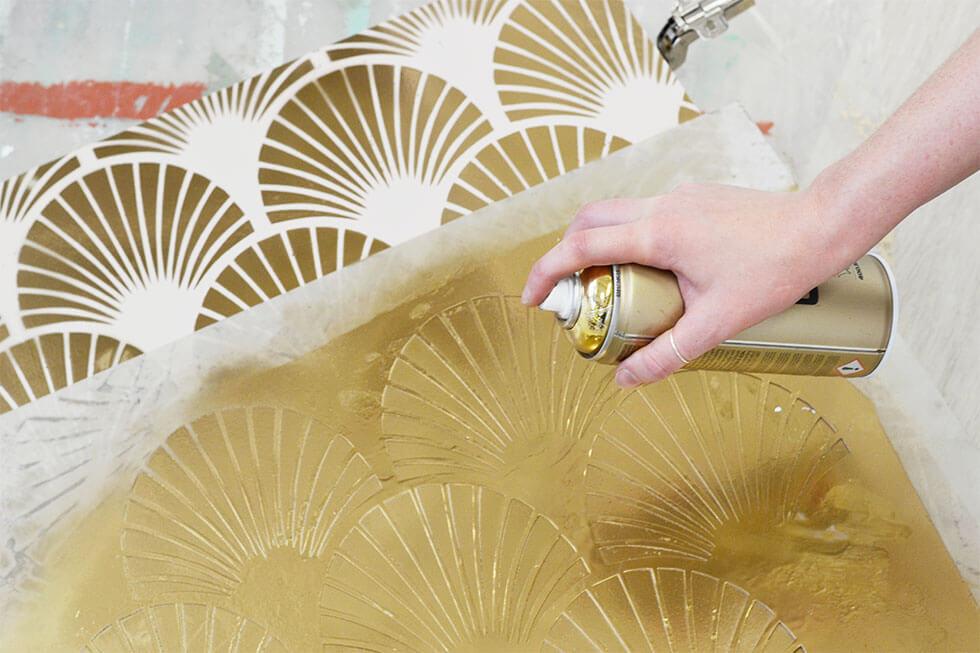 Time to work your Midas touch! Remove the handles before aligning the stencil on the surface of the door. Once that's done, take your can of spray paint and spray away!
Carefully line your stencil against the edge of a completed pattern as you work your way through - this ensures a consistent texture across the doors..
Tip: Set the stencil with a spray mount before laying it on the door. The spray mount keeps your stencil in place without leaving any residue or marks behind once it is removed.
Step 4
Coat the feet with the same gold paint. This step only applies if your sideboard comes with raised or visible legs.
Step 5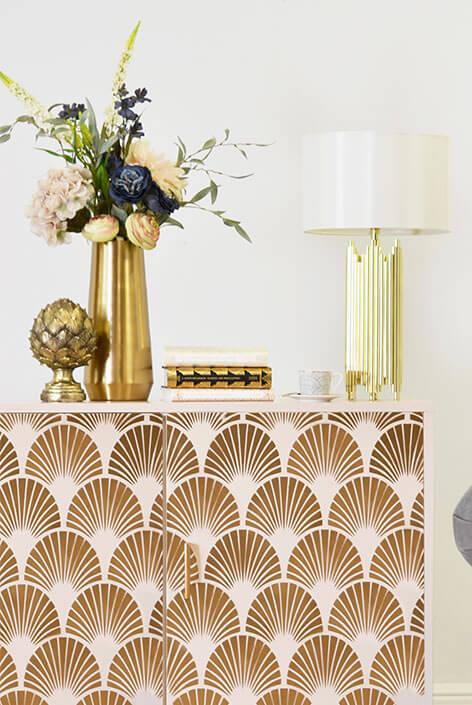 Once you're satisfied with the overall look, set your handiwork with a coat of varnish to protect against surface damage.
Optional step: You can attach different door handles or knobs for a fun twist, or cover the existing ones in gold paint to match the print.
Step 6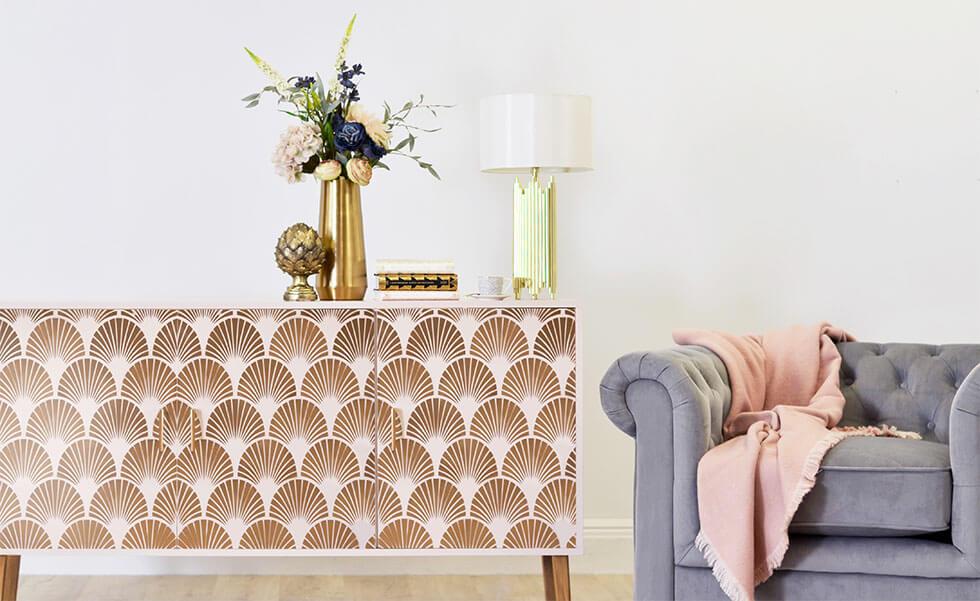 Attach the doors and feet back to your sideboard, and your statement piece is all set to wow! The sideboard's eye-catching gold details will pair up well with other brass accessories - we styled ours with a chic vase, along with this gorgeous lamp from Iconic Lights.
This is a great way to introduce Art Deco influence to your home in a modern and tasteful way, without necessarily going full-on Great Gatsby.
It's also super Instagram-friendly, so if you're planning to makeover your sideboard, or any other furniture of your choice, share the results and tag us in your images! (@furnitureandchoice on Instagram)