Throwing a successful dinner party can be a lot trickier than it seems. From choosing a menu to suit all your guests, to picking the right table centrepiece and creating the perfect seating arrangement, there can be a lot of decisions to make. But how can you ensure your guests all get along and that you tick all the boxes to become the perfect dinner party host?
We asked the nation* which dining habits make them tick, and what makes the perfect host to see just how many of us would come out on top.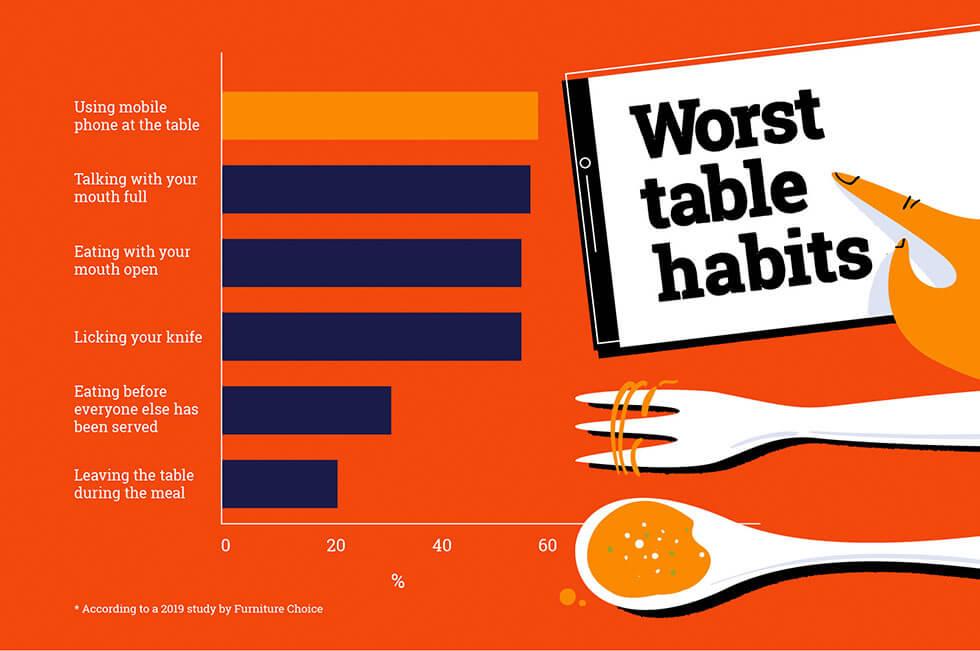 Taking the crown for the most offensive habit is using your mobile phone at the table (according to 59% of respondents). To help ensure your dinner party isn't overtaken by social media updates and group messages, why not impose a smartphone ban during your dinner party? This way you can encourage guests to fully immerse themselves in the conversation and entertainment.
Other bad habits which should be avoided include talking with your mouth full (57%), eating with your mouth open (55%), licking your knife (55%), eating before everyone else has been served (32%) and leaving the table during the meal (20%).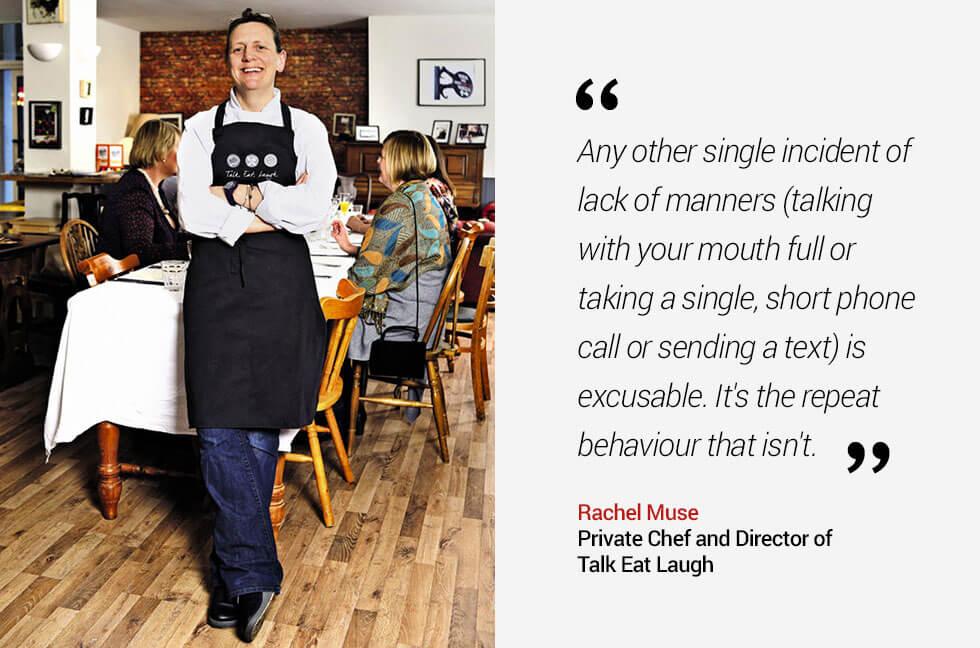 Rachel Muse, Private Chef and Director of Talk Eat Laugh said: "In my opinion, some of the worst habits exposed at dinner parties are being the only voice heard at the table, arriving early for the event and doing anything that doesn't 'fit in' with the social gathering. Other potential actions which could irritate your fellow guests of hosts include overstaying your welcome and making jokes that are in poor taste.
"My top tips for any dinner party guest would be to fit in and socialise. Try to talk to everyone at the event and if you arrive at an issue you disagree on, politely agree to differ. Don't drink significantly more than everyone else, if you do, go home. Any other single incident of lack of manners (talking with your mouth full or taking a single, short phone call or sending a text) is excusable. It's the repeat behaviour that isn't."
When it comes to being the perfect dinner party host, our survey showed us that the top five things Brits think their hosts should be doing for them are: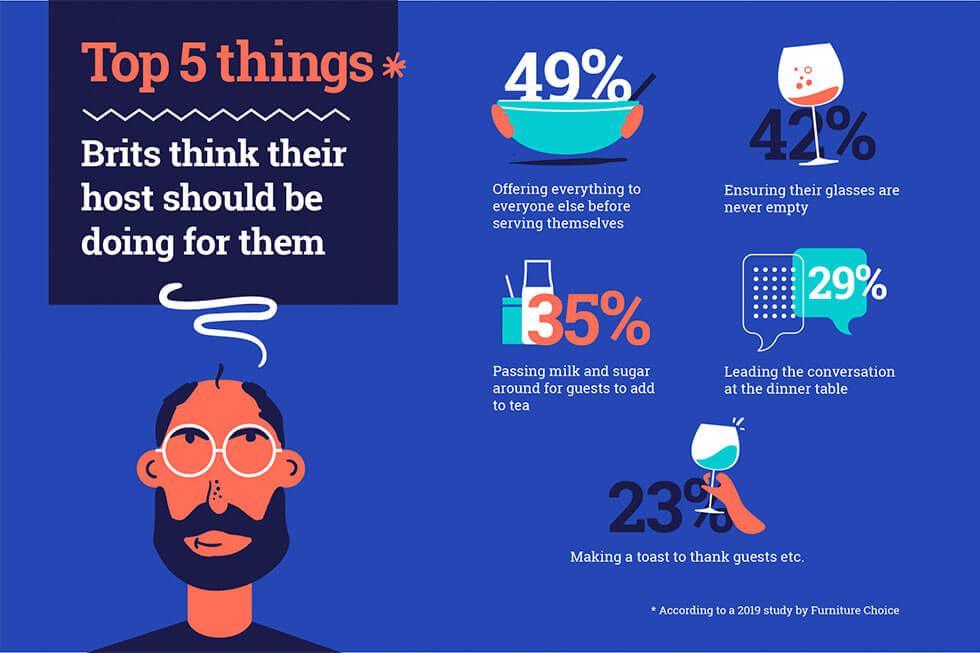 Offering everything to everyone else before serving themselves (49%)
Ensuring their glasses are never empty (42%)
Passing the milk and sugar around the guests to add their own when drinking tea (35%)
Leading the conversation at the dinner table (29%)
Making a toast to thank guests etc. (23%)
Rachel added: "A dinner party is a social gathering so it's about socialising with that group of people. As a guest, you need to fit in. As the host, you need to pick a good mix of people to come to the event and be relaxed so that the guests feel at ease. Before the event, you can brief guests to explain that this particular event is going to be more or less formal than your usual events, which should help with their understanding of what behaviour will be tolerated or called out."
The importance of correct table manners is not just something to be upheld here in the UK. When dining abroad there are an array of dining habits which should be taken note of in order to avoid offending your fellow guests or host.
If you're dining out in Japan, slurping your food at the dinner table is a must if you want to show your appreciation to the chef and the louder the better! In China, another indication of your satisfaction is to belch whilst you're still at the table. Making a mess is also encouraged and leaving a small amount of food on your plate shows your host they have provided you with more than enough food.
According to our research, half of Brits (50%) admitted they know it's not acceptable to eat more informal foods such as pizza or burgers at the table with their hands. This dinner table rule is echoed in Brazil, where pizzas and burgers are traditionally always eaten with a knife and fork.
However, some of the most formal etiquette rules followed in the UK are redundant across the world, as diners in Mexico who use a knife and fork would be considered snobs but if you dared to touch your food with your hands in Chile, you run the risk of causing great offence.
To help determine whether or not you would be the ideal guest or host, we have created the below dining etiquette quiz to help you identify where your knowledge gaps are, and offer some tips on how to behave at your next dinner party.
For more tips and advice on how to set up your dining room for your next dinner party, why not visit our advice and inspiration page?
Sources:
*Survey of 2,000 UK adults conducted by Furniture Choice in May 2019