Since a lot of us are spending our time indoors, we're sure you've been looking for fun and entertaining ways to occupy your time.
If you're thinking of trying something new aside from binge-watching TV shows, Animal Crossing: New Horizons has become the latest video game to take the world by storm and might be right up your alley.
A cute and interactive way to (safely) bond with your family and friends, this game lets you go all out in terms of designing your home but as we learn, some of the basic rules still apply even in this virtual reality. With the help of Rebecca Snowden, Interior Style Advisor at Furniture Choice, find out which design rules work when playing and in real life.
What is Animal Crossing?
Played exclusively on the Nintendo Switch console, the fifth edition of this popular game involves your human character and friends living on a deserted island and building a little slice of paradise. You can fish, hunt for insects and collect seashells while decorating your home. At the beginning of the game, you start off camping in a tent but as the game progresses you will be able to upgrade your home . Once you get the upgrade, it's time to unleash your inner creative!
Divide your rooms into different zones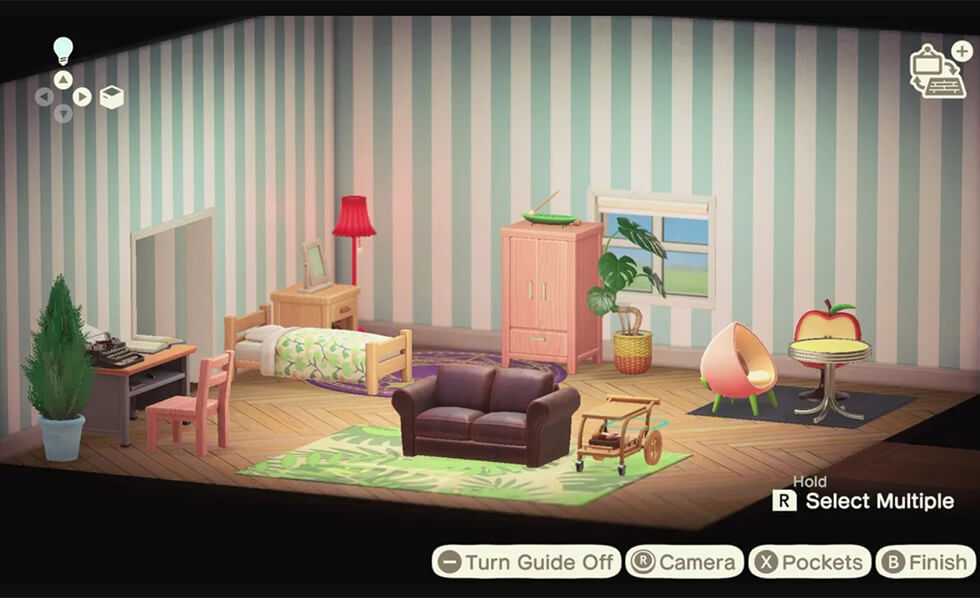 Breaking up your home into different zones is a surefire way to maximise space. When you start out in your small house in Animal Crossing, it's best to divide your home into different areas such as the bedroom, living room and small dining area. Use big rugs or indoor plants to mark your zones in a cosy but easily defined way.
"We naturally respond to more organised spaces," Rebecca advises. "So dividing your home into zones will make your space feel and look less cramped. Even when you upgrade your home in the game this rule will still apply when keeping your home in check."
Float your furniture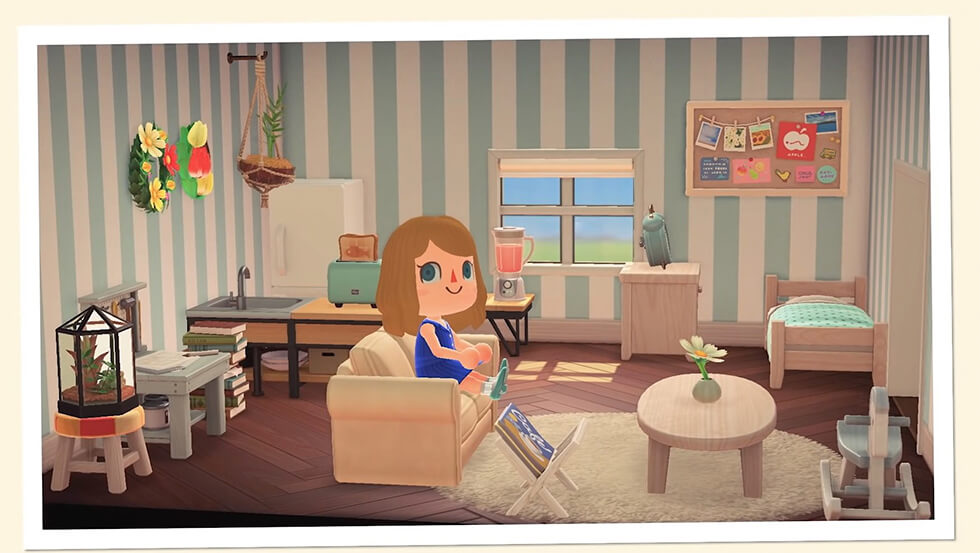 It's a common belief that placing furniture next to the wall in the living room will make your space feel bigger. But, most of the time it actually makes the room feel cramped so why not try floating your furniture in the middle of the room instead?
"Try placing your sofa in the centre of the room so you can create your own special zone to relax and just chill out," Rebecca suggests. "If you've lived in a small flat or house in real life you'll know that this will make your space feel more relaxed when you have friends around. So float away in the world of Animal Crossing!"
Minimise clutter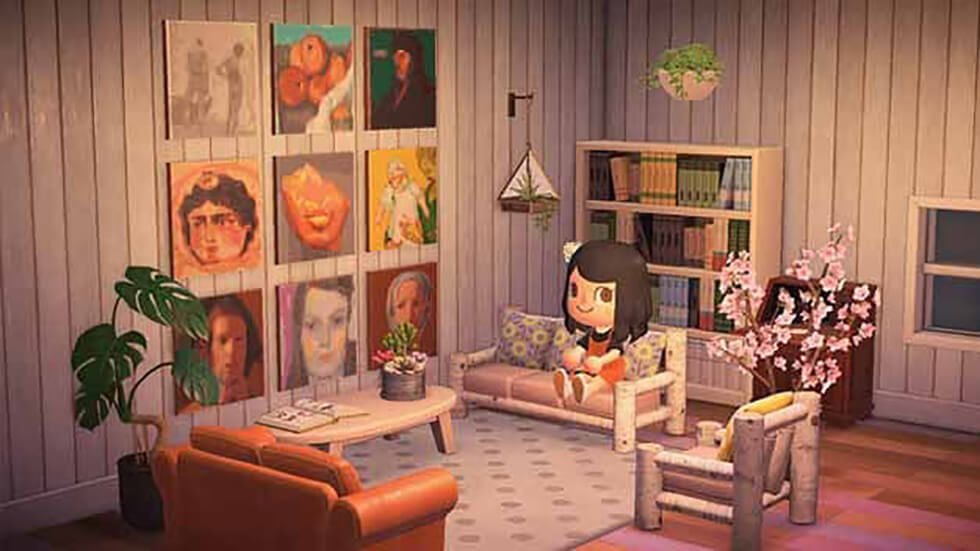 We can all agree that collecting stuff is fun in real life but in Animal Crossing, this takes up precious space. After all, when you spend your days collecting seashells or fossils it's understandable to want to display your finds at home. However, it may make your space feel even smaller so it's best to display something that serves its purpose.
"Think carefully about what you want to display," Rebecca says. "You can swap what to put on your walls regularly depending on your mood. Aside from wall displays, pick and choose other space-saving items such as using wall lighting instead of table or floor lamps."
Have fun with decorating!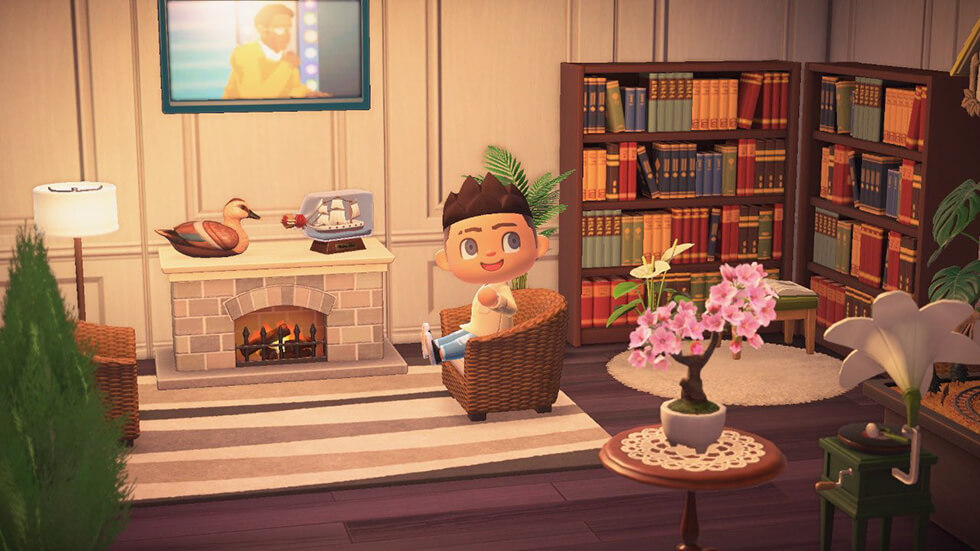 At the end of the day, it's important to just have fun with it! These tips are here as a guide but it's important to bring your own personal touch to your humble Animal Crossing abode so why not go all out.
Whether it's a personalised study with a fire, walk-in wardrobe (we can all dream) or your very own floral-themed space, your character should feel at home in their surroundings just like how you would want to in real life.
Looking for other ways to occupy your time at home? Check out our DIY guide on how to make a kids memo board.
3 Games to Check Out If You like Animal Crossing
The Sims 4 (Available on: PC, Xbox, PS4)

This long-running favourite allows you to create virtual people known as 'Sims' and place them in pre-constructed houses or build it themselves. From picking out your Sims' personality traits to creating homes, neighbourhoods and even workouts, this simulated game is fun for the whole family.

Stardew Valley (Available on: PC, Xbox One, PS4, Nintendo Switch, iOS and Android)

Similar to Animal Crossing, in Stardew Valley you swap your monotonous office life by moving to Pelican town to start running a farm inherited from your grandfather. There, friendships are formed with the residents while spending your days working, farming, mining or fishing to improve your farm. And you can decorate your home too!

Minecraft (Available on: PC, PS3 & PS4, Pocket Edition, Pi Edition, and Android)

As one of the world's most popular video games, Minecraft is often described as 'virtual Lego' where you create your own virtual world with building blocks. It's a game with no rules and it allows you to tap into your own creativity where you can play alone or with friends. If you want to create your own adventures with new characters or build another virtual world, Minecraft is the game that's full of flexibility.